Last Updated on August 10, 2015 by ShumailaKamal
I have already uploaded the salary sheet for the employees who have appointed in 2013 and 2014. Now I have prepared the Detail of Salary for Fresh Appointed Employees in 2015 for the information of the newly recruited employees. Some features of these calculations are as under:
These sheets cover the salary of employees for BPS-01 to BPS-20.
These sheets are also effective for the Employees of Federal Government, Punjab Government as well as KPK Employees.
There may be a little difference for the salary of Sindh and Balochistan Government Employees.
There may be some extra allowances for certain department that are not included in this sheet. Such employees may also add these allowances if such employees are admissible these allowances.
Pay and Allowances for the Special Cities and Other Cities have been shown separately.
Note: There are four sheets separately made. You can click each sheet according to your Government. The summary of the pay and allowances for the Federal Govt and Punjab Govt Employees who are fresh appointed is as under:
Salary for Fresh Appointed Employees in 2015 for Special Cities
Salary of BPS-01 = 13938
Salary of BPS-02 = 14179
Salary of BPS-03 = 14563
Salary of BPS-04 = 14938
Salary of BPS-05 = 15534
Salary of BPS-06 = 15964
Salary of BPS-07 = 16413
Salary of BPS-08 = 16900
Salary of BPS-09 = 17412
Salary of BPS-10 = 17910
Salary of BPS-11 = 19362
Salary of BPS-12 = 20278
Salary of BPS-13 = 21412
Salary of BPS-14 = 22536
Salary of BPS-15 = 23729
Salary of BPS-16 = 29170
Salary of BPS-17 = 43192
Salary of BPS-18 = 53522
Salary of BPS-19 = 78828
Salary of BPS-20 = 92013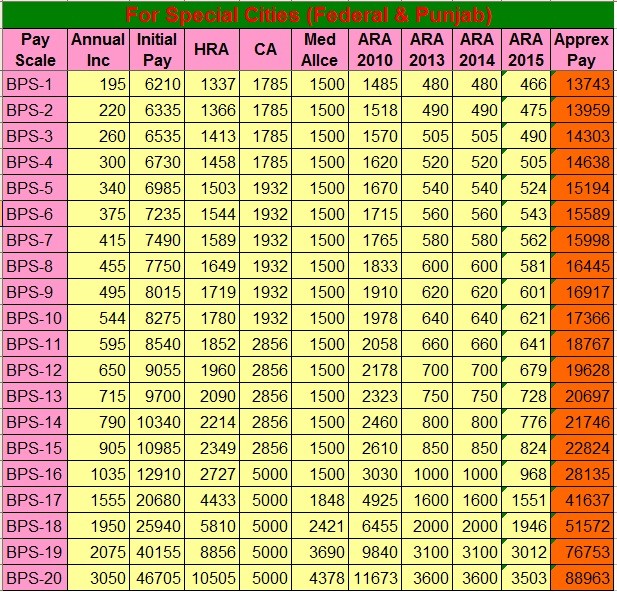 Salary for Fresh Appointed Employees in 2015 for Other Cities
This chart is same for Federal Government Employees as well as for the Punjab Govt employees. This chart shows the salary detail of other cities rather than special cities where there is 30% House Rent Allowance.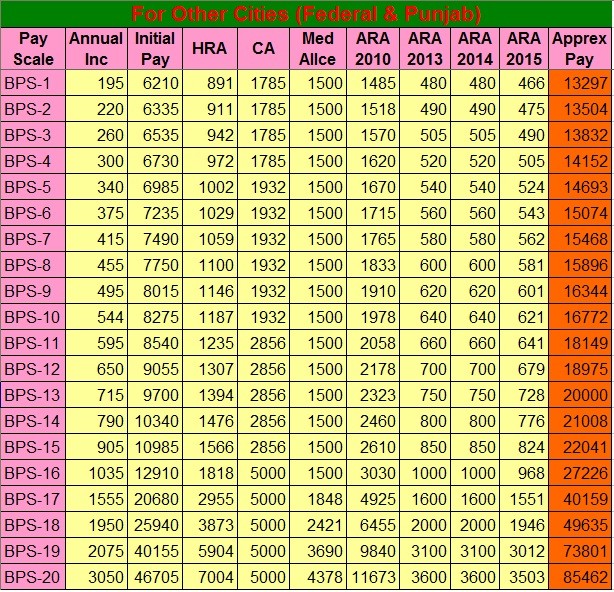 Salary Chart for the Fresh Appointed Employee in KPK
This salary chart is nearly the same as the Sindh Govt as both Governments granted 15% Adhoc Relief Allowance 2013 as well as 10% Adhoc Relief Allowance 2015. There may be only the difference of Medical Allowance and ARA-2013 for the employees of BPS-17 & above.
Salary Package for Other Cities of KPK
The chart of the Salary Package for other cities of KPK is as under: