I am today sharing the detail of Pay Scale Wise Increase Salary of Each Employee after Annual Increment 2018. There will not only increase the annual increment 2018 but also increase the adhoc relief allowance 2017 and adhoc relief allowance 2018.
As you know that the Adhoc Relief Allowance 2017 and 2018 are on the running basic pay so these allowances will also increase as there will be increase basic pay with the increase of Annual Increment 2018.
Federal Government and other provincial governments except Sindh Govt Increased salaries in 2017 by granting adhoc relief allowance 2017 @ 10% to all their employees and the Sindh Govt Granted 15% Adhoc Allowance in 2017. But in 2018 all provincial as well as Federal Government granted equally 10% adhoc allowance. In 2017 there was only one allowance increased after the annual increment 2017 and that was adhoc relief allowance 2017.
Detail of Increase in salary of the Federal and Provincial Govt Employees after Annual Increment 2018 except Sindh Govt employees is as under:
Increase of Salary Federal & Other Provincial Employees Except Sindh After Annual Increment 2018
Increase In Salary All Govt Employees Except Sindh Govt Employees
Basic Pay Scale No
Annual Increment
10% Increase (2017)
10% (2018)
Total Increase in Salary
BPS-01
290
29
29
348
BPS-02
330
33
33
396
BPS-03
390
39
39
468
BPS-04
440
44
44
528
BPS-05
500
50
50
600
BPS-06
560
56
56
672
BPS-07
610
61
61
732
BPS-08
670
67
67
804
BPS-09
730
73
73
876
BPS-10
800
80
80
960
BPS-11
880
88
88
1056
BPS-12
960
96
96
1152
BPS-13
1050
105
105
1260
BPS-14
1170
117
117
1404
BPS-15
1330
133
133
1596
BPS-16
1520
152
152
1824
BPS-17
2300
230
230
2760
BPS-18
2870
287
287
3444
BPS-19
3050
305
305
3660
BPS-20
4510
451
451
5412
BPS-21
5000
500
500
6000
BPS-22
5870
587
587
7044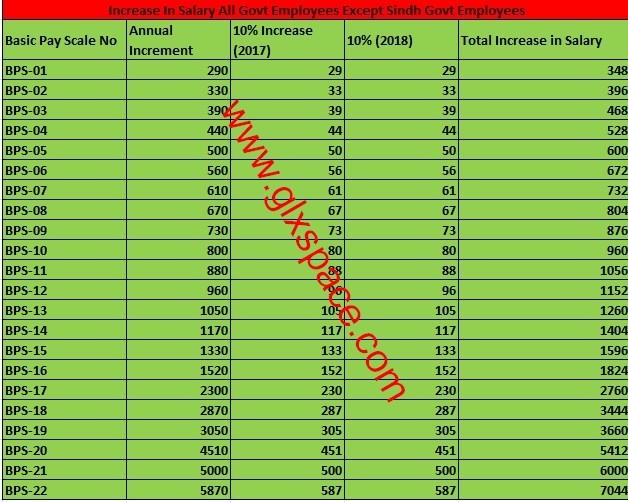 Increase of Salary Sindh Govt Employees After Annual Increment 2018
Increase In Salary Sindh Govt Employees
Basic Pay Scale No
Annual Increment
15% Increase (2017)
10% (2018)
Total Increase in Salary
BPS-01
290
44
29
363
BPS-02
330
50
33
413
BPS-03
390
59
39
488
BPS-04
440
66
44
550
BPS-05
500
75
50
625
BPS-06
560
84
56
700
BPS-07
610
92
61
763
BPS-08
670
101
67
838
BPS-09
730
110
73
913
BPS-10
800
120
80
1000
BPS-11
880
132
88
1100
BPS-12
960
144
96
1200
BPS-13
1050
158
105
1313
BPS-14
1170
176
117
1463
BPS-15
1330
200
133
1663
BPS-16
1520
228
152
1900
BPS-17
2300
345
230
2875
BPS-18
2870
431
287
3588
BPS-19
3050
458
305
3813
BPS-20
4510
677
451
5638
BPS-21
5000
750
500
6250
BPS-22
5870
881
587
7338