of Revenue, Punjab (Colonies Department) has issued Notification of Lambardari Grants on 18-02-2020 vide order No. 144-2020/54-c-v. Detail is as under:
Notification of Lambardari Grants
This is with reference to this office letter No.499-2018/174-CV, dated 22.06.2018, on the captioned subject whereby ban was imposed on allotment of state land to the lambardar(s) under Lambardari Scheme upon death or change of lambarder(s) and such lapsed grants were ordered to be resumed and kept in the superdari of the District Collector.
The Matter has been considered in the Full Board meeting of Board of Revenue, Punjab held on 07.02.2020. it has been decided to withdraw aforementioned letter No,499-2018/174-CV, dated 22.06.2018 and to lift ban on allotment of Lambardari grants upon dealth or change of Lambardari, as per policy, The letter under reference, therefore, may be considered as withdrawn, it must, however, be ensured that these will be service grants only and no proprietary rights shall be granted.
This issues with the approval of Full Board of Board of Revenue Punjab.
Special thanks to Mr. Zahid Khan for sending the copy of the orders.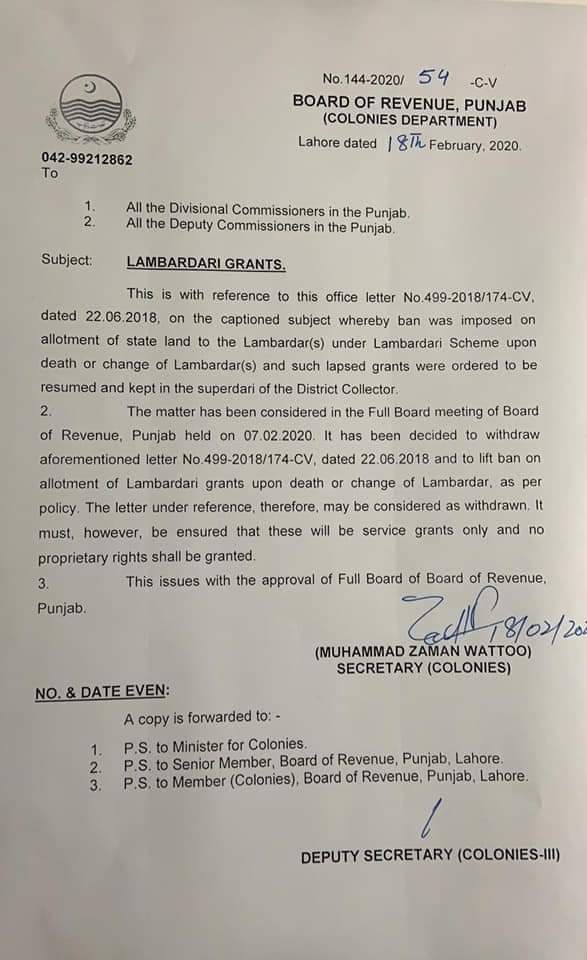 You may also like: Criteria for Fixation Naib Tehsildars Posts