Last Updated on March 14, 2020 by Galaxy World
Government of the Punjab has announced the Holidays in Punjab Educational Institutions 2020 due to the pandemic corona virus. The schools will remain closed upto 5th April 2020.
Holidays in Punjab Educational Institutions 2020
According to the School Education Department Punjab the holidays will start with effect Sunday 15th March to 05-04-2020.
Health of our Children & honourable Teachers are priority #1. At the end of the day it's better to be safe than sorry.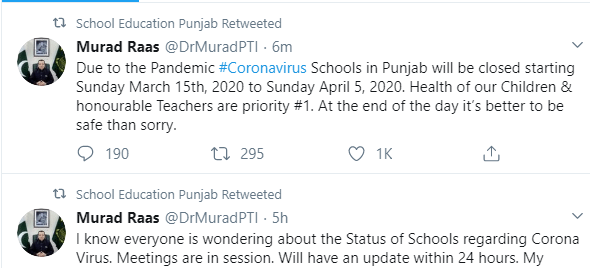 For your information Sindh, KPK and Balochistan Govt has already announced holidays schools and colleges of their respective provinces. You can see the Notification of Holidays in Sindh and KPK.
It is further added that Minister of Education already informed that there was a meeting in session. They will have to update within 24 hours. After the meeting decision it has been informed that the holidays in the province of Punjab schools have been announced due to the fatal disease of corona virus. After the announcement of the holidays, students and teachers should care about their health and follow the instructions by the health department to avoid from the said issue as possible as can be. They should avoid to go to outside the place where there is rush of the people. Wash their hands with soup regularly.  Khyber Pakhtunkhwa Government also announced Holidays in KPK Schools to save the children.
As soon as I get the updates of the holidays in colleges and universities of the province of Punjab, shall update consequently.
Notification Copy Holidays in Punjab School 2020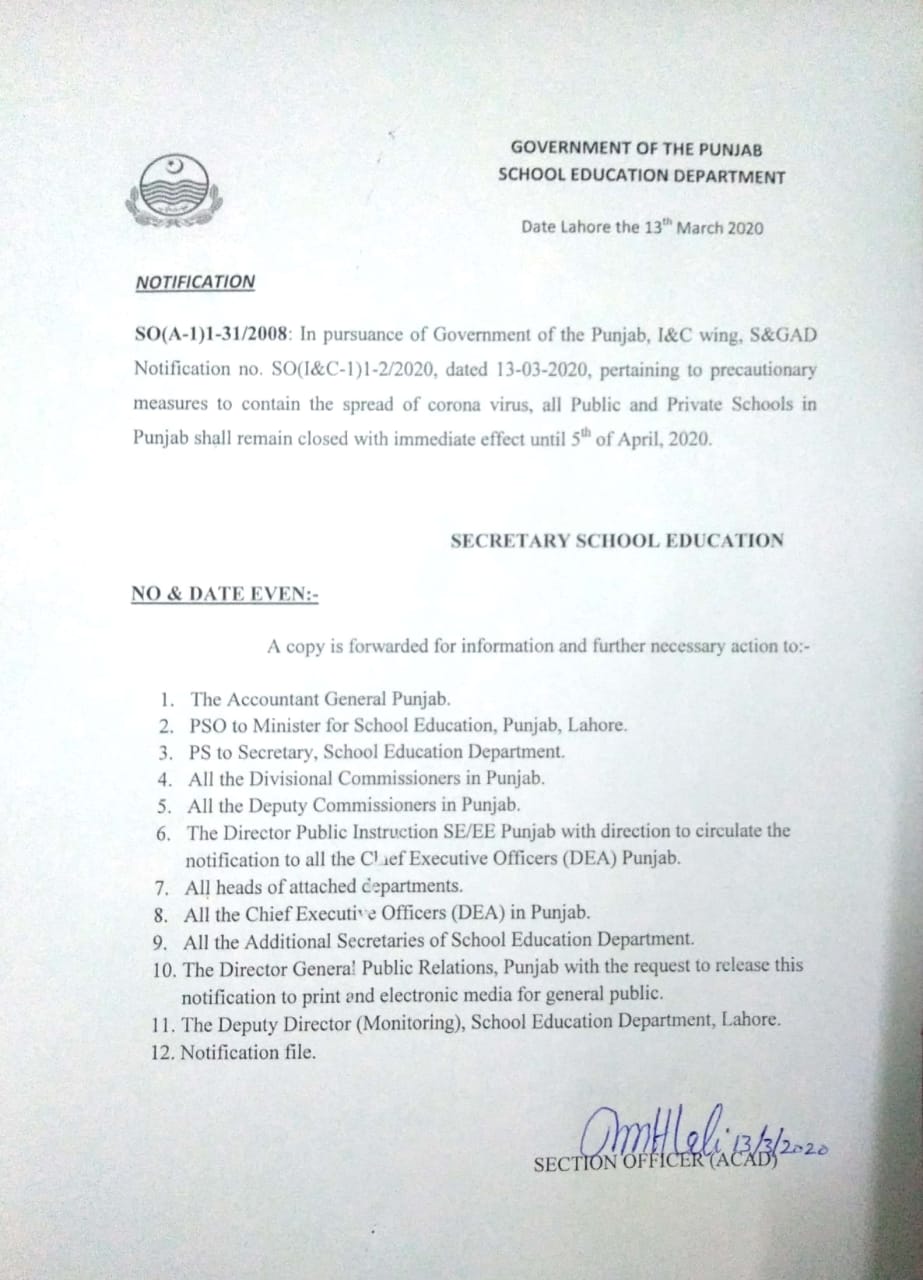 In pursuance of Government of the Punjab, I&C wing, S&GAD Notification no. SO(I&C-1)1-2/2020, dated 13-03-2020, pertaining to precautionary measures to contain the spread of corona virus, all Public and Private School in Punjab Shall remain closed with the immediate effect until 5th of April, 2020. I shall share further updates in this regard as soon as i get the same.
Special thanks to:  Mr. Naseer Hussain