Last Updated on October 30, 2021 by Galaxy World
Government of Sindh, School Education & Literacy Department has issued a letter on 03-06-2020 in connection with Digital Class Rooms for Online Teaching and Learning. The details are as under:
Establishment Digital Class Rooms for Online Teaching and Learning
Since all public & private sector schools in Sindh are closed due to the COVID-19 Corona pandemic, everybody has been advised for staying at home. In such gave circumstances, online distance teaching and learning is the on;y option that can serve the purpose to facilitate our children's continual learning.
School Education & Literacy Department(SELD) in a tripartite collaboration with UNICEF and Microsoft has established online Digital Classroom platform 6 to 12 graders. This is a contemporary distance across the province. A of now, a core group of 75 Master Trainers (MTs -2 to 3 IT Teachers and TTI Faculty Members from each district) have been trained to conduct online large scale training of teachers to establish digital/virtual classrooms and continue with 81 Teachers, 1980 students of 3 SELD schools to test the viability of the Digital Classroom Platform.
To move forward on this, SELD is aiming to:
a) collect district-wise, school & class-wise data of teachers and students to set up Digital Classrooms and create email IDs of respective Microsoft Team(teachers and their students);
b) conduct large scale online training of teachers through the trained MTs. Hence, you are hereby advised to furnish the data of teachers and students as per the attached proforma on or before June 17.2020 to enable us to further expedite.
Also, please note and clarify among education management staff and teachers that no TA/DA would be admissible to any training around the establishment of Digital classroom Platform and its utilization or teaching of respective children as it is to provide an option for continuity of basic job performance from remote.
Special Thanks: Mr. Muhammad Bux Saleem Khaskheli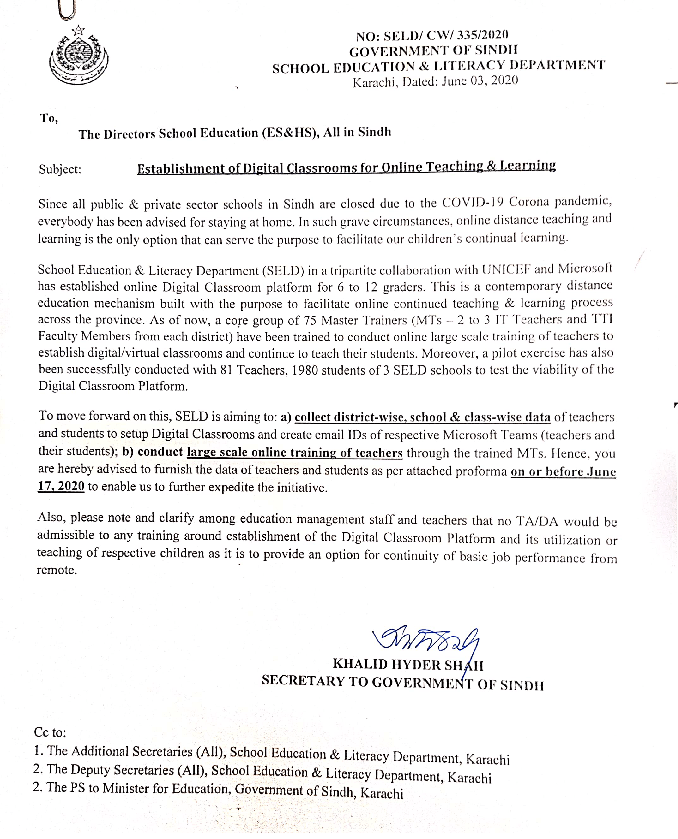 You may also like: Taleem Ghar Punjab Online Teaching Program