Last Updated on August 10, 2021 by Galaxy World
Government of Sindh, Home Department has issued Notification on 01-07-2020 in connection with Extension Holidays in Educational Institutions Sindh.  The details are as under:  
Extension Holidays in Educational Institutions Sindh
No.SO(Jud-I)HD/8-1(04)/2020-Corona: In continuation of the order of even number dated 1st June 2020 and for the same reasons recorded therein the Government of Sindh, in the exercise of powers under section 3 (1) of the Sindh Epidemic Diseases Act, 2014 (The Sindh Act VIII of 2015) hereby directs as under:-
A- The following shall remain closed:-
Educational/ Training institutes.
Marriage Hall, Business Centers, Expo Halls.
All contract sports, indoor sports clubs, indoor Gyms, and Sports facilities.
The sporting tournament, indoor and outdoor.
Restaurants, Cafes excluding Takeaway & Home Delivery.
The theme, Amusements Park and Arcades
Beauty Parlors and Spas
Cinemas and Theaters
Pubic processions / Gathering of all Nature / Shrines
Tourism / Tourist Hotels.
Inter-Provincial Transport.
Intercity but not inter-Provincial Pubic Transport shall be opened as per inputs from the Transport department keeping in view petition by transporters in Hon`ble High Court of Sindh in CP  D-2629/2020.
The provincial Government / District Administration, by order, may restrict all/any activity in the area which is the hotspot for the spread of COVID-19.
b- Workdays and timings shall be as under:-
Business timings except for pharmacies and essential services – Five days per week (Monday-Friday) from Morning to Maghreb (6:00 am to 7:00 pm).
Restaurant & Cafes etc – all days of the week (closed for customer dine-in and only take away and home delivery allowed) as follows:-
Take away & Home Delivery (06:00 am to 07:00 pm)
Home Delivery only (07:00 pm to 11:00 pm)
c- Adopting of Preventive measures by all:-
Avoiding unnecessary coming out if houses strict restrictions from 07:00 pm to 06:00 am.
Mandatory wearing of face mask for coming out at any pubic place.
Keeping a distance of over 3 feet between persons at all times.
Frequent hand washing or use of proper hand sanitizer.
Adherence to distancing protocols while traveling by any transport.
Strict adherence to SOPs at offices / Workplaces etc.
Strict adherence to SOPs issued by the Provincial and Federal Governments from time to time.
If must be reiterated that the threat of disease spread has not subsided rather increased and more strict adherence to SOPS is required than ever before.
Special Thanks:
Mr. Muhammad Bux Saleem Khaskheli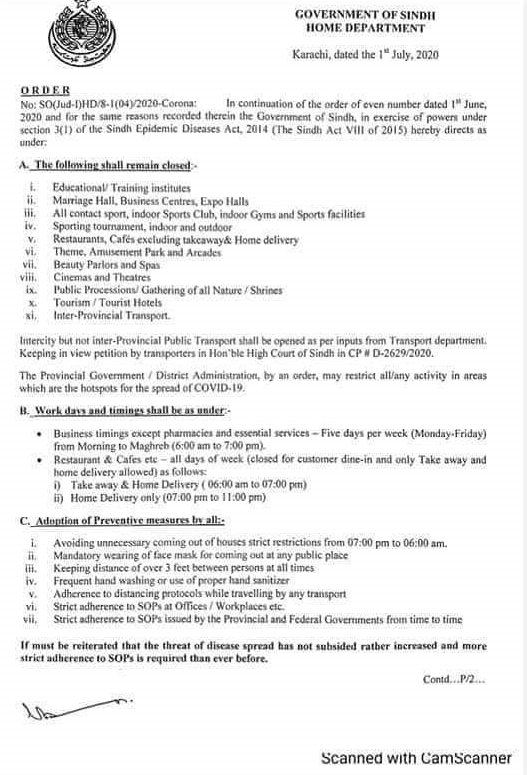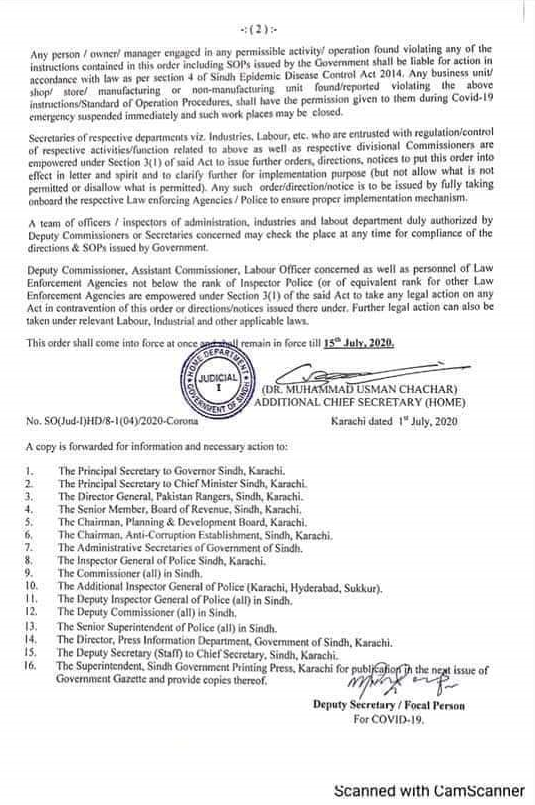 You May Also Like: BISE Multan Online Admission