Last Updated on October 30, 2021 by Galaxy World
Government of Pakistan, Finance Division has issued a Notification on 18-06-2021 in connection with Grant of Disparity Reduction Allowance 2021 to Tribunal/Courts under Law and Justice Department. The details are as under:
Grant of Disparity Reduction Allowance 2021 to Tribunal/Courts
The undersigned is directed to refer to the subject cited above and to inform that the subject case was considered in the meeting of the Disparity Reduction Allowance Committee held on 2nd June 2021.
Finance Division conveys its approval that Finance Division's O.M No. 14(1)R-3/2021-90 dated 3rd March 2021 is applicable to the civil employees in BPS 1-19 of the following tribunals/courts, under the administrative control of Law and Justice Division, Islamabad w.e.f. 1st March 2021.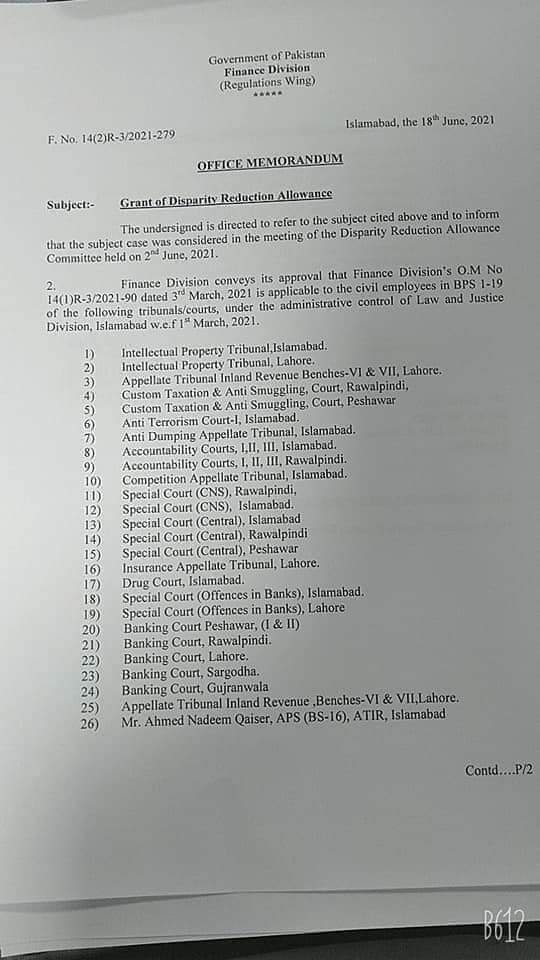 Finance Division has already issued the Notification of this DRA-2021 to various other departments. An anomaly committee the Finance Division constituted earlier. This committee is looking into the matter of the anomalies cases of DRA 2021 @ 25% of running basic pay for employees. After the issuance of the 1st Notification, the Finance Division issued Notification for many other departments on the recommendations of this committee. This allowance is only for the employees who are not getting any special allowance equal to or greater than 100%.