Last Updated on July 26, 2021 by Galaxy World
Office of the Chief Executive Officer, District Education Authority Chakwal has issued a letter on 26-07-2021 in connection with Change Forms for Grant of Special Allowances 2021 Punjab. The detail of the same are as under:  
 Kindly refer to letter No. DAO/CKL/ADMN/490 Dated 10.07.2021 and further refer to the Govy. Of the Punjab Finance Department Notification  No.FD.SR.V3-1/2021 dated 07/07/2021.
Change Forms for Grant of Special Allowances 2021 Punjab
It is stated that this office may be provided  change forms /n List of those employees of your Cost Center in BS 1-19 who are not drawing any type of cadre / Service Specification allowance other than:
Conveyance Allowance (CA)
Medical Allowance MA)
Adhoc Relief All 2016, 2017, 2018, 2019
Amount of 25% Special Allowance as admissible on the initial of Revised Pay Scale 2017 the offices should mention along with Personal No. and Name of These employees.
They should take it as most urgent as the subject allowance is required to be executed in the payroll of next month.
The date may also be provided in Hard and soft from before 05-08-2021 to the undersigned for onward submission to District Accounts Officer Chakwal.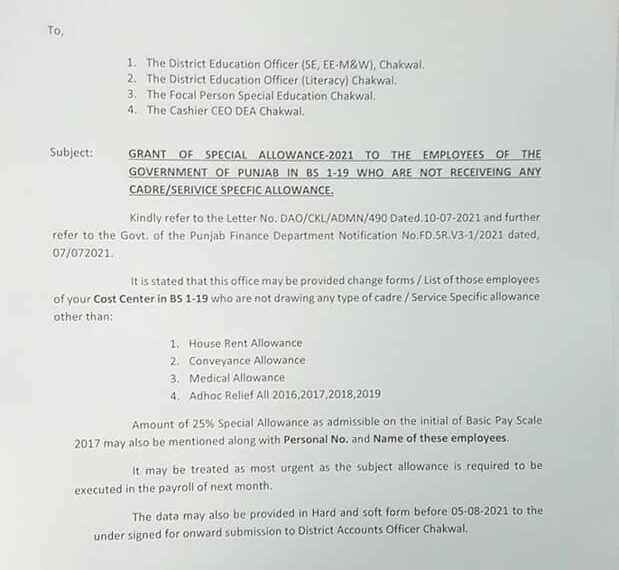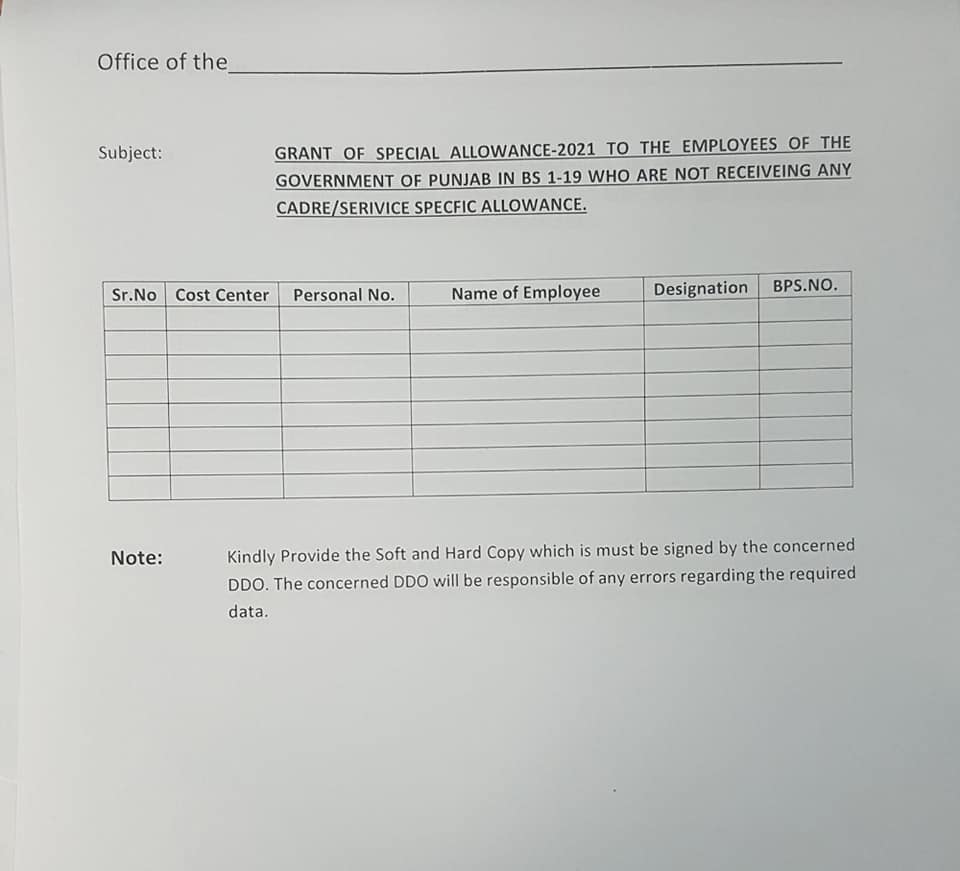 Who Will Get this Allowance? 
The Government of Punjab will Grant a Special Allowance-2021 to the following employees of the Government of Punjab:
BPS-01 to BPS-19 employees who are not receiving any cadre/service-specific allowance.