Last Updated on October 31, 2021 by Galaxy World
Federal Public Service Commission has announced for the FPSC Screening Written Test Adv No. 05/2020 to 04/2021. These tests include Multiple Choice Questions (MCQs) and descriptive. The details of the same are as under for the information of candidates:
FPSC Screening Written Test for Adv No. 05/2020 to 04/2021
Federal Public Service Commission will hold screening (MCQ)/ Written (Descriptive) Test for the cases advertised in FPSC's Consolidated Adv. Nos. 05/2020 to 10/2020 & 04/2021 from 28.08.2021 to 21.09.2021 (List of cases Attached) Simultaneously at Islamabad, Karachi, Lahore, Peshawar, Quetta, D.I, Khan, Gilgit, Multan, Skardu, and Sukkur Centres.
2. Admission Certificates of all registered candidates along with syllabi and time Table etc. have been uploaded and displayed on FPSC's website www.fpsc.gov.pk. The Candidates must visit FPSC's Website to get the printout of their respective Admission Certificates and to appear at the allocated centers according to the scheduled date and time along with their Original CNIC and treasury Receipts.
3. For Further clarification/details, if any, the candidates may contact on phone No. 051-9205975 Ext. 385 and UAN 051-111-000-248 during working hours.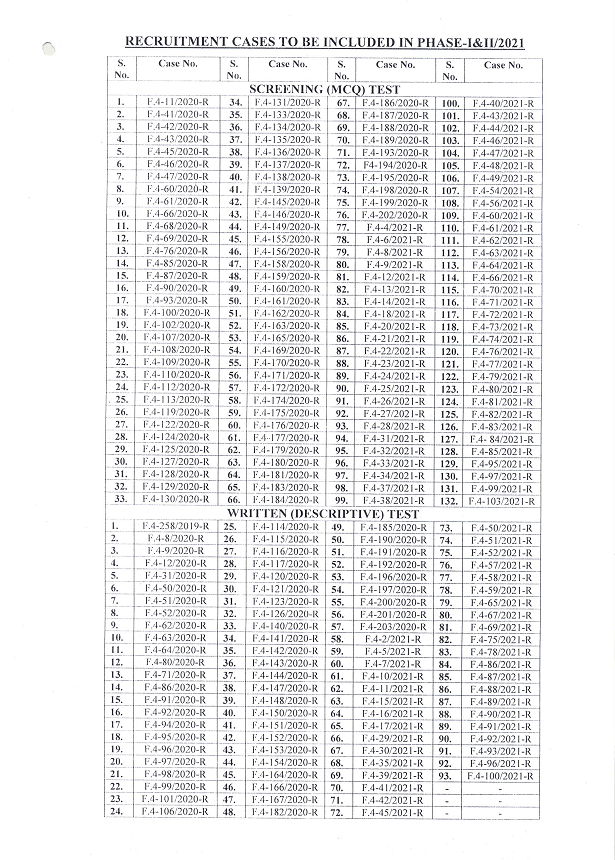 As the Federal Public Service Commission has now declared the schedule for the test. The candidates should now prepare as per the schedule and syllabus.
You may also like: FPSC Jobs August 2021