Last Updated on January 6, 2022 by Galaxy World
Government of AJ&K has issued a Notification on 05-01-2022 in connection with Public Holidays 2022 Azad Jammu & Kashmir (AJK). The details are as under:
Public Holidays 2022 Azad Jammu & Kashmir (AJK)
The President, Azad Jammu & Kashmir has been pleased to accord approval for observance of the following public holidays in Azad Jammu and Kashmir during the calendar year 2022:-
S. No
Name of Occasion
Days
Dates during the Year 2022
1.
Kashmir Solidarity Day
Saturday
5 February 2022
2.
Pakistan Day
Wednesday
23rd March 2022
3.
Labour Day
Sunday
1st May 2022
4.
Eid-ul-Fitr (1st Shawal 1443 A.H)
Tuesday, Wednesday & Thursday
3rd,4th, 5th May 2022
5.
Eid-ul-Azha (10th Zil Haj 1443 A.H)
Sunday. Monday & Tuesday
10th, 11th, 12th July 2022
6.
Yom-e-Shuhada-e-Kashmir
Wednesday
13th  July 2022
7.
Yom-e-Elhaq-e-Pakistan
Tuesday
19th July 2022
8.
Ghazi-e-Millat Sardar M. Ibrahim Khan's Death Anniversary
Sunday
31st   July 2022
9.
Ashura (9tha nd 10th Moharam)
Sunday & Monday
7th, 8th August 2022
10.
Independence Day of Pakistan
Sunday
14th August 2022
11.
Yom-e-Istaqamat &  Azam-e-Tameer-e-Nau
Saturday
8th October 2022
12.
Eid-Millad-un-Nabi

(12th Rabi-ul-Awwal 1444 A.H.)

Sunday
9th October, 2022
13.
Yom-e-Tasees Azad Govt. of the State of Jammu and Kashmir
Monday
24th October 2022
14.
Yom-e-Shuhada-e-Jammu
Sunday
6th November 2022
15.
Yom-e-Shahadat Capt. Hussain Khan Sheed & Baba-e-Pounch khan Muhammad Khan
Friday
11th November 2022

(Local Holiday for Distt. Poonch & Sudhnoti)

16.
Quaid-e-Milat Ch. Ghulam Abbas Death Anniversary
Sunday
18th December 2022
17.
Quaid-e-Azam Day/ Christmas
Sunday
25th December 2022
18.`
Day after Christmas
Monday
26th December 2022

(For Christians Only)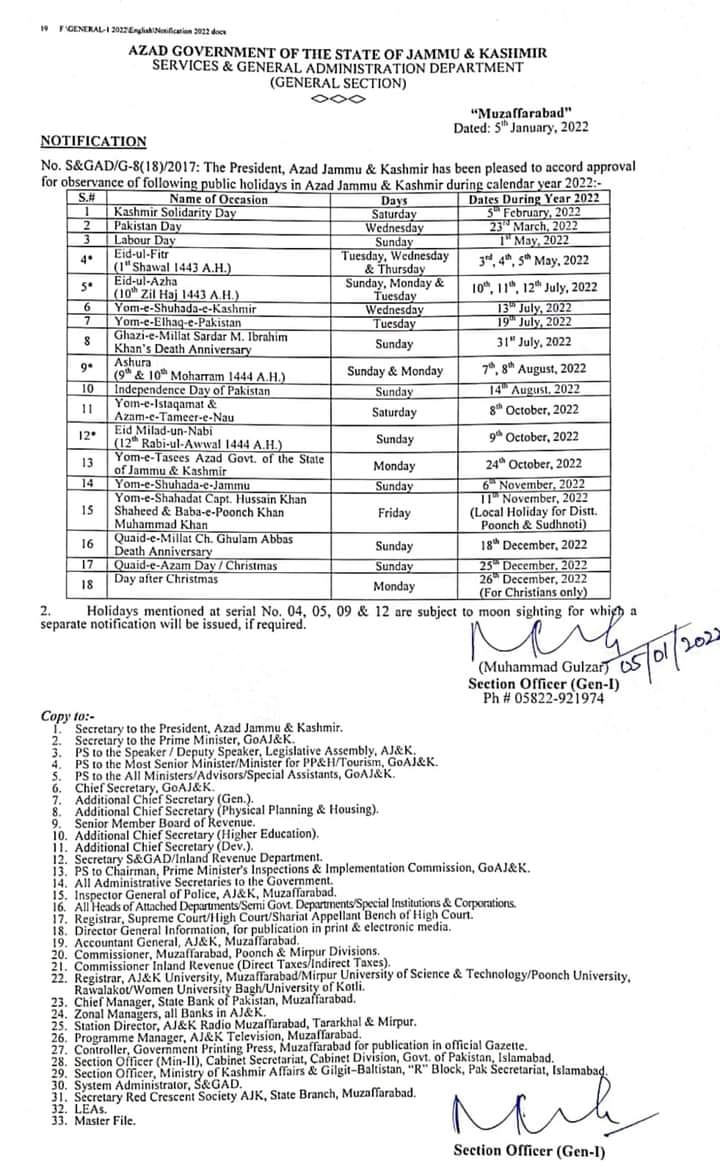 It is to mention here that Establishment Division has already issued the Notification of Public and Optional, Holidays in Pakistan for the year 2022. The above holidays' list for 2022 is only for the AJ&K public.