Last Updated on February 19, 2022 by Galaxy World
Finance Department Khyber Pakhtunkhawa has provided an opportunity for the Public to Submit Proposals for Budget 2022-23 KPK. The Finance Department KPK offers an opportunity from the following to submit their proposals, recommendations for the Annual Budget 2022-2023:
Opportunity to Submit Proposals for Budget 2022-23 KPK
General Public
Academia
Civil Society Organization
Citizens from all walks of life
The purpose of the same is to make the Budget 2022-23 processes more participatory and inclusive.  The employees, pensioners, and other citizens should submit their proposals to the Finance Department KPK so that their proposals, the Department include in the coming budget:
You may also like: Date of Announcement of Budget 2022-23
How to Submit Proposals to Finance Department?
The employees, organizations, and all citizens of all other walks of life can send their proposals through the following channels:
Through Email: [email protected]
VIA Postal Address: Budget Desk, Room No. 42, Finance Department, Civil Secretariat, Peshawar, Khyber Pakhtunkhawa
VIA WhatsApp: +923189583247 (Only text messages the department will accept)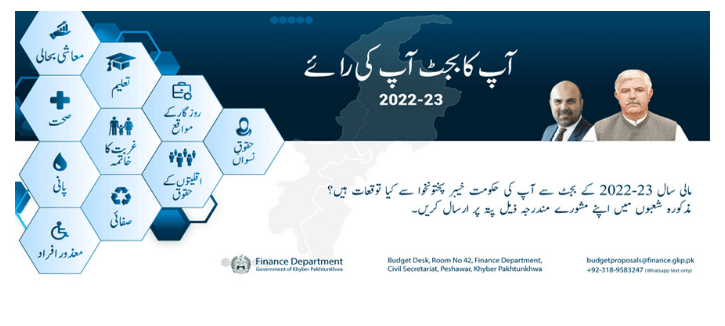 I have already published an article regarding the federal cabinet approved 15% DRA for Federal Employees, FC, and rangers. Provincial Governments will also announce the same for their employees. The provincial Government employees of KPK can also submit their proposals like HRA, Conveyance Allowance Increase, medical Allowance increase, and others.