Last Updated on August 7, 2022 by Galaxy World
Advertisement of Admission Open Military Collage Murree (Class 8th) Year 2023 has been issued by Officer Incharge Admission Branch, MCM (Upper Topa Murree Hills).  The details are as under:
Admission Open Military Collage Murree (Class 8th) Year 2023
Military Collage Murree, Admission for class 8th  in session 2023
In Military College Murree applications are required for admission to the 8th class. Download the admission form or prospect on the website (ww.mcm.edu.pk). Completely fill up the admission form with relative documents e.g education certificates and original copy of paid fee voucher and send them in officer incharge admission of to college.
Eligibility:
Army officers (present service / retired), junior commissioned officers/ Civil (present service/ retired), civil armed forces (Punjab, Rangers and only present officer of FC Khyber Pakhtunkhawa junior commissioned officer / civil), and civilians children are required for admissions.
Required Education:       7th class pass till April 2023.
Limit of age:                   12 to 14 years till April 2023.
The procedure of selection:
Admission on the basis of merit. Selection of the candidate after passing the written test, intelligence test, interview, and medical test. Written test in Peshawar, Abbottabad, Rawalpindi, Lahore, Sialkot, and Multan, is taking place soon.
For you more: Technical and Non-technical staff jobs 2022 EME College Rawalpindi
Admission schedule
The admission schedule is as under:
Sr. No
Schedule
Date
1
Last date to submit the admission form
30 September 2022
2
Last date of submit a late fee
20 October    2022

 

3
written paper
06 November 2022

 

4
Interview
January 2023
5
starts classes
May 2023
Contact for Information:    for further information please contact these number
Phone number PTCL (051-3752010-11) military (8021- 33527-28)
Officer Incharge, Admission Branch, Military Collage Murree (Upper Topa Murree Mills)
You may also like: Join Pakistan Air Force 2022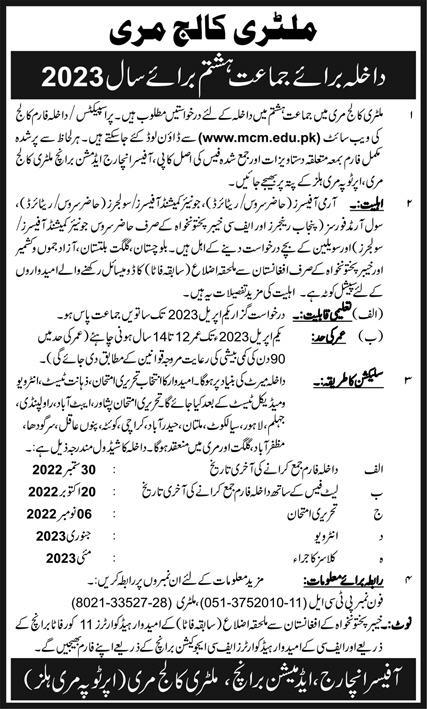 It is a good chance for the children of Civilians and Armed Forces personnel to become the part of Pakistan Army. They can qualify for the same after the required period of education.