Last Updated on May 5, 2023 by Galaxy World
I am sharing the latest Punjab Public Service Commission (PPSC) Vacancies 2023 for Joint Chief Economist and Assistant Director Agriculture (OFWM). The details are as under:
The Latest Punjab Public Service Commission (PPSC) Vacancies 2023
Punjab Public Service Commission, Lahore announces employment opportunities in different departments. The department is hiring employees for a contract period of three years. All Pakistani Nationals are invited to apply for the post relevant to their interest. They can apply for the job opportunity in the following two departments:
Planning and Development Board
Agriculture Department /Water Management wing
Jobs in Planning and Development Board
Sr. no
Name of Post
Basic Pay Scale
No. Of Posts
Qualification
Age Limit
Place of Posting
1.
Joint Chief Economist
BPS-20
01
Ph.D. Economics /Economic Policy/ Economic Development/Agricultural Economics
35-45 years
Punjab

(Any city/District)
General Conditions
All applicants must note the following conditions before applying
Applicants must apply online ad provide a hard copy of the online submitted application form.
Applications received after the due date will not be accepted.
Experienced candidates having Research work are preferable. As he must have 3-publications (Articles/books/research Papers)
Candidate must have experience in Public Finance, Policy Making, and Macroeconomics.
Candidates must attach 2-sets of copies of all relevant academic and Professional certificates.
Vacancies in Agriculture  Department
PPSC needs well-experienced ad Well educated candidates for the best working experience n Agriculture Department. Agriculture Department is always on the top list for providing well-supported employment opportunities not only on a contract basis but, also giving gull time regular jobs. All Male/Female/Minority community/Special Persons can apply. As department needs their skills.
For Water  Management Wing Agriculture Department wants active candidates to do work professionally and efficiently.  All Pakistani nationals having experience and knowledge about the duties of the post can apply. They have a chance to get a regular job after showing the best performance in the 3-years contract period. The contract period could be extended up to 5 years.
Merit/Quota
For the Agricultural Department Water Management Wing, Candidate may apply on the following quota:
Open Merit (26-seats)
Woman Quota (07-seats)
Special Person Quota (01-seat)
Minority Quota (02-seats)
| | | | | | |
| --- | --- | --- | --- | --- | --- |
| Sr.No | Name of Post | Basic Pay Scale | No.of Posts | Qualification. | Age limit |
| 1. | Assistant Director Agriculture | BPS-18 | 36 | MSc Agriculture/BSc Agriculture Engineering/Mechanical Engineering | 26-35 years |
You may like: Ministry of Energy Petroleum Jobs May 2023
Syllabus for Written Test
The department will conduct a written test of 100 Marks.
The written test paper is composed of 100 MCQs.
Division of Test
MSc Agriculture 25%
BSc Agriculture Engineering 25%
Mechanical Engineering 25%
General Abilities 25%
(Pakistan Studies, Current Affairs, English, Maths, Urdu, Islamiyat, Computer studies)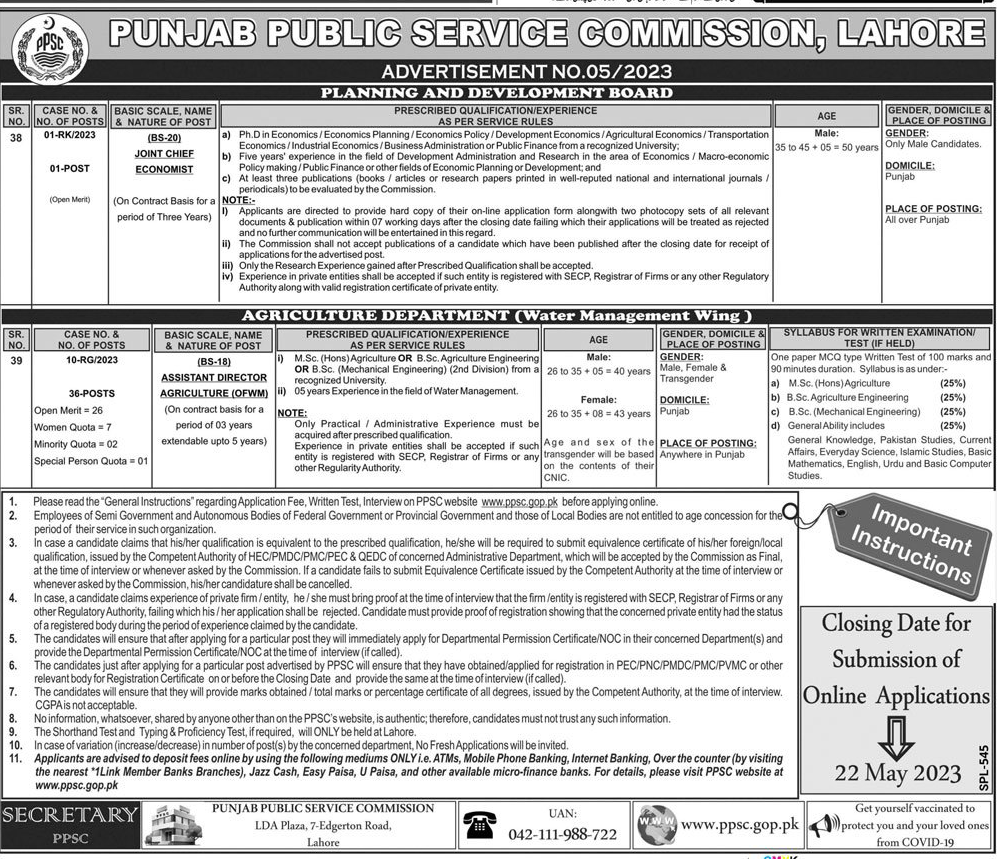 Estimated Salary
All these jobs are for BPS-18 and BPS-20. I have prepared the estimated salary chart for fresh appointed employees in 2022-23 in Pakistan. You can just get the estimate of your salary as per the estimated chart of salary.