Government of the Sindh, Finance Department has issued Notification No. FD(SR-I)3(17)/2013 dated 4th September 2014 in connection with Premature Increment on Upgradation for Sindh Employees.
In partial modification of this Department's Office Memorandum of even number dated 5th August 2014, in pursuance of Finance Division (Regulation Wing), Government of the Pakistan's Office Memorandum No. F.No.11(4)R-2/2011-1153/2013 dated 31st May 2013 and judgment passed on 28th January 2002 by Honourable Supreme Court of Pakistan in appeal No. 637 of 1998, Government of Sindh has been pleased to grant one premature increment on upgradation of post as on promotion which would be applicable in all cases of upgradation taken from 28th January 2002 onward and would take effect from the actual date of upgradation of each post.
The payment of enhances pay & allowances and arrears on this account would commence with effect from 01-07-2013.
The said premature increment on upgradation shall be accommodated within the budgetary allocation for the current financial year 2014-15 by the respective departments and no supplementary grant would be given on this account.
Special Thanks to Mr. Liaquat Kamboh for sending the copy of the Notification of premature increment.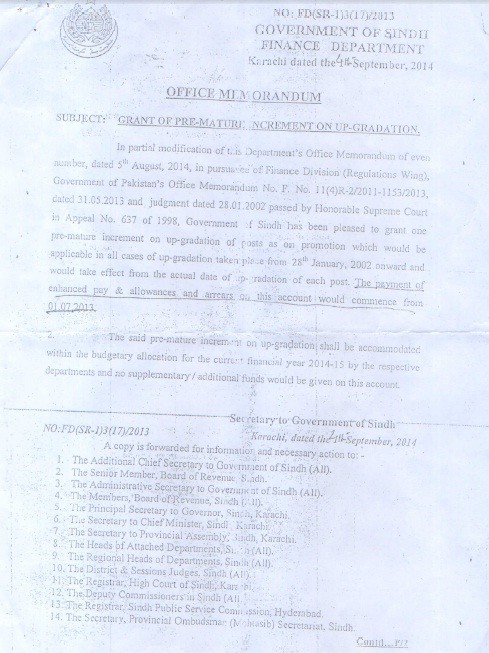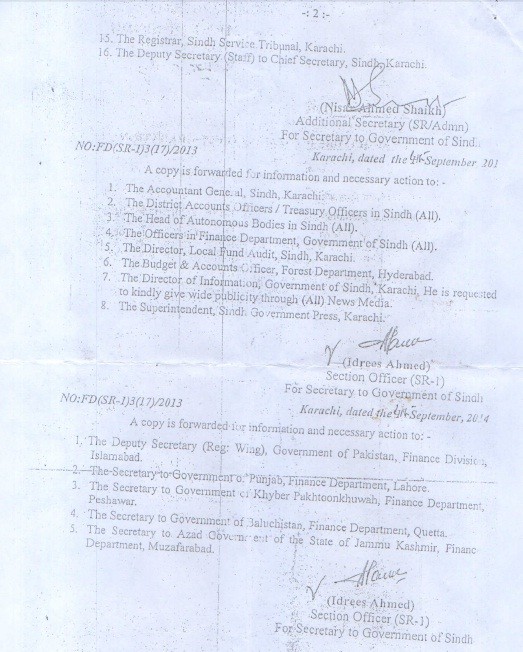 It is mention here that the said Notification has been revised two times. The 1st one was issued on 25th July 2014 and the 2nd one issued on 5th August 2014. The copies of these two Notifications are also attached for reference.
Notification of Premature Increment Issued on 25-07-2014
Notification of Premature Increment Issued on 05-08-2014