On the basis of the survey, campaign it is necessary to Enhance House Rent Allowance in Budget 2019-20 for the Government Employees of all over Pakistan. Averages rates of house for a rent in every city is more than 10,000/- per month and average House Rent Allowance of a Government employee is about 2000/-. So it is the need of the time to increase the HRA for the employees.
It is not possible for an employee to rent a house in 2000/- rupees or 3000/- rupees. So all the employees of Pakistan request from the Government to increase / enhance the rates of the current HRA.
Proposals for Increase in HRA Rates
It is proposed that there should be minimum 45 % of the Initial of Revised Basic Pay Scales 2017.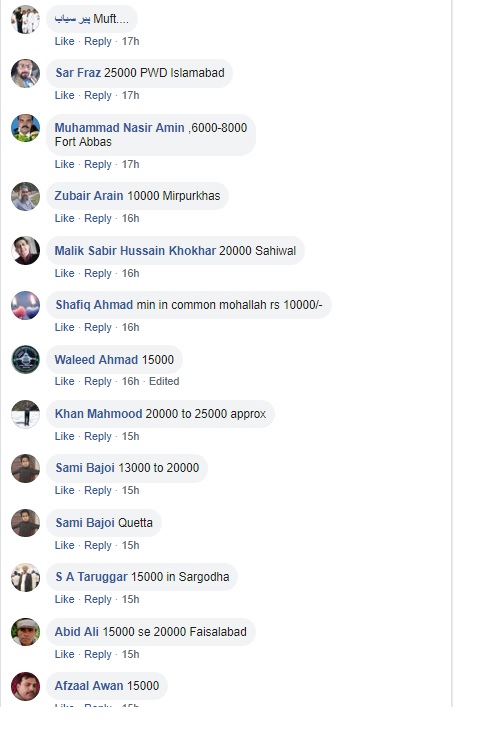 Comments by Friends on Facebook Regarding Enhancing House Rent Allowance
Comments of friends on Facebook are as under to increase the HRA in Budget 2019-20. They have mentioned their present rent of 2 beded House in various cities of Pakistan.
Kaleem Khan 10000 + in every city in Pakistan..
Rifaquat Khan Rs. 15000 per month , sukkur, Sindh
bijli gas ka bill alag ha…
Saif Khan 10 thousand approx… in kohat
FaiZan RaZa RaZawi Nazimabad No#2 2 bed House 1st Floor 120 yards 20 Thousand
Abdullah Bhatti Rs.10,000 in rural areas while
Rs.20,000 in urban areas of Rawala Kot AJ&K
Ghulam Mustafa It must b attached with/50% of Basic Pay
Sharafat Zuberi 2 rooms Rent 12000/ thousand and HRA 3200
Fawad Khan 50% at running basic pay homa chahy
Mian Yazdani 15-20 thousand in lahore
Ali HusSain 10000 without Gas and Electricity
Sara Anam Minimum 10,000 in bahawalpur city and minimum 8000 in bahawalpur rural areas
Waseem Raza House rent allowance kam se kam 8000 hona chay jo k m de rah ho hafizabad
Noureen Amir I am paying 20,000 for 2 bed room house in Fsd
Fawad Khan Currently I am receiving 2727 house rent
Syed Touqeer Hussain 6000 HRA and rent in Islamabad is more than 30k
Atif Ullah Khan Time scale promotion and medical allowance
Jarrar Butt 20000 to 25000 in lahore
House rent 2800
Aftab Ahmad Are they blind to the unaffordable cost of living and the negligible house rent alliwowance?
Sohail Zaffar My house rent allowance is 1557/-. Two bed house rent is 8000/- in Hyderabad.
Shaukat Hussain 35 thousands sector g-13., islamabad
Atif Ullah Khan Medical allowance and time scale promotion is also needed.
Hashim Raza I am paying 7000 thousand house rent per month in dgkhan. it shoud be minimum ten thousand per month.
Tabinda Qamar 50 thousand in Islamabad
Aamir Ali Khan 50,000 studio apartment in F-10, Islamabad
Ẫẫẫĺĺĺẫẫẫḿḿḱħẫňšuĺễḿẫňiẫň A S 20000 two rooms apartment Quettacity
Zia Ulislam Zia My house rent allowance is 65k, while house of two beds is 2500.
Atia Zafar At least 15000 for an ordinary house and 25000 for an average city Wazirabad District gujranwala
Qazi Shabbir Ahmad Grade 17 House Rent Allowance Rs.6650 and two bed room house rent at Lahore Rs.30,000/-.
Ahmad Tahir 10 k
Bahawalpur city
Mnemum
Rafaqat Nabi 2214
6000_10000
Employees Corner city name?
Khaskheli Majid 10000 Rs in Larkana City
Naeem Khan HRA should be equal to House Requition Allowance
BabAr Ali Kaghzi 10000 in shikarpur city sindh
Jahangir Khan Minimum 8000 rupees in Hazro city
Nasreen Aftab humary 3 rooms hay rent 18 thosand in lahore
Naeem Khan 25000 5 Marla Home in Peshawar
Shahab Ahmad Gull Minimum 8000 in Abbottabad…
Shahzad Satti 30,000 at Upper Chatter, Muzaffarbad
Naveed Shahzad Naveed I am living in a home of 2 rooms and paying 8000 per month.
Irfan Paracha 10 to 15 thousand peshawar
Asim Ali 25000 for 5 Marla house Hayat Abad Peshawar, and approx same at can't area
Sajid Mahmood 12000 to 15000 Multan for two rooms
Alì Chandiø 8000 to 10000 in sanghar city sindh
Ghulam Murtaza Mangi 22000 to 25000 in karachi , Sindh ..
Hamid Hussain 10000 to 20,000 in kpk district haripur.
Zaheer Khan 15000 for 4 marla house
30000 for 8 to 10 Marla
فاروق نذیر رانا 2 bed rooms outside of city area rent is 8000 to 10000 bhalwal District sargodha
Nasib Khan 5 to eight thousand in dir lower kpk.
Jehan Sher 6 to 10 thousand at Madyan Swat.
Hussain Nazar minimum 20 thousand in sargodha
Imtiaz Ali Mirpur azad Kashmir 10000 house rent k silsi mein mlazmeen say bhot ziadti hay yeh running basic pay per hona chahiay poori taqat say yeh mtalba uthana chahiay
Khan Ullah 10,000 Rs of two bedrooms house in Peshawar and my current house rent is 3321/- rupees
Yaa Qoob In Gilgit-Baltistan BPs-11 Rs. 1853/- and rent is 12000/-
Shazia Malik I heard grade 17 will be given 25000 per month as HRA. So waiting for
Adeeb Satti My hr is 2727 rent is in this aria 17000/ two bed Rawalpindi
Abdul Waheed minimum 15000 to 20000 thousand in Rawalpindi….
Mohammadmithal Wadhio Take this matter to high ups on priority basis
Abdul Basit Current HRA FROM GOVT IS 2500
AND TWO BED HOUSE RENT IS MININM 10000
PESHAWAR
Engrt Muhammad Awais 25000 in johar town for 5 marla portion
Abdul Qudoos I have HRA 4433, (BS 17). It should be 15000-20000.
Zawar Safdar Ali Chatoro 1000 to 12000 thousand in Gilgit city
Zeeshan Adil hayatabad 2 bed portion 25k
Mehboob Mughal It should be minimum 10,000
Malik Imran Ali Awan House Rent 1850/-
Min Rent 13000/- PM
Atiqur Rahman Alizai Govt jitna filhal pay karahi hai hamare liye bahot hain. Jitna hum apni rights k lye larte hain kya hum apni duties r responsibilities b usi tarah ada b karte hain?
Ayan Minhas Shazy 10 to 15 thousend in Attock kamra
Syed Ali 20 to 30 thousand in lahore
Chaudary Zahid 8000 to 10000 in district Rahim Yar khan
Awais Abbasi 25k for 5 marla double road Rawalpindi.. HRA 1864 bps 11
Zahid Mahmood 8000 to 10000 house rent in our city
Mir Aziz Ahmed Talpur RS.18000/- Scheme-33, Karachi
Makhdoom Tariq Salahuddin AL-Hashmi Medical Allowance not Equal bsp 1 to 22 must be 7000/ equal to all
Muhamamd Sarfraz In Lahore, Minimum Rs.12000 to 15000
Muhammad Shabbir Rs.3321/- HRA
Rs.6000/- Faisalabad
Jhang Road Area.
Ghulam Qadir House rent of two rooms in Qta is 25 to 30 thousand
ZafaRullah Siddiqui 4090 HRA
15000/- to 20,000 Hyderabad
Kashif Kamal At least HRA should be equal to hiring requisition rate n should increase periodically as hire requisition rate revised after 3 years
CH Jamil 17000 – 20000 in Rawalpindi Cantt
Ali Ismail 20000 to 25000 Peshawar not two bed room in maralas
Kashif Sajjad Grade 17 rent 22000 total pay68000
Muhammad Safdar 15000 per month in Rawalpindi minimum
Waqas Ahmad At least 20000/ for an average house in jhang
Amjad Malik 15000 near khanapull Islamabad
Habib Rehman Rs=4433 and in. my city toba tek a ingh the rent of two bed room house is 15,000
Tasadduq Hussain Minimum 50% of running basic pay hona chahye HRA..
I also suggest this should be taken up with the authorities on Twitter also.. because most of our political leaders don't use fb
Numan Haider HRA 1960
But rent of 2 bed rooms is 8000 in pasrur
Abdul Khaliq Muslim town Rawalpindi
15000 to 20000
Depends upon location and building's condition
Kami Khral But government jo deti ha 2 bed apartment wo AP se wo hi house rent ley rahi hoti hai jo ap ka hai.
Polite Sheikh Two bed room house rent in faisalabad is 15k to 20k and gouse rent of 16 grade is very very low
Munam Zia 12000 per Month Bahawalpur city
Rtn Anwar Jogi 10k to 15K in Umerkot Sindh
Fazal Soomro 2 bed.rent Rs 10000. HARNAI. District. BALOCHISTAN
Farhad Ali my hr 22 and 2 bed house rent 8000 in peshawar
Syed Hassan Ali House Rent Allowance is 2778, But the average house rent in area is 10,000
Khalil Niaz Soch Our Hs/Rn 3000.our area house rent 10000
Tariq Hussain It needs to be fixed according to scale entitlement
Muhammad Ishtiaq 25,000 for double bed portion in lahore, but HRA is 1800
حسنین اعوان 10 thousand in Chakwal.
Prof-Dr Abrar Khan 3 Bed Chaman Housing Quetta 35000 per month. BPS-21 can not pay. I am in BPS-21
Muhammad Muneer 3 Rooms house in khi rent 23000/ per month
Adnan Butt Butt For 17 scale house rent must be according to his status which should be at least 25000.
Mian Moon bahiyo ap HR ko ro rhe muje lgta is dfa salary increase nhi honi jo circumstances chal rhe Govt key
Mian Moon 19 thousand for 1 bed lahore
Ch Tariq Majeed In get two bed room rent is 15000
Ahmad Hassan Khan Bahawalpur m 2 bed house upper story 20,000 pm hy
Asim Iesco Pay increase 100 percent after revision of pay scales in budget 2019-20
Muhammad Siddiquie 30,000 cantt. Lahore near new airport
Sxabir Ahmed Rs. 12000 to 15000 in Sukkur city
Shahid Mahmood 3321 HRA
Averge Rent 8000 per month.
BWP.
Khurram Nawaz Twenty thousands RUPEES ( 20 Thousands RUPEES) in MULTAN.
Siddique Tanoli 5 se 7 hazar in mansehra of 2 room
Faisal Tabassum minimum 5000 in haroon abad city
Badaruddin Soomro Rs. 20,000/- to 30,000/- in Lahore. Currently getting House rent of Rs. 6,500/-
Hassan Shabbir Bhatti 16,000 for only 2 bed's single portion of 5 marla house in Lahore
Ratan Rohira I am already paying rent for my home Is.15000 except utilities in shikarpur rural area
Qaisar Mehmood 10 to 15 thousand in mian channu
Hanif Ali Baloch 10,000 rupees for average house while 20 to 25 for good livable houses.
Tahir Raza App. Rs. 18000/- in Jaranwala district fsd.
Saaj Malik Hr is 4400 but rent of house is round about 20000
Afsar Ali I think government must arrange sleeping bags instead of HRA…..
Ali Haider Shingovi Hiring allowance must b more the 10 thousands
Muhammad Nadeem 20,000 in Faisalabad city
Malik Jawad Ahmad 1851 HRA and 2 bed house rent in Chiniot is 12000.
Hafiz Masood Saeed 40,000 in Model town extention, Lahore
Engr Muhammad Fayyaz My allowance is approx 6000, while cost of two bed apartment is 20,000
Numaan Tariq House building advance in KPK government 250000. Hose rent 2727. Medical allowance 1500 etc etc. If the allowences title change with the following criteria then the problem is solved. Bathroom building advance. Bed allowance. Doctor fee once in month
Shaikh Sarfraz Yeah to sab jante h supreme court parliament aor sab competent authorities es k bawajood mulazimon s zulum afsos. Sharam haya naheen iqtidar m akar sab badmast haathi ban kar jeene lagte h jab baahar hon to bari bari baten karte hen. HRA running basic pay par kiya Jana chahiye ya to fix kar k dena chahiye 10000 s shuroo kia jaye
Huma Zubair 4 marla house in which 2 bed room rent 12000
Imdad Khan My H R A is Rs. 6600 and rent of 2 bed accomodation in peshawar is not less than Rs.15000
Saleem Soomro Gulistan.e.Johar Karachi 2 bed lounge flat 16000/=
Malik Ilyas 15000 thousand Rawalpindi
Haji Sajjad Haider About Rs 12000 at KDA kohat
Kashif Rajpoot hra 2385 and two bed rent 6000 fsd
Ayaz Khan 7000 in a small village in swat
Saeed Latif 2 beds 10,000 my house rent 2777
Sarbeland Khan At least 5000thousand Dir Lower
Muhammad Khawar 12 se 15k
Nd current is 2200 rupee
Ayaz Ali Solangi Apporx 10000 to 15000 thousands in average area of sukkur
Khalid Rasheed At least 12000 in Multan. My house rent is 6600 now. Working in grade 17.
شجاع محمد ڦل
سر السلام عليکم! جيسا کی پينشں گریجوٸٹي / کميوٽيشن 2001 سے ريٹ لاگوہیں اس کے لے بہی آواز اٹاہیں اسے 2001 سے چيںج نہی کيا گيا مہنگاہی 400% سے 500% ہوگی ہے اسکا ريٹ بڑہانے چاہی۔۔۔؟
Shafiq Ur Rehman I m SST living in talagang city paying 9000 rent without gas and electricity bill
Rizwan Bajwa 18000 to 20000 and my HRA is only 1200
Wajid Khan 7000 thousand minimum rent in gambat city
Malik Ghulam Ali Rs.15000 to 20000 in faisalabad for 2 bed
Sajjad Bhatti 12500 in shalimar road lahore
Rana Mohsin 10 to 15 thousand in Sialkot near my office
Mushtaq Abbasi 15000 to 20000 in Larkana City..
Umer Farooq An ordinary flat of two bedrooms rent of which is Rs. 30,000/- in Karachi, whereas, house rent giving by the government to BPS. 16 is Rs.4091/-
Yasir Shah HRA in my salary 2778 only and i pay to owner for 2 rooms flat 13000 in karachi. Normal 2 rooms flat 60 to 70 yards rent is 15000 to 18000
Asif Sanai 15000 in university colony nawbshah two beds
Amjad Islam Mughal 12000 to 15000 minimum in sheikhupura
Mamoor Khan Bhai govt ghareeb aur ameer k dermeyaan farq rakhna chahte hai warna WO ham se behtar jante hai
Muhammad Arshad Rehmani Sial 5 thousand in liaquatpur
Amir Siddique I have paid 15000 in Lahore
Rana Naveed Akhter My house rent 2200 I pay rent 8500
Tila Muhammad 10 thousand attock
Muhammad Shahid Iqbal 10000 in Lhr excluding gas and electric bill
Asma Shabbir 20,000 in lahore in average locality
Nasim Marvi House rent 40,000 2 bed apartment …karachi
Muhammad Anees 9000 only single bed room in dera ismail khan city
Muhammad Usman 20000 to 25000 in faisalabad city
Shakeel Amjid Minimum 13000 in rawalpindi
Muhammad Yunas Qureshi Minimum 10000 n maximum 15000 in bahawalpur
Shahzad Mehmood Raja Hra 2049 rs and two bedroom rent in karachi 15000to 25000
Khysta Alak 2770 in kamra grade 11 for 2 bed
Imran Habib 17000-20000 for 3 Marla house in medium to low level areas of district Faisalabad.
UsmAn Sirang 17k peshawar university town
Junaid Sadaf Minimum 20 thousand in lahore
Zia Uddin minimum 10,000 to 15,000 in Peshawar.
Toufeeq Malano 2 bed In Margala town approximately 40.000
Faqeer Sumair Majeed Mangrio 12000 to 15000 karachi site for two rooms
Salik Abbas Bukhari At least 15000 in faisalabad
Ghaffar Haq 25000 + park road islamabad
Umer Farooq Saeed 16000, in main district Peshawar.
Muhammad Azeem 2727 house rent,
Avg area hr. 15000
Såjjád Hüssãìñ Süfí 15000 Mehmoodabad Karachi without USGs
Waheed Hussain 25000 to35000 in lahore city with bad conditions
Naheed Naseem jo log rent pr nahi jana chahty wo kisi relative k han rehty hain kya unki pay mai ye allowance shamil ho ga?
Mateen Ahmed Khan 6600 present allowance house rent
At least 20 thousand minimum rent
Agha Adnan Khan Islamabad G-10, Rent Rs. 35,000/-
Amin Khapluvi 3000 to 25000 in HQ Khaplu Ghanche District Gilgit Baltistan
Mahnoor Maha Minimum 10000
Azaz Ali 15000 to 20000 in Islamabad
DrShagufta Akmal 25000 Bahawalpur
Abdur Rahman Khan Matta 33000 in Islamabad G-13
Ali Hassan Siddiqui 10k to 15k in attock..
Faisal Mahmood 17000 to 20000. and 40000 to 60000 security
Aurangzeb Khan HRA-2700, rate – 12000
Muhammad Amin Rs. 13000/- Peshawar
Muhammed Saeed Rs 20000/= pm. Hyderabad.
Mohammad Ayoob Kalhoro 10000 at kotri
Mohammad Ayoob Kalhoro Yes no normally
Asad Ali 8000 to 10000
Abid Ali Taizai 10000 in nowshera and my House Rent is 2214 😩😩😩
A Rahim Baloch 12000 to 24000
DrAshok Kumar 8000 to 10000
Irfan Haider Joyia 17000 to 25000 in lhr
Shani Ch Mirpur Azad kashmir 10000 rant
Asif Raza Shaikh 15000 to 18000 Hyderabad sindh
Haleem Ullah 10000 in peshawar city
Asif Ali 6000 tp 8000 kashmore
Syed Ali Hussain Bukhari Bahawalpur city
Bilal Chouhdary 25 sy 30 hazar in Bahawalpur
Muzammil Hussain Qureshi 12000 to 80000 in bahawalpur
Suresh Malhani 8000 to 10000
Waqas Javaid Abbasi 15000 at bharakoh
Shahida Kiyani 50,000 islamabad i/8
40,000 dha
Naveed Shahzad Naveed
صيبه د نن صبا کراياني د سوونو نه د زرګونو خبرے دې، د هاوس رينټ په ځوالې سره مضبوط کار پکار دے،
Amir Sheikh Minimum 20000-30000 Rawalpindi
Manage
Rizwan Sharif Useless campaign….
Saidul Amin 10000 to 15000
Yasir Abbasi 18000 in ABBOTABAD bb
Jawad Ahmad Mayar 25 hazar in abbottabad
Muhammad Asjad 25000 to 30000 kharian cantt
Aabid Rana 2500 and 10000
Qasim Abbas 2727 & average rent is 12000
Kamran Khan 10000 in KOHAT.
Arshad Bilal Hayatabad Peshawar 25K
Waqar Un Nabi 15k to 20k Minimum
M Zaman Zaman 8000jhelum city
Abid Ali 200,000/- Rupees.
Safi Khan Akhonzada 15000 in attock
Jamal Wazir 8000 to 15000 in kohat
Shan Asif 8000 to 12000
Saadi Shah 20,000 in sheikhupura city
Shafique Ahmed Abbasi 20000 in Sukkur
Mir Shahzain Talpur Garden karachi 22000
Anum Ashraf 2500 somthing…
Khalid Javid About 15 thousands
Chan Mehboob 30000 in islamabad
Sh Abdul Rehman 8000 in Jhelum
Shabbir Hussain Koi Fayeda ni, Inn ka pait bharegga tu awam ki fikre karenge
Rao Imran Aslam 20000 in khanewal
Farah Tabassam 3 bed house without gas 10,000.
Saeed Ahmed 14000 To 16000 Hyderabad side areas 20000 To 23000 Hyderabad city
Qaiser Bashir 25k to 30k in lahore
Bilal Khan Rind 15 thousand to 20 thousand
Atif Ullah Khan Medical allowance is also too less .
Atif Ullah 10000 to 20000 in karak.
Omer Zaidi 1400 Wah cantt Lala ruky
Syed Parvez Haider Shah 10000 khair pur mirs sindh
Mohammadmithal Wadhio 12000 thousands in Hyd
Mushtaq Khan 8000 Mardan
And my HRA 1851
Muhammad Ali Khan 10000 to 15000 rent 2bedrooms House in LORALAI
Adeel Noor Bhatti Lahore sher shah colony 10000
Saadi Khan 15000 to 18000
Qari Abdul Saboor Minimum 10,000
Saif Ullah 5000- 10000, my is 1818
Maqbool Channa 15000 to 20000 hyd
Kamran Akram 20000 in quetta
Syed Ali Raza 10'000 Skardu Baltistan
Mushtaq Ahmad Memon Hyderabad
15000-20000
Mubasshar Ijaz 10 to 15 k in muridke
Ahmad Ali 25000 lahore wahdat road
Wasim Rao 8 thousands
Farhad Hussain 8,000 to 12,000 district mardan
Farman Ali 18000 QUETTA.
Asghar Ali Gurgej Balouch Minimum 7000
Ubauro city
Agha Zahid Ali Ali Minimum15000 to 20,000
Mushtaq Ahmad Rs.20000 to 25000 peshawar
Arif Awan 12000 to 20000 in Multan
Waqas Ul Islam 7000 District Malakand
Qasim Raisani 10,000 Quetta
Arshad Khokhar Bahawalpur
Rs.10000
Muhammad Azim Khan 20,000 in RWP.
Awais Manj H.R.5000
Rent @ city fsd 15000 sy 20000
Muhamamd Sarfraz 12000 to 1500
Shabbir Hussain Ansari At least 10000
Noman Raza 30 thousand 😭😭😭😭
Muhammad Akmal 15000 to 18000
Syed Faizan Ali Shah 15k to 25k hyd sindh
Mudassir Sohrani Khan 15000 to 20000 in DGKhan
Hafeez UrRehman 12000 frm Multan
Ray Muhammad Sharif Rs.10000/- in Pakpattan
Gul Nawaz 5 thousand in Dera Ismail Khan KPK
Muhammad Ateeq 10000 in Lahore Raiwind road Lahore
Abdul Khaliq Yes no house can hire you below 10000
Adil Muhammad 20000 in karak
Waqar Ahmad Normal 15000
Mohammad Usman Awan 15 thousands
Tahir Azeem Minimum 5000.
DrSarfraz Ahmed 12000 in kotla Arab Ali khan
Imran Ahmad 8000 to 10000 in multan
Mumtaz Hussain 15000 in parachinar
Haroon Rasheed Hyderabad 12000
Muhammad Talha Gabol 10000 minimum in ghotki
Haji Raja Ali 15 to 20 thoughts in RWP
Dil Se Ali 20000 in sukkur
Tariq Hussain Rs 15000 to 200000 in mardan and HRA is 4500
Saeed Hashmi Rs10000 in sher Shah coly raiwind rd lahore
Adnan Mehmood 20000 to 25000 at Lahore
AttaUr Rehman Sar 18K to 21K per Yr Jubail
Malik Abdul Majid 12k to 15k in D.G.KHAN
Azra Amjid 45000 in lahore 2 beds room johar town
Yousuf Khan 7000 in Bahawalnagar
Nasir Bangash 20000/- in peshawar city
Dil Nawaz 10 to 12 thousand
Adnan Shahzad Khan its 25000 in Rawalpindi
Mujeeb Ullah 8 to 10 thousands in chilas
Ibrahim Khan 15000 in Bannu
Asim Iqbal 8000 to 10000 hzar Chakwal.
Muneeba Mehboob 25000 in faisalabad
Muhammed Zeshan in our village five time nemaz only
Muhammad Arif 8000 to 12000
Muhammad Rizwan 8000 to 12000
Qasim Hangu At least 10000
Abrar Ahmed Khan Minimum 15000 Peshawar
Mumtaz Khuhro 35000, in Islamabad
Abdul Hafeez 8000 to 12000 in ATTOCK
WAheed Murad Timergara City 12000 to 20000
Faiz Khan 15000 rent only two room house at Loralai
Hameed Ul Hassan 10 thousand
Shahid Akram 20000 thousand + Hayatabad Peshawar
Asif Rasheed 8000 to 10000 in rwp
Mazhar Abbas 18000 in lahore township
Ansar Saeed 12000 to15000 kohat for two rooms and I receiving 2214 HR
Kashif Ahmad 12000 – 15000 in Rwp
Shan Tanoli 12000 kts Haripur
Syed Saqib Hussain 15000 to 20000 in karachi
Ahsan Butt Normal 10000 in jhelum
Khurram Shahzad More then 12000
Akmal Hassan 13000 in Kohat KDA OR Kohat city
Muhammad Khalid Two rooms rent 25000 he in NewCity faz 2 Wah Cantt
Sarfraz Ahmad 10000 to 15000 in Hafizabad
Shaikh Sarfraz Sukkur m 10000 to 20000
Faiza Meryum At least 15000…
Rehan Sheikh 12000 to 15000 in Bahawalnagar
Muhammad Naeem Malik 10,000 thousand
Muhammad Rizwan 10000 to 15000 in sialkot
Raja Aman Satti 12000 in rwp citu
Nisar Ahmed Attock 8000 to 12000 pm
Qazi Waheed Murree 30000/-p month
Hafiz Arshad 8000 in Okara..
Latif Abro 10 to 12 hazar in Karachi .
Naoman Khan Rawalpindi . . Rs 15000 to 20000
Fayyaz Abbasi Rs 50,000/= in Islamabad
نعمان اسداللہ انجم 7000 in phalia Distt Mandi Bhaudin
Waqar Ahmed Mininum 10000 without utilities
Riaz Baig In mandi bhaud din 10000 rent
Huma Makhdoom Lahore 18000 rent
Muzammil Maitlo 15000 in Badin sindh
Hamdullah Jan 25000 in Hayatabad Peshawar
Muhammad Zaeem Arshad 12000 atleast in Taxila
Aamir Shahzad 20,000 for normal house
Muhammad Ayaz 15000 in pattoki kasur
Asif Butt depends on area
Asif Butt 20 to 35 thousand
Muhammad Arshad Khataana 35 to 45 per month
Haroon J 25000 to 45000 Rawalpindi / Islamabad
Sajid Aziz Samo 15000 Tandojam Hyderabad
Sultan Pur Hassan abdal 8 to 10 thousand
Dil Nawaz Tanoli Me from Lahore
Rent 15000 to 25000
Muhammad Idrees 10000 to 15000 in mardan
Mehreen Qazi A UNIFORM POLICY MAY ADOPTED FOR PAY & ALLOWANCES OF ALL GOVERNMENT EMPLOYEES IN ALL OVER THE COUNTRY LIKE SBP KPT SUI GAS ETC
Muhammad Farooq 15 Kg to 20 Kg
Adnan Khan 12 thousand in Lahore 2 room ka
Abdullah Mohammad 2 bed room 5 and 4 bed room 8 thousands
Liaquat Hussain 15000 to 20000 in Multan
Muhammad Shafiq 10000 plus in Dera Ghazi Khan
Izhar Ail Shaikh Gulistan e Jauhar 18000
Kelvin Mubarik 10,000-15,000
Faisalabad
Naira Rashid Minimum rent is 20,000 in sahiwal
Tahira Nasreen 30 to 40 thousand
Muhammad Sohail Siddique 10000 in jhang waqas bhai
Masood Akhtar Kam AZ Kam 50% 🏃 basic pay hona cahaiy
Sheikh Farhat Minimum 12000 in sgd
Sajid Rasul 15000 to 25000 in Sargodha
Mansoor Khan 20 Thousand in LHR
Sara Nadeem Lhr 16000 rent two bed
Imran Ashraf 30,000 in G 9/4 Islamabad
Fiaz Ahmad 13000 at sahiwal
Vicky Khan 10,000/- to 15,000/- in Jauharabad city District Khushab
Haseeb Abbas Mostly 25000 in lahore
Imran Rafique 15000 two bedroom okara
شجاع محمد ڦل
سکر ۽ روھڙي لاء 10000 کان 15000 ھزار رپيا ڪرايو ۽ سکر ۾16 گريڊ لاء گھر جو ڪرايو 4000 ھزار۔۔۔؟
Imad Shah 12 thousand minimum
Ishtiaq Ahmed 15000 to 20000
Ansar Shiraz Malik Minimum 10,000 Mianwali
Abdul Karim Channa at least 15000 sukkur
Zeeshan Abbas 20,000 to 30,000 in isbd pindi
Mehar Sb jo house rent hum ley rahy hy itny mey to koe wash room b nae deta…
Mehar Sb 10 sey 15 thousands.1d
Usman Ghani Minimum 25000 two room flat
In murree
Alamgeer Khan 10000 two bed room house rent at charsadda kpk
Arshad Ali 10000 to 15000 average
Mahmood Akhtar 10000 to 15000
Asad Khan 10000 for two rooms.
M. Irfan 6000 TO 15000
Shaikh Kashif 18000 karachi
Kashan Riaz 16000 samanabad lahore
Hassan Irfan Khan 8000 Tehsil Jalalpur Pirwala district Multan
Nisar Bhutto 12000 to 15000 hazar larkana
Abdul Raouf 10000 in jppw
Aamir Mumtaz Satti Rawalpindi 15000 to 18000
Syed Anzar Abbas 10000 to 15000
Muhammad Saeed 12000 t15000 in Mzd A J K
Sheikh Ahmad 12000 to 15000 in lahore city
Asif Munir 20000 to 30000 in karachi
Muhammad Rizwan 18000 to20000 Wahcantt
Muhammad Asif 15000 thousand in district Bahawalnager
Nadia Ashraf Goraya 16000 to 20000 Gujranwala
Kashan Khan 2 room 15000 karachi
Malik Huzaifaفصیل آباد
Malik Huzaifa 10000 thosand
Naji Ullah 8000-10000
Ali Asir 10000Rs
Muhammad Abubaker 1589
20,000
Samia Jahanzaib 25000
Rana Irfan 25000
Shabir Hussain 18000 in gilgit
Rana Irfan 12000 rwp
Drabdul Shakoor Galyati Abbasi 15000
Rabnawaz Afridi 12000
Alam Wazir 14000 peshawar
Prof-Tahir Mehmood 20000 in wah
Muhammad Azam Munir At least 10000 for an ordinary house and 15000 for an average city Rahim Yar Khan
Amin Ullah 8000 hazar
Irfan Ali Khanano Swat Mingora 10,000=
Irfan Shahid 8000-10000
Faheem Khan Dahraj 18000 karachi
Usman Yousaf Multan 8000to 10000
Umer Azeem Sahito 10000 hyd
Abdul Sattar 10000
Zeeshan Arif Moon 15000
Muhammad Asif Ali 25 k in Lahore
Rai Hafeez 2500/=
Atta Rehman 20000 in rawalpindi
Rashid Khan 15000 Peshawar
Zulfiqar Bhatti 4091
25000
Kazam Muhammad 10000 gojra
•Panhwar Hadi Bakhsh 15000 in Mirphrkhas
Muhammad Irfan Khan In DIKhan 10000
Mazhar Kayani 25000-35000
S M Chitrali 10000-12000 Chitral kpk
Shah Fam 18000/20000
M Irfan Khokher 15000 – 20000
Gujranwala
Muhammad Asif 17000
Mirza Muhammad Bilal 25000
Hafiz Muhammad Waqas 20k fsd
Muhammad Naseem 3850
25000
Muhammad Waqas Ameen 35000
Inayat Ali Xaur 8000 . tando muhammad khan
Mumtaz Ul Hassan
20 سے 25 ہزار روپے 5 مرلہ شالیمار کالونی ملتان
Muzzamil Hameed Lahore 20-25K
Basharat Hashmi 12000
Waqar Bhatti 10000 Karachi kharadar
Muhammad Murad Bloch 700 Sahiwal
Pervez Iqbal 20000 Karachi
Amjad Qureshi 15 th Multan
Zawar Hussain 12000 mardan
LaZy DaiSy 10000..12000
Irfan Khalil 25000
Zafar Kakar 12000
Sami Bilal 10000 Gujranwala
Zafar Iqbal
پنڈی گھیب 6000 سے اوپر
Ghulam Abbas Hashmi Mirpur, Azad Kashmir….7000 – 15000/ month
Mohammad Arshad 15000 rahim yar khan
Waseem Ishaq 20000 Peshawar
Feradoon Fareed 25ooo in gahkuch gb
Mujahid Bangash 25000 Peshawar
Imran Malik 12000 Multan
Rana Sagheer Ahmad 16000
Rizwan Saif 12000
Abdur Rahman Khan Matta 33000
Ahmed Nawaz 16000
Ali Raza Lakha 10 Hazar Gilgit
Shoaib Kayani Kallar Syedan 8000
Abdul Qayyum Rana 25 to 30 k in lahore
Suneel Maharaj Hyd 12000
Moazzam Tariq 18000/-
Swati Pathan 1961 swat kpk
Mushtaq Dars Umerkot 20000 to 25000
Irfan Fani 12000
Afrah Waqar 25000 in Rawalpindi
Muhammad Farhan Nawaz 10000
Hala Noor 10000 in Bwp
Saif Awais 15000
Aamir Ali 15000 Peshawar
Amin Zikriya 6000 Gujranwala
Abdul Kareem Kareem Jan Khuzdar 8000
Waseem Hassan RBP k 30%
Waqar Haider 10 hazar
Waseem Hassan Hafizabad m 8000 to 15000
Sajida Mushtaq Bhutto 15000 in Larkana
Msohail Iqbal 10000 in tarbela
Khan Ubeyd 10,000
Nadeem Hussain 8000 gilgit
Mansoor Farid Choudhary Lahore 12000-30000
Asif Iqbal Khan
10000 سے 13000
Noman Raza 30 hazar yar
Syed Zakirullah Shah 14000
Hafiz Pti 6000
Muhammad Ibrahim 10000
Khalil Hussain 10000-12000
Shakeel Khan 10000 mardan
Muhammad Khubriyan 12400
Ziaurrehman Khan Koi faeda nahin
Mian Sarfraz 12000
Waqas Iqbal 15000
Muhammad Amir Bilal 10000/ in lahore
Ali Shahid 20000 hazar
Aqeelahmed Abbasi 10 se 12 hazar
Mohammad Osama Akhter 15000
Mohsin Ullah 15000 Peshawar
Obaid Khan 12000 Mianwali
Dr-Hafiz Arfan 15000 in Shakargarh
Murtaza Bhutto 15000
Atif Chaudhary 8000 ….3 marla…Bahawalnagar
محمد عامر سعید
8000.. کوٹ ادو
Shah Shah House rent kam se kam 10000 hona chaye
Abeera Naveed 10000 in gujrat
Kashif Raza 15000 Garjakh Gujranwala
Majid Iqbal 10000-15000
Hafiz Muhammad Rashid 15000 in Kasur
Aftab Ahmed Khaskheli nawabshah 5000 to 15000
Sehrish Jamil 9000 bahawalnagar
Muhammad Sajid 20000
Anwer Baloch 20000
Mahmood Chaudhary 7000
Zahid Ali 20000
Taha Zakir Rahimtoola 19k
Wazir Khan 10000
Farhat Bukhari 20000
Mahboob Alam Khichi 10000
Abdur Rashid 10000
Habib Khan 8000
Waqar Shah 10000
Imran Siddiq 10000
Sohail Khan 10000
Z A Khan Sumbal 10000
Ejaz Khan 7000
Fazil Kalati 8000
Arshad Alam 9000
Khalid Turk 10000
Khurram Shahzad 10000
عبدالشکور بلوڅا
Waqas Javed Grade 11 House Rent Allowance
Rs.2778/- and two bed room house rent at Lahore Rs.25,000/-to 30,000/-
Shehroz Javed 15000
Asad Ahmed Baig 35000
Muhammad Farooq 10000 Toba Tek singh
M Khalid Raja 12000
Umair Butt 20'000 + Rawalpindi
Haris Shafique 20000 lahore
Ali Izat Chachar 35000, Karachi
Muhawat Ali Lahore 15 to 20 k
Naveed Bhai 15000 karaya he
رانا فیاض احمد 35000-45000
Nasir Abbas 22000 in Lahore
Niaz Muhammad 15000
Energy Noman 25000
Muhammad Irfan Min 20000 in lahore
Syed Muhammad Mubeen 12000 Hazar Mps
Basit Qadir 15000+
Khan Muhammad Larkana 12000
Fida Hussain 9000.Tindodag swat.
Bakhtiar Ahmad 10000 in Gharhi kapoora
Kashan Riaz 16000
Muhammad Iqbal 10000 in sheikhupura
Ali Bhatti HRA. 3321
LAHORE
15000
Abdul Rahim
6000 فی کمرا پشاور م
Muhammad Noman 15000
Muhammad Sherjeel 15000 Khanewal
Muhammad Tariq 20000 Rawalpindi
Mudasar Ali Grade 11 House Rent Allowance
Rs.2778/- and two bed room house rent at Lahore Rs.25,000/-to 30,000/-
NK Baloch 2000
Babar Ali Jutt Chich 10000
Israr Hussain 6000
Abdul Manan Khokhar 8000
Abdul Majid Butt 10000
Syed Ghazanfar Ali Taqvi 8000
Fozia Masood 25000 in karachi
Yousaf Khan Gopang 10,000/- minimum of average condition house and 15000 for normal condition………..
Wajid Khan 7000 thousand minimum rent in gambat city
Tahir Noor Minimum 10,000 in bahawalpur city and minimum 8000 in bahawalpur rural areas
Safdar H Bukhari 30000 in MZD Ajk Kashmir
Moeen Khan Rs 15000
Muhammad Shafiq Chandio 10000 TO 15000
Saleem CH Rs. 20000 Multan
Ksm Jam Kotri 10.000 t0 15000
Hamid Ali 15000 in SGD
Kifayat Tareen 20,000 Quetta
Sh Abdul Rehman Rs. 8000
Mohsin Ali 10000 landhi
Muhammad Irshad Bhatti 10000 rs
Ghani Jan 15000 Quetta.
Raham Said Rs..8000
Kashif Khan 5000 bannu
Masroor Mustafa At least 16000
Swati Pathan Avrg 5000
Khuram Shazad 15000 walton
Muhammad Latif 7000 to 8000
Muhammad Zahid Nawaz Wattoo average 10000
Ali Shahid quetta
Habib Hashmi 15000 to 18000
Aftab Ahmed 15 to 20
Tariq Khan Bannu
Owais Arshad 10 to 130000
Ehtasham Ahmed Chaudhary 35000 in rwp
Sajjan Khan 10000 to 20000
Sher Ali 18000 in rwp
Saleem Jaffar 20000 at Qta
Javed Bhatti 15000
Tariq Zaman Swabi 10000
Mudaser Lateef 10000
Sahibzada Wajid Ali Brug 10000
Atta Ur Rehman Bangash HRA=4500
RENT=15000
Asif Mustafai 15000 Larkana without utility bills
Mateen Ayan Ahmad 10000
Zulfiqar Ahmed 15000/ in Bahawalpur
Tariq Aziz Malghani Quetta 15000
Zia Khan 12000
Ameer Bakhsh Panhwar 10000 to 15000 mirpurkhas city
Khursheed Ahmad Abbasi khanpur 12000
•
A Ghafoor Javed 12000 to 16000
Bhakkar
Gul Zaman 12000
Fida Ullah Khan Bannu 10000 to 15000
Saleem Shah 16000 Quetta B area
Dr-Muhammad Hamid Ali Mian Rs 20000
Gujranwala Cantt
Muhammad Shafique 10000 in Gawalmandi Lahore
Kashif Ali Awan Muhammad Shafique sirf 01 thousand kamal hai g
Muhammad Shafique Kashif Ali Awan
Kashif Sahib 10,000 ha
محمد نعمان 15000
Muhammad Shahid Iqbal 10000
Atique Kaimkhani 18000 to 25000 FB Area Karachi
Rana Ilyas 1000
Muhammad Imran Yousaf 10000 in Okara
Atta Ul Mohsin 10000
Ahsan Ali 12000
Azfar Khurshid 18000 to 20000 kasur single portion
Akhtar Hussain 18000 in Quetta
Salamat Ali 12000 in Kasur
Mohammad Shafiq 12-15K
Wajid Hussain Bhuttah R Punjab me 17 scale ka house rent 4400 h
Ahsan Ali Wajid Hussain Bhuttah no sir
…post py area k rent pocha hy. Mtlb ap jahan reh rhy ho wahan 2 bed wala house ka rent jtna hy
Wajid Hussain Bhuttah Ahsan Ali jnb mje pta h me wesa keh RHA hu ke govt ktna kam dati h
Irfan Gondal 25000 in Lahore
Obaid Ansari 30000 Islamabad
Rashid Mahmood 20000 Sargodha
Syed Zaib Ullah Shah 18 to 20 thousand and 1lac advanced….. Peshawar
Afzal Shahid Lodhi Bahawalngar 10000 To 15000
Muhammad Shoaib Dev 10000 narowal
Muhammad Akhtar Hayat 7000 in jauharabad. District khushab
Siraj Muhammad A normal house about 3 Marla 2 rooms with out any facility Rs 5000 pm area hathian Mardan
Hamid Hussain 10,000 to 20,000 distrct haripur kpk.
i have sent complaint to p.m via citizen portal about the same.but no response came yet.
Muhammad Naveed Anjum 8000
Dr-Irfan Baboo 17000
Adnan Badar 15,000 – 20,000
Umer Shabir 15000 and above Rawalpindi
Zia Sajid 8000 city Taunsa
Abdul Samad Muzaffargarh 9000
Ibrar Jutt 25000
Zahid Aslam Sahiwal ==14000/=
Rana Qazafi Its Rs. 20,000. in Bahawalpur
Nematullah Khan 12000 in kot addu
Muhammad Ismail 13000 dgkhan
Muhammad Wisal Kakakhel 7000 In Swabi
Usman Hafeez at least 13-17 thousand in Rwp.
Abdul Basit 10000
Shahid Karim 1000 Jampur city
Muhammad Imran Khan 12000
Zia Mustafa 15000 Rawalpindi
Asif Raza 8 to 10 thousand
Musa Asher Tareen yes 20,000 in Bahawalpur
Nasir Khan 25000 in Sahiwal
Muhammad Ilyas 15000 to 18000
Mohammad Majid Saeed 7000 jahanian
Aziz Ahmed In karachi 2 bed DD rent is 35000
Engr Asim Munir 15000 in Sialkot
Imran Minhas 20000 in Rwp
Rameez Shaikh 10000 in 2 rooms MPK
Khalid Awan 22000 to 25000 Peshawar cantt
Hasan Mahmood 17000/ in khan pur distt RYK
Zubair Muhammad 12000
Faizan Khan 12000 hyderabad sindh
Sarfraz Ahmad 15000 sy 20000
Haroon Saeed 8000 Gujranwala
Zahid Bukhari 10000 Bahawalpur
Rais Dullu 10000 2 beds portion mian channu
Glx Mulazmeen It means 2, 4 hazar HRA main House on Rent is impossible
Mohan Lal 12000 in Umerkot Sindh
Syed Munir Hussain Naqvi 15000 to 20000 in Muzaffarabad AJK
Babar Pasha 12000 in jhelum
Zia Ullah Mohmand House ceiling rates admissible to federal and punjab Govts is average
Tariq Shah Mushwani 15000 Quetta
نعیم یونس 10k to 20k in Attock
Shafqat Sohail Kiyani 15000 rwp
Imranhafeez Awan Peshawar 10000
Muhammad Ayaan Mystafa 12000 kohat
Samia Sadaf Rawalpindi,,,min 17
Muhammad Faisal Rs 20000 in karachi model colony
Zafar Ali Shahani 15000 in our city
Muhammad Saqib Najam 15000-20000 in Faisalabad
Raja Masood Akhtar Janjua 10K to 20K in Wah Cantt
پیر سیاب Muft….
Sar Fraz 25000 PWD Islamabad
Muhammad Nasir Amin ,6000-8000
Fort Abbas
Zubair Arain 10000 Mirpurkhas
Malik Sabir Hussain Khokhar 20000 Sahiwal
Shafiq Ahmad min in common mohallah rs 10000/-
Waleed Ahmad 15000
Khan Mahmood 20000 to 25000 approx
Sami Bajoi 13000 to 20000
Sami Bajoi Quetta
S A Taruggar 15000 in Sargodha
Abid Ali 15000 se 20000 Faisalabad
Afzaal Awan 15000
Subtain Manzoor Khichi 15000 to 20000
Muhammad Farooq 16 Thousand per month in Mughalabad Rawalpindi
Fazal Ur Rahman 8000
M Shafique Awan 20000 in Abbottabad
M Shafique Awan
Mohsin Raza 12000/- to 18000/- in Nankana Sahib
Hussain Masroor 16000 to 20000 in latifabad, Hyderabad, Sindh
Shoaib Ahmad 18000
Multan
Shahid Rasheed I m from lahore
2 beded house rent is 15000 rupees without any billing charges
Anilla Afroz 15000to 20000
Muhammad Asif 8000 Alipur
Abdul Qayoom Mashori Newshera kpk 1 Room 3000
Inayat Ullah Jagirani Larkana minimum 12000 larkana except electricity and gas
Mohammad Shafiq 12-15K
Mohammad Shafiq 12-15K
Abu Bakkar Umar 8000 in District Muzaffargarh (Punjab)
Shahvez Bukhari 10000 per month