Last Updated on March 13, 2020 by Galaxy World
Khyber Pakhtunkhwa Government has issued Notification of Holidays in KPK Schools 2020. In pursuance of the decision taken by the provincial cabinet in its meeting dated 13-03-2020, the Competent Authority has been pleased to order postponement of SSC Annual Examination 2020 and closure of all schools with immediate effect for 15 days.
Notification of Holidays in KPK Schools 2020
All schools with boarding / hostel facilities should contact parents / guardians of children and ecsure their return to their home with the next couple of days.
As soon as I get the Notification of Colleges and Universities Holidays in KPK, I shall update the same here at this post.
Special thanks to Mr. Hamid Hussain for sending the copy of the Notification of Holidays in KPK Schools 2020. For your information Sindh Government has also announced holidays in Sindh schools upto 30-05-2020.
Holidays in KPK Colleges and Universities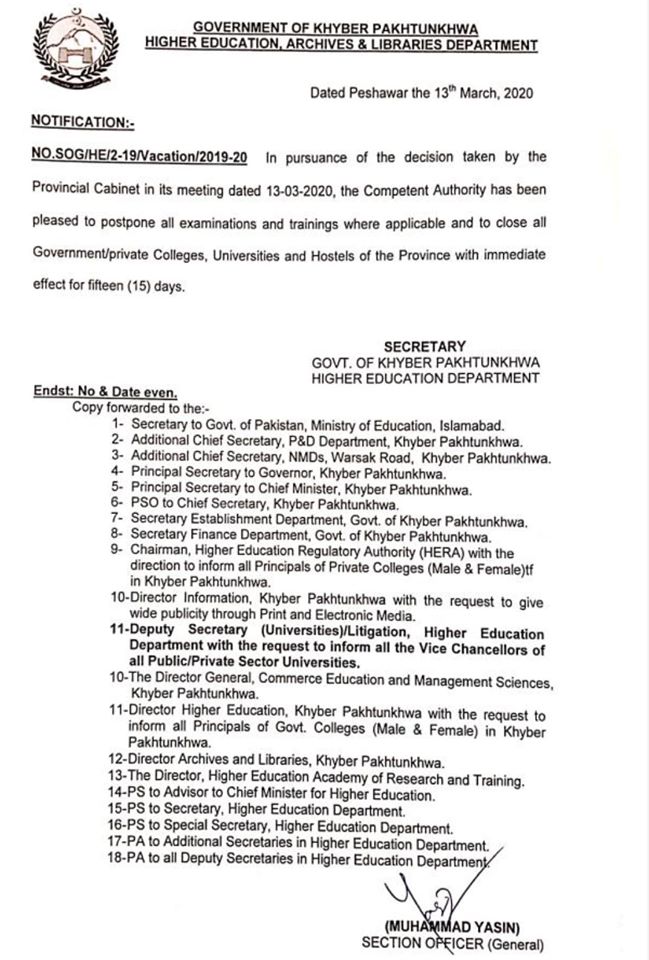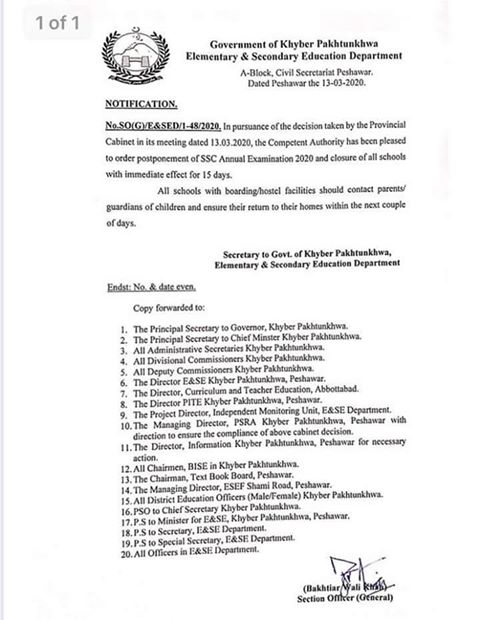 Holidays in KPK Universities
The Registrar Abdul Wali Khan Univeristy Mardan has issued Notification where it is stated that in accordance with the order of the HED , the university will remain closed for students with immediate effect till 31st March 2020 as preventive measure in the best interest of the public.
All the interviews and examinations if schedules shall remain cancelled till further orders.
However, the staff and faculty of the university are required to ensure their presence in the working days
(Special thanks to Mr. Imran Khan)