Last Updated on March 18, 2020 by Galaxy World
Government of Sindh, Services , General Administration & Coordination Department has issued Notification on 18-03-2020 in connection with Closing of Govt Departments and Offices in Sindh. Detail is as under:
No.AS(SGA&CD)COVID-19/2020: In the wake of recent outbreak of COVID-19, as a precautionary measure, and in pursuance of the Sindh Epidemic Disease Act 2014, the Government of Sindh has decided to close the following Administrative Departments, Offices, Autonomous and Semi Autonomous Bodies, Corporations of these Departments under the Administrative control of the Government of Sindh throughout the Province with effect from 19th March 2020 to 3rd April 2020. However, Administrative Secretaries, senior officers and the staff will remain available on phone.
List of Closing of Govt Departments and Offices in Sindh
Auquaf, Religious, Zakat & Usher Department.
College Education Department.
Cooperation Department.
Culture, Tourism, Antiquities & Archives Department.
Department of Empowerment of Persons with Disabilities (formerly Special Edu.Deptt)
Energy Department.
Environment, Climate Change and Coastal Dev. Department.
Forest & Wildlife Department.
Human Rights Department.
Human Settlement Spatial Dev. & Social Housing Deptt (Formerly Katchi Abadis Deptt)
Information Science & Technology Department.
Industries & Commerce Department.
Inter Provincial Coordination Department.
Investment Department.
Livestock and Fisheries Department.
Mines & Mineral Dev. Department.
Minorities Affairs Department.
Population Welfare Department.
School Education & Literacy Department.
Social Welfare Department.
Sport & Youth Affairs Department.
Transport & Mass Transit Department.
Universities & Boards Department.
Woman Development Department.
Works & Services Department.
Special thanks to Mr. Muhammad Bux Saleem Khaskheli for sending the copy of the Notification of Closing Govt Departments and Offices in Sindh.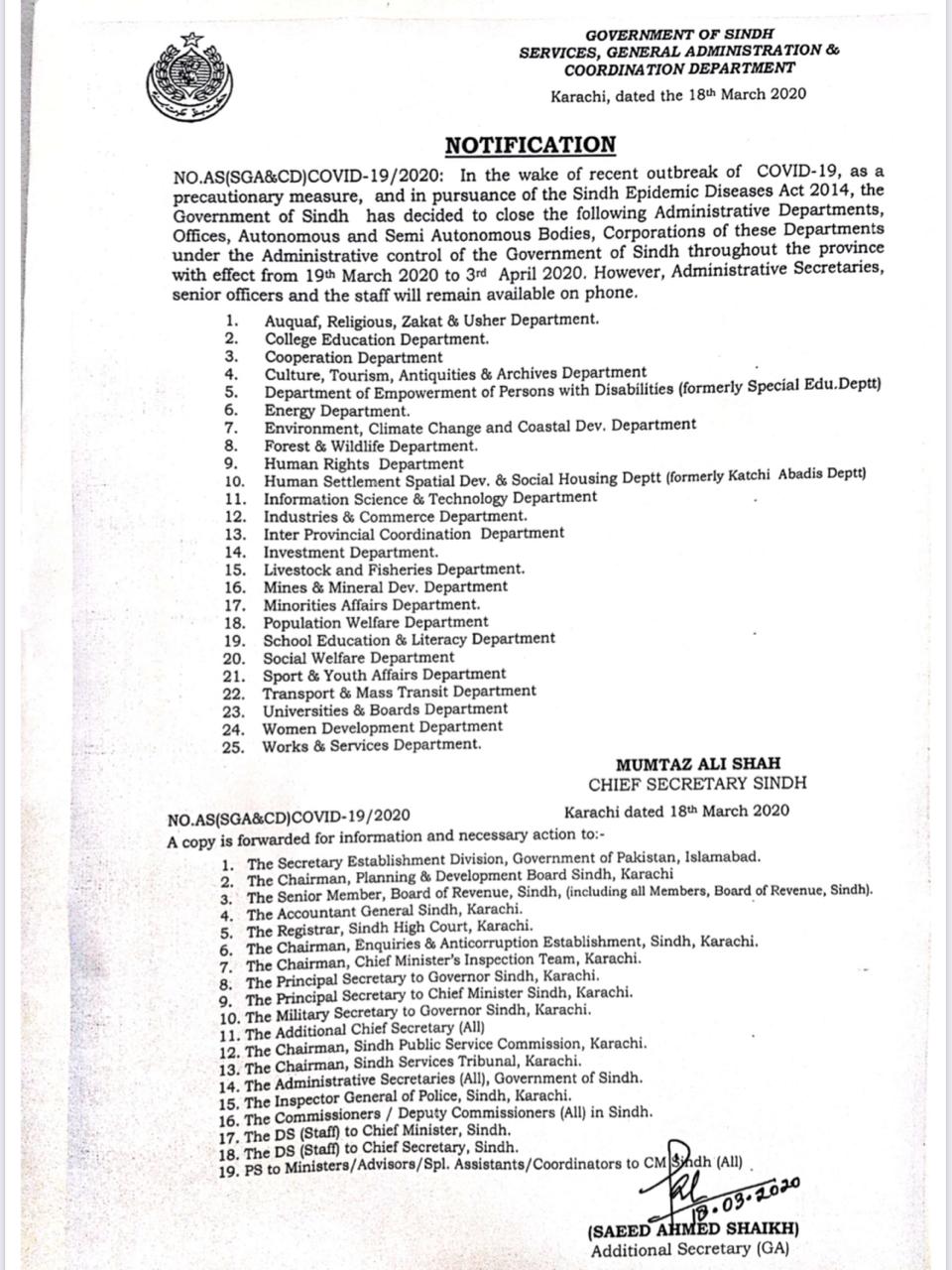 You may also like: Suspension of Inter City Public Transport in Sindh