Last Updated on May 1, 2020 by Galaxy World
National Data Base and Registration Authority NADRA), Ministry of Interior Islamabad has issued Notification on 30-04-2020 in connection with Opening NADRA Centers / Operations. The details of the re-opening of NADRA Offices are as under:
Opening NADRA Centers / Operations
It is to inform that NADRA Operations shall commence from 04th May 2020 onward, in this regard find herewith MOI Letter on the subject attached as Annex "A"
Tentative Guidelines on commencement of operations is attached as Annex "B".
Forwarded for necessary action, please.
Notification by Ministry of Interior
Government of Pakistan Ministry of Interior has already issued a letter on 29th April 2020 on the subject.
According to the letter, the undersigned is directed to refer to the subject cited above and to convey that National Command and Operations Centre in its meeting held on 28th April 2020 took up the Matter regarding the challenge of biometric verification of fingerprints of the certain population with faded/distorted thumb impressions.
Keeping above in view, all 600 x NADRA centers and 200 x mobile centers Ministry of Interior allows opening where social distancing and crowd management they ensure as per SOPs. In the centers, re-verification for Ehsaas Program shall be carried out also.
NRCs
RHOs/Zones will get operational with the staff as decided by the respective DGs
All centers will get operational as per the procedure undermentioned.
. Data Entry Counters (As per safety distance and requirement).
. Form Receiving Counter
. Cards Delivery Counter
. Information Counter
. Queue-matic Counter
All NRCs will adhere to the Ramadan Timings (1000-1600).
They will encourage Manual Appointment based processing.
Special thanks to Mr. Muhammad Bux Saleem Khaskheli for sending a copy of the Notification of Opening NADRA Centers / Operations.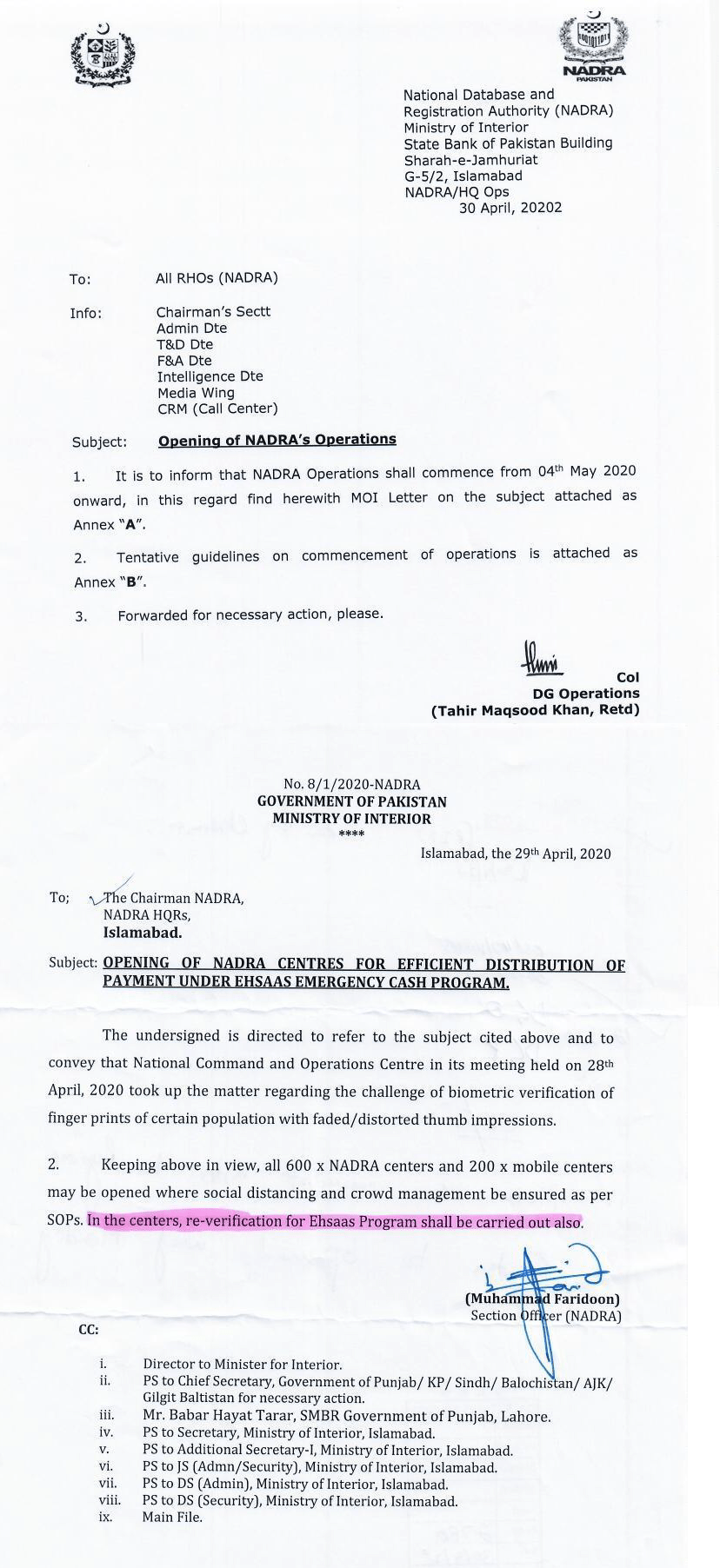 Re-Opening Plan:
The reopening plan includes NRCs, MRVs, Precautionary Measures to follow. The centers will have to follow all these instructions and SOPs.