Last Updated on October 30, 2021 by Galaxy World
Government of Sindh, the Finance Department has issued Notification on 06-05-2020 in connection with Sindh Govt Advance Payment of Full Pay & Allowances and Pension May 2020. The details are as under for the payment of salary as an advance on 18th May 2020 for Sindh Employees.
Sindh Govt Advance Payment of Full Pay & Allowances and Pension
Sindh Government Finance Department has also issued a letter regarding payment of salary and pension before Eid. Punjab Government,  Balochistan Govt and Federal Government have already issued Notifications in this regard.  Federal and Balochistan Governments will issue salary and pension on 21st May 2020.  While Punjab and Sindh Governments decided to disburse the same on the 18th of May.
Main Points
May 2020 Salary Sindh Govt will pay on 18-05-2020 instead of 1st June 2020
Finance Department decided so in connection with Eid-ul-Fitr falling on 24-05-2020 or 25-05-2020
All Muslim Employees of the Province of Sindh Will Get the Advance Pay
All work charged employees, as well as contingent, pay staff will get this advance pay
Contents of the Notification
I am directed to refer to the subject noted above and to state that on account of Eid-ul-Fitr falling on 24th or 25th May 2020, the Government of Sindh has been pleased to decide that full pay and allowances / full pension for the month of May 2020 shall be paid on advance to all Muslim employees/pensioners of provincial Government (including work-charged and contingent paid staff) on 18th May 2020 instead of 1st June 2020.
Special Thanks: Mr. Muhammad Bux Saleem Khaskheli
Syed Faizan Ali Shah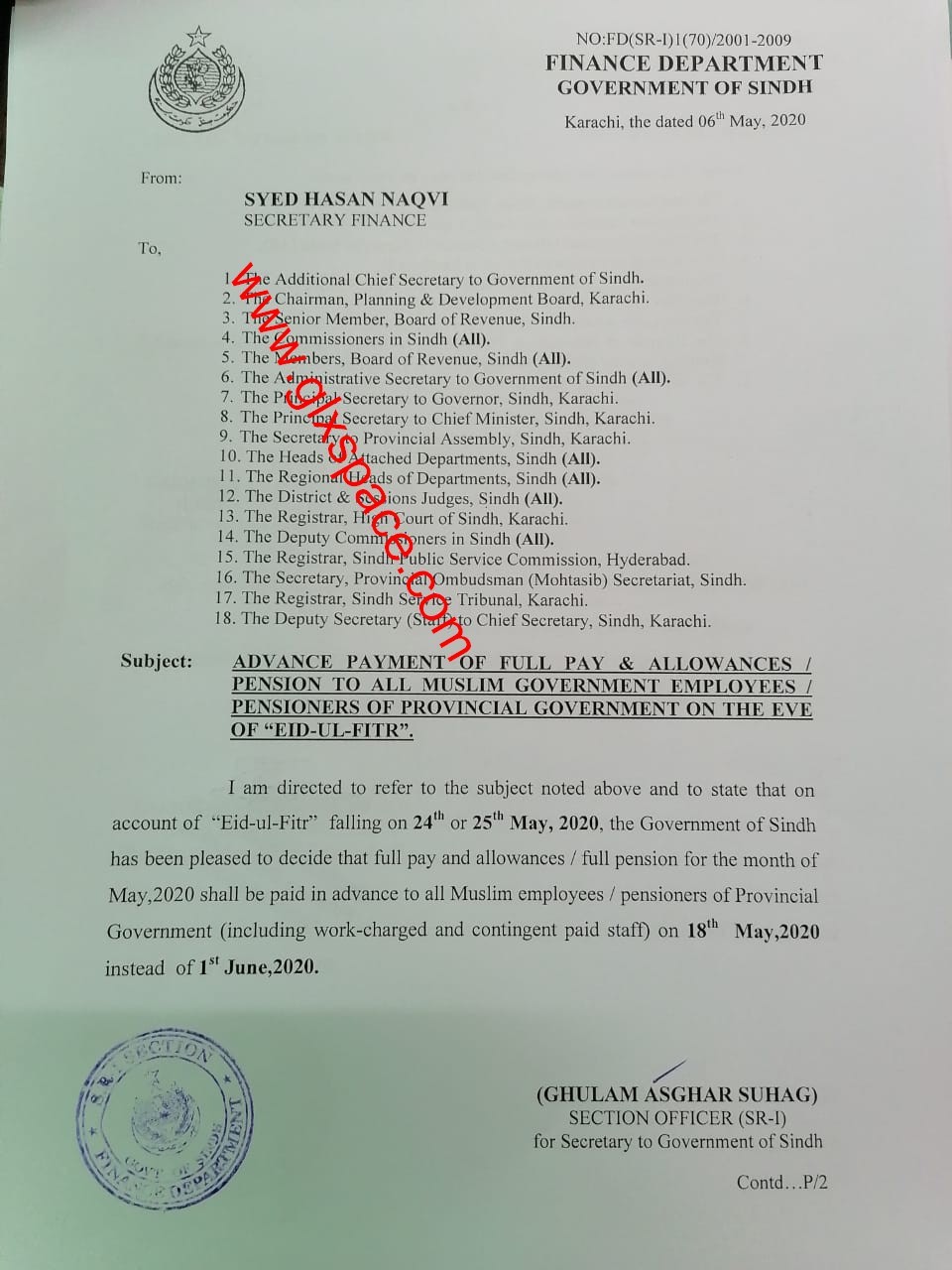 You may also like: Punjab Govt Pay and Pension Disbursement on 18-05-2020