Last Updated on June 16, 2021 by Galaxy World
Government of Sindh, Finance Department has issued a Notification on 16-06-2021 in connection with Hard Area Allowance 2021 (Umerkot) Sindh. The detail of the same are as under:
Hard Area Allowance 2021 (Umerkot)
With the approval of the Competent Authority (i.e. Chief Minister, Sindh), the Government of Sindh is pleased to allow Hard Area Allowance is Doctors and Pre-Medical Staff only to the 25 Data pertaining to Two Tapas of Taluka and District Umerkot w.e.f. 01-07-2021 as per details given below:-
Rates of Hard Area Allowance and Dehs
BPS
Rate  of Hard Allowance
Name of 25 Dehs (Villages)
1 to 11
Rs.10,000/-
1.      Dinore, 2. Shekhor, 3. Makhal Bah, 4.Doodher, 5. Laplo, 6.Horingo, 7.Kalpore, 8.Lalbah,9.Karcholi, 10.Sonahri, 11. Umerkot Thar, 12. Vehro Thar, 13. Khalrai, 16. Diyatbah. 17. Janhero Thar, 18. Sadoori Thar, 19. Sabhri Thar, 20. Tar Samoon, 21, Seenhoi Thar, 22. Nabisar Thar, 23. Rajar Thar, 24. Rajari Thar and 25. Chhore Thar.
12 to 16
Rs.20,000/-
17
Rs.90,000/-
18 to  20
Rs.140,000/-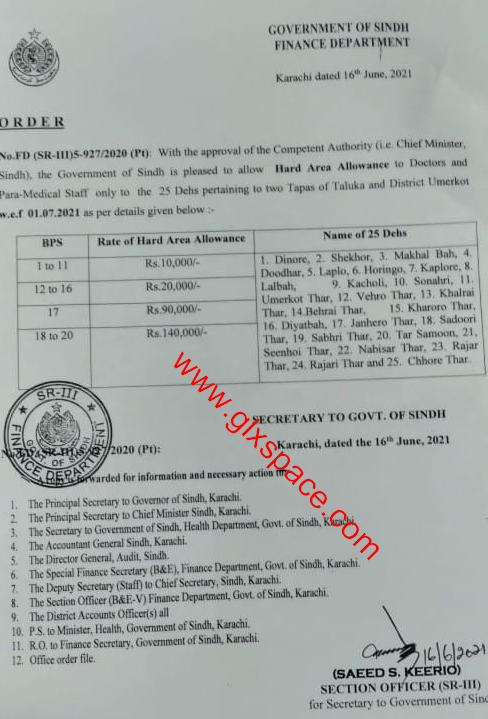 The Sindh Government has already issued the Notification of Hard Area Allowance for other districts of the province of Sindh too. I have already uploaded the Notifications for Hard Area Allowance Tharparker District. The rates of this allowance are different from the Umerkot district. There are chances that the same Government of Sindh amended at a later stage.