Last Updated on June 30, 2021 by Galaxy World
Government of Khyber Pakhtunkhwa, Higher Education, Archives & Libraries Department has issued a Notification on 30-06-2021 in connection with Summer Vacation 2021 Higher Education Department KPK. The details of these Holidays are as under:
Summer Vacation 2021 Higher Education Department KPK
The competent Authority in Higher Education Department has been pleased to declare summer vacations in all Public Sector Colleges of the province w.e.f. 01-07-2021 to 11-07-2021.
Schedule exams if any shall remain intact.
Private Colleges in the Province of Khyber Pakhtunkhwa have permission to determine the closure of Colleges or otherwise, in lieu of summer vacations, at their own.
Punjab Government School Education Department and Khyber Pakhtunkhwa Elementary & Secondary Education Department have already issued the Notification for closing the schools for summer vacation 2021.
You may also like: Notification of Summer Holidays (Vacation) wef 1st July 2021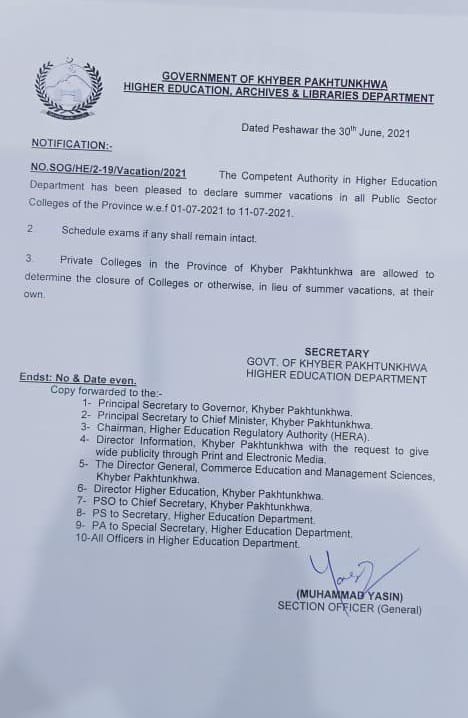 Higher Education Department students will get only 11 days' holidays. They will come for nearly a week in colleges and once again they will have Eid-ul-Azha 2021 holidays.