Last Updated on October 30, 2021 by Galaxy World
Azad Government of the State of Jammu & Kashmir Finance Department has issued a Notification on 09-07-2021 in connection with 25% Disparity Reduction Allowance 2021 AJK. The details are as under:
25% Disparity Reduction Allowance 2021 AJK Employees
The President Azad Jammu & Kashmir has been pleased to accord approval for grant of Disparity Reduction Allowance @ 25% of the minimum of basic pay scales, 2017 with effect from 1st Jul 2021 in favor of the civil employees in BS-1 to BS-22 of Azad Government of the state of Jammu & Kashmir who have never been allowed additional / allowances equal to or more than 100% of the basic pay (whether frozen or not) subject to the following conditions:-
This DRA 2021 @ 25% will not get the employees that are mentioned in the list. These types of employees are getting 100% or more additional allowances. The employees will get this allowance during the period of suspension. More details are available at the copy of the Notification.
The employees of AJ&K will get this allowance with effect from 1st July 2021. They will get on the initial basic pay of the Revised Pay Scales 2017. It means this allowance is not on the running basic pay. The employees of BPS-01 to BPS-22 will get this Disparity Reduction Allowance.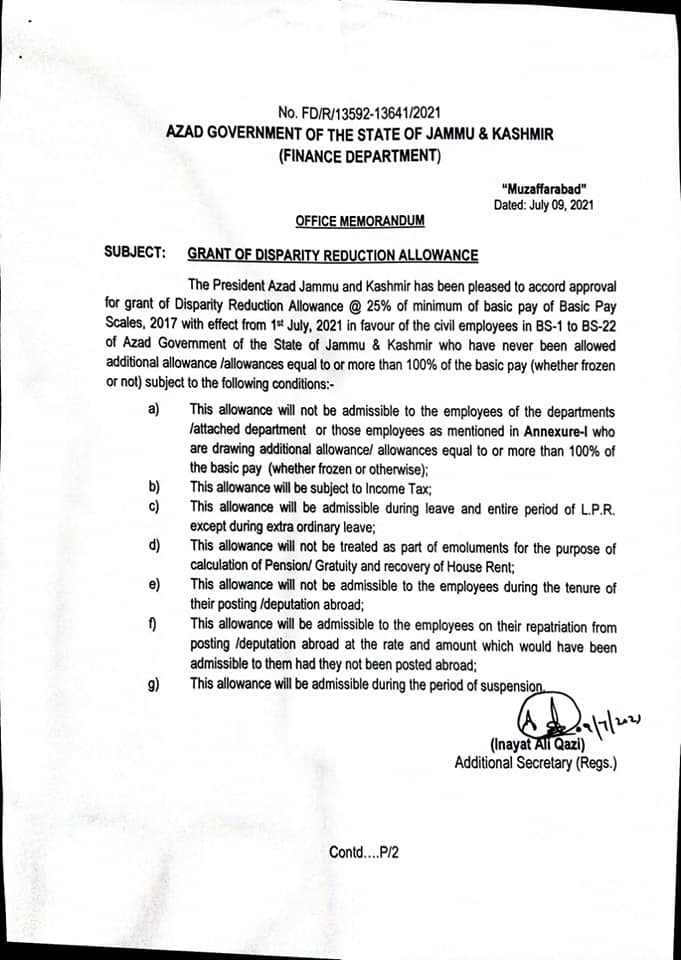 List of Department That will not get DRA 2021
According to the list employees of many departments/offices will not get this DRA 2021 @ 25% of the initial basic pay.  Employees especially the law-related departments will not get this allowance.
If we look into the history of all the Notification of Disparity reduction Allowance, these are different from each other. KPK granted special allowance @ 3500/- per month. GB and Federal Government granted 25% on running basic pay. Punjab Government granted FRA on initial basic pay. Sindh did not grant this allowance instead it increased pay @ 25% of the running basic pay.