Last Updated on October 30, 2021 by Galaxy World
Government of the Punjab, Finance Department has issued an O.M on 12-07-2021 in connection with Notification Adhoc Relief Allowance 2021 Punjab @ 10% of running basic pay of the revised pay scales 2017. The main features of the same allowance are as under:
Notification Adhoc Relief Allowance 2021 Punjab @ 10%
Adhoc Relief Allowance 2021 (ARA-2021)
10% of the Running/current basic pay of the Basic Revised Pay Scales 2017.
It is effective from 1st July 2021 till further orders
BPS-01 to BPS-22 employees of the province of Punjab will get this allowance
It is subject to the deduction of income tax
The employee on leave or entire LPR period will get  this ARA-2021
It cannot be the part of pension/gratuity etc
The employees posted out/ on deputation abroad will not get this allowance
The employees getting personal pay (PP) will also get this Adhoc Relief Allowance 2021 Punjab.
The accounts offices will manage this ARA-2021 from the budgetary allocation 2021-2022.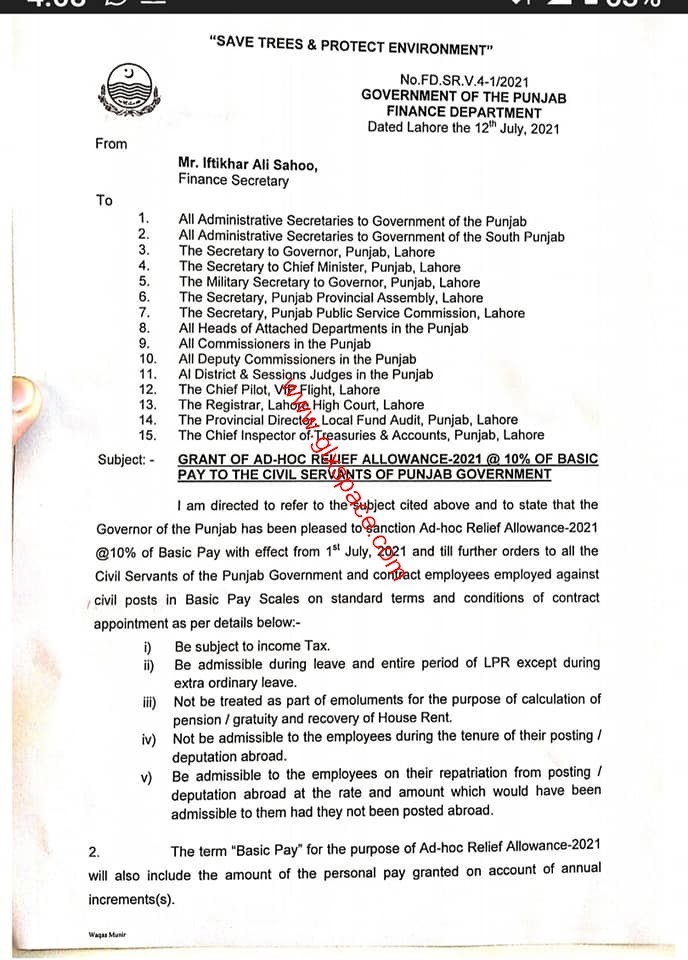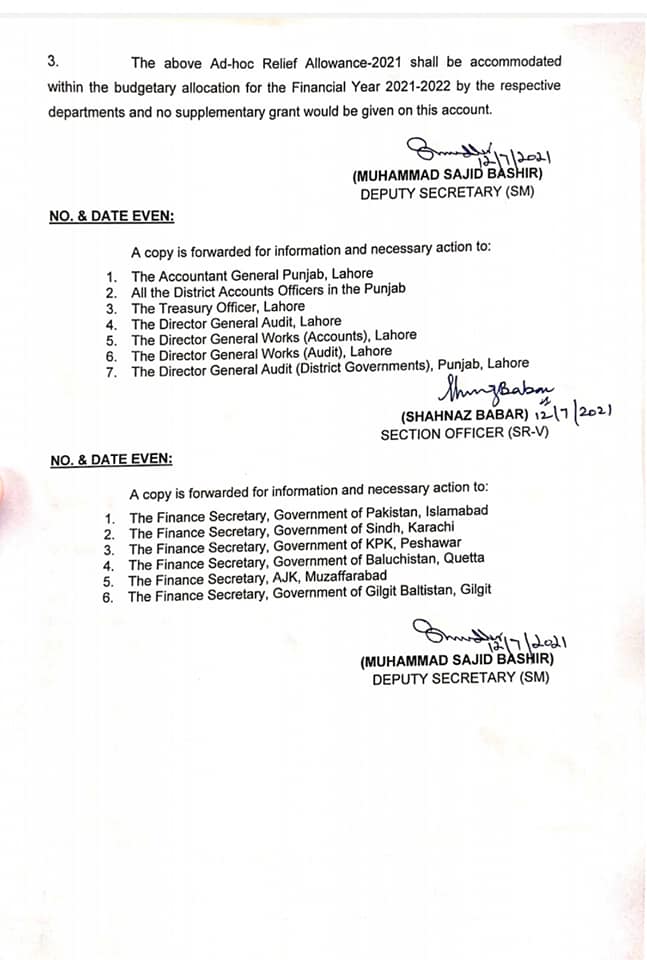 What Other Benefits Punjab Govt Granted in 2021 Budget?
The government of the Punjab Finance Department has already issued the NOtification of Special Allowance 2021 @ 25%. This allowance is on the initial basic pay of the 2017 Pay Scales. The Punjab Govt did not announce any other benefit for the Punjab Govt employees. Other Governments have announced many other allowances too. Federal Government and KPK Governments have increased the integrated allowance for class IV employees. It also increased Ardali Allowance for the employees of BPS-20 to 22. KPK Government announced may allowance for all the employees.
Special Thanks: Mr. Ali Akbar