Last Updated on July 17, 2021 by Galaxy World
Government of the Punjab, Services and General Administration Department has issued a Notification on 16-07-2021 in connection with Eid-ul-Azha Holidays Punjab 2021. The details are as under:
Schedule Eid-ul-Azha Holidays Punjab 2021
It is notified for the general information that 20-07-2021 to 22-07-2021 (Tuesday to Thursday) will be Public Holidays in the province of Punjab. These Holidays the Government of Punjab granted on the occasion of the Eid ul Azha falling in 2021.
Summary of Holidays
The summary of Eid ul Azha 2021 Holidays by the Punjab Government is as under:
Holidays Duration: 20th July 2021 to 22nd July 2021 (Tuesday, Wednesday, Thursday)
Province: Punjab
Occassion: Eid-ul-Azha 1442 Hijri (2021 AD)
Holidays Type: Public Holidays
It is to add here that Federal Government and Sindh Government have also notified for the holidays for the same days and dates. Punjab Government also adopted the schedule of Holidays of the Federal Government.
You may also like: Notification of Sindh Govt Eid-ul-Azha Holidays 2021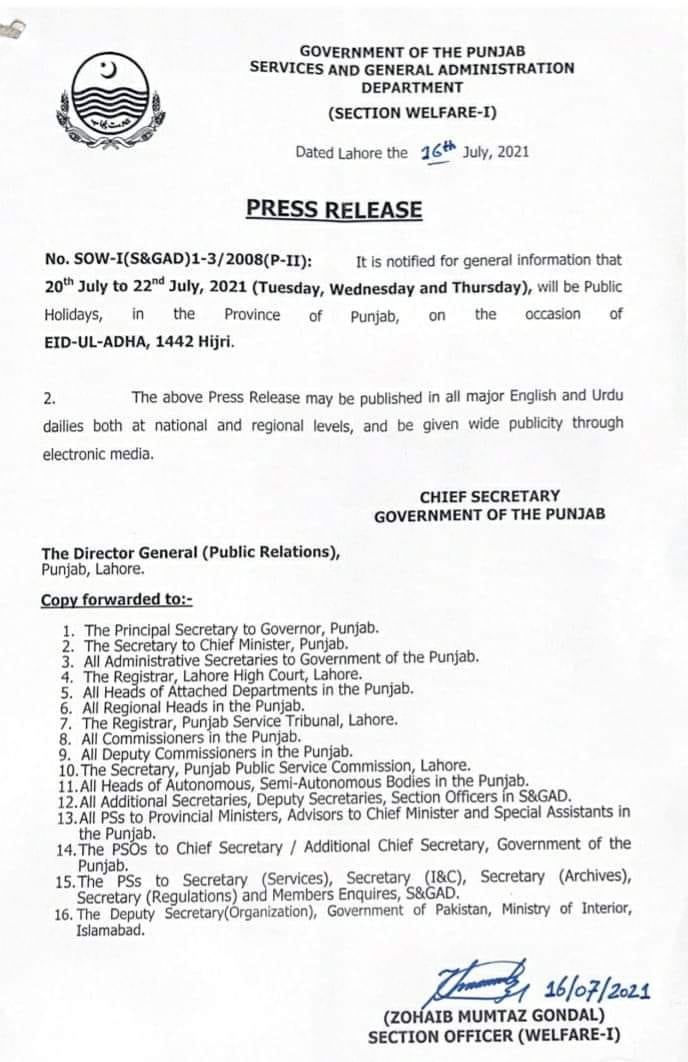 Punjab Government employees will also face the same issue as Federal and Sindh. There is no issue for the local employees. The employees from the remote areas of the province will have to get extra leaves to celebrate the Eid ul Azha. They will either take leaves before Eid-ul-Azha or After Eid-ul-Azha.