Last Updated on December 9, 2021 by Galaxy World
Government of Balochistan, Secondary Education Department has issued a Notification on 02-12-2021 in connection with Schedule of Winter Vacations 2021 (Long & Short) Balochistan. These Winter Holidays are for all public and private sector schools in Balochistan.
Schedule of Winter Vacations 2021 (Long & Short) Balochistan
The government of Balochistan, secretary education department is pleased to announce the schedule of long and shot winter vacations of all public and private schools of respective areas, which are as under:-
Long winter vacations (for winter zone) 15-12-2021 to 28-02-2021
Short summer vacations (for summer zone) 22-12-2021 to 31-12-2021
Information for:
Principal Secretary to Governor Balochistan, Quetta.
Principal Secretary to Chief Minister Balochistan, Quetta.
Additional Chief Secretary development Government of Balochistan, Quetta
Additional Chief Secretary Home & Tribal Affairs, Government of Balochistan, Quetta
The Secretary, Government of Balochistan, S&GAD, Quetta
The Accountant General Balochistan , Quetta
The Director Education Schools, Balochistan, Quetta
All Commissioners
The Director General Public relation Balochistan, Quetta
The Director General Balochistan Education Foundation
All Deputy Commissioners
The Divisional Superintendent Pakistan Railways, Pakistan
All Divisional Director of Education
All district education officer
PS to Minister Education Department
All district officer education (Female)
All district accountant officer
The Controller Printing Press, Balochistan, Quetta
PS to Secretary, Secondary Education Department.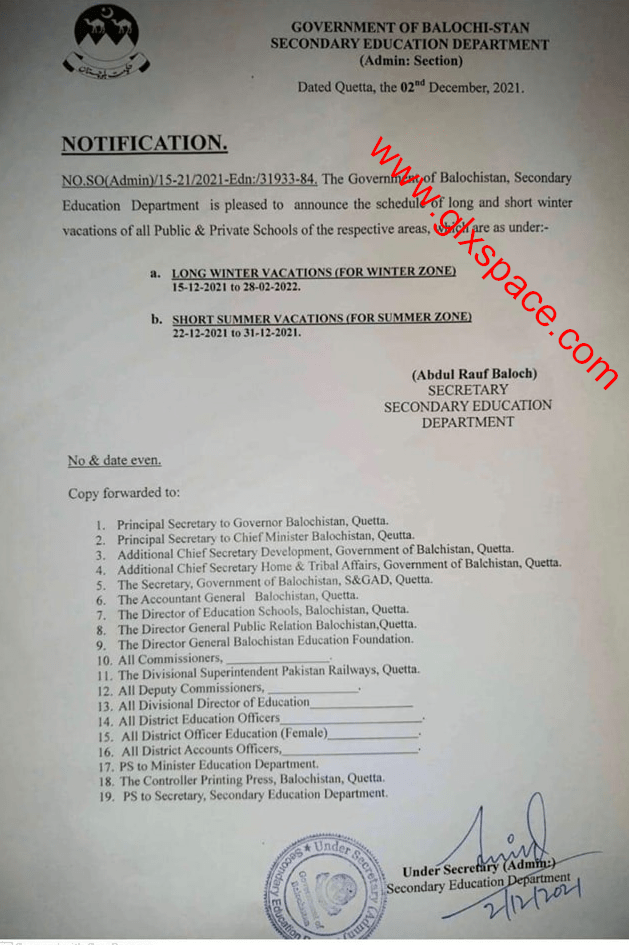 Notification of Winter Holidays Punjab, Sindh, federal and KP 2021
I am waiting for the Notifications of Punjab, Sindh, Federal, and KP for Winter Holidays/Vacation 2021. As soon as I get the same, I shall upload these Notifications for the information of the employees and students.
Winter vacation and Corona situation

Inter-Provincial Education Ministers Conference convened on December 13, 2021. The conference will discuss winter vacations Shafqat Mahmood will preside over the conference.