Last Updated on April 7, 2022 by Galaxy World
Government of Khyber Pakhtunkhawa, Establishment and Admin Department (Cabinet Wing) has issued a letter on 07-04-2022 in connection with Latest Updates Disparity Reduction Allowance 2022 KPK.
Latest Updates Disparity Reduction Allowance 2022 KPK
I direct to refer to the subject noted above and to state that a summary on the subject Finance Department moved to the Chief Minister Khyber Pakhtunkhawa. That was for placement before the Provincial Cabinet through circulation. Keeping in view the urgency of the matter, the Chief Minister KPK approved the proposal that the summary to circulate among members of the Cabinet for their approval through circulation on an emergency basis.
The DRA-2022 accordingly circulated to the members of the cabinet for their kind approval/signature. 8 Cabinet members approved/signed the case accordingly. Therefore under Rule 20 (C) and Rule 24(3) (b) of Khyber Pakhtunkhawa Government Rules of Business 1985 the summary stands approved.
I am therefore to request that an implementation report of the Cabinet decision as required under Rule 25(2) of the Khyber Pakhtunkhawa, Government Rules of Business 1985 may kindly be furnished on a top priority basis to the Cabinet Section, Administration Department.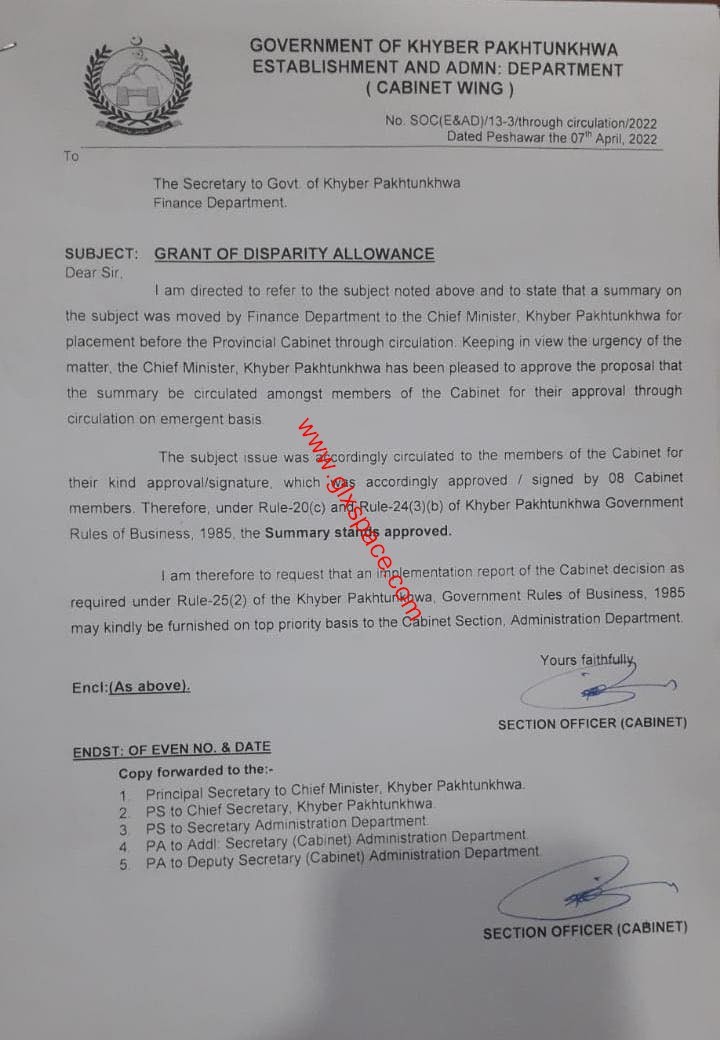 I hope the Notification of DRA-2022 @ 15%, the Finance Department KPK will issue soon. Let's pray for the Notification.