Last Updated on May 29, 2022 by Galaxy World
Government of the Punjab, School Education Department issued a Notification No. SO (A-I) 1-31/2022 dated 26-05-2022 in connection with Summer Vacation 2022 Punjab Schools. In Punjab schools, summer holidays will start with effect from 01-06-2022 to 31-07-2022. Thus the schools in Punjab will observe only two months' Summer holidays this year.
Summer Vacation 2022 Punjab Schools
| | | |
| --- | --- | --- |
| Sr. No                     | Summer Holidays/Vacation 2022 Start Date | End Date |
| 1 | 1st June 2022 (Wednesday) | 31st July 2022 (Sunday) |
| 2 | Duration of Holidays | 2 months |
It is hereby notified that all Public & Private Schools throughout Punja shall remain closed w.e.f. 1st June 2022 to 31st July 2022 for summer vacations.
Chief Executive Officers (DEAs) and the concerned Heads shall manage the distribution of homework and books to the students during summer vacation.
The District Reistating Authuiorty may advise the Private Schools to reduce school timings (i.e. until 11:00 am) from 27th May-2022 to 31th May-2022 with all necessary precautionary measures to protect the children from the heatwave.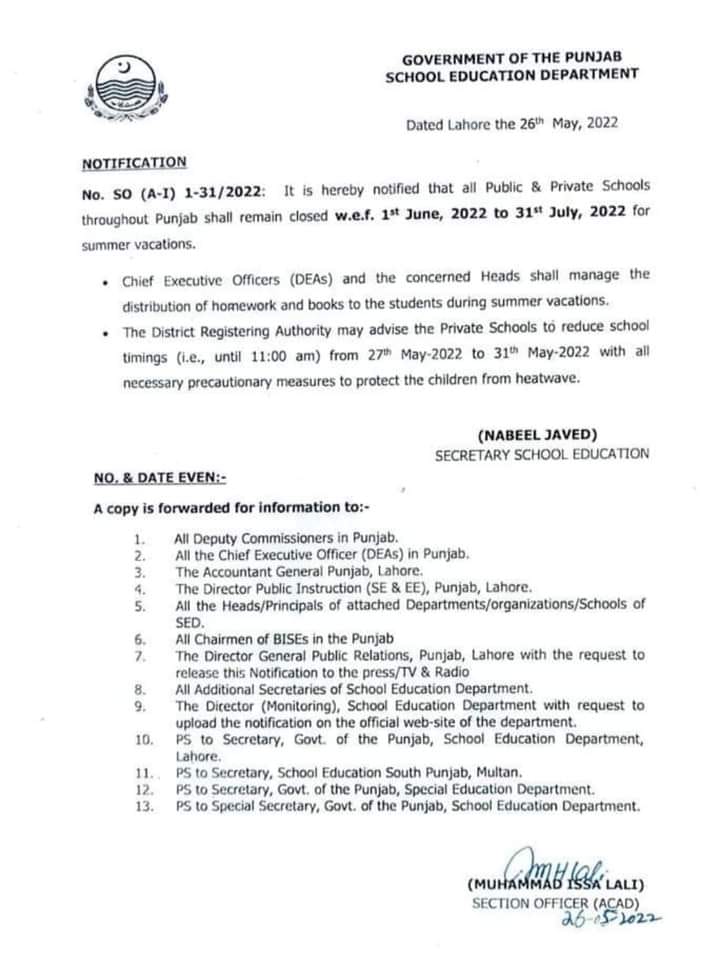 It is a good decision of the Government of Punjab. There is already a severe heatwave in the province, especially in the southern areas of Punjab. The temperature is touching nearly 48/50. To save the children from this heatwave, the Government decided to announce summer vacations 2022 wef 1st June 2022.
Summer Holidays in Other Provinces of Pakistan
Before this Balochistan Government in Balochistan schools and Khyber Pakhtunkhwa Governments notified for summer holidays/vacation 2022 in KPK schools. We are waiting for the Notification of the Sindh Education Department and the Federal Govt.
Sindh Government School Education Department should also announce the early summer holidays. As there are many areas of the province where there is the highest temperature in the world.  Sibi and Jacobabad most get the temperature nearly to 50 degrees or more. And nowadays the temperature in Sindh province is at its highest.  I hope the soon Government will issue the Notification of the Summer Holidays 2022 soon.