Last Updated on May 24, 2023 by Galaxy World
National University of Sciences and Technology opens admissions In Ms. Programs by declaring NUST Aptitude Test for 90+ MS Programs.  All the willing candidates who have missed the previous GAT (General) HAT or scored less in these tests must avail their chance. Because the university is providing another opportunity to all these students.  With this opportunity, all the students can appear again in the NAT and GAT tests of the university.
Registration Open for NUST Aptitude Test 2023 for 90+ MS Programs
Willing candidates can register for the Ms. Programs on the official website of the university www.pgadmission.nust.edu.pk.
The university is enrolling students in more than 90 MS. Programs.
University wants to provide affordable higher education with its knowledge-based ecosystem research and innovation.  the vision of the university is to produce graduates who want to contribute to the national growth.  The mission of the graduates is to become job creators instead of job seekers.
Excellence and Benchmarks of the NUST
All those students who will successfully get admission to the university in any program will be so much lucky. As they will receive the best education from the university having crowning achievements.  And the university has significant standards of integrity, diversity, merit, and pursuit of Excellence.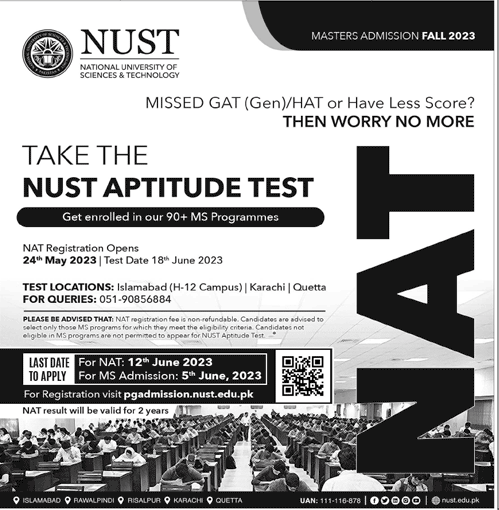 You may like: AIOU Assignments Submission Schedule 2023 Spring
NAT Registration Date
All the students who are waiting to get Admission to the Master's Program Fall, 2023 can register themselves for the NAT Test from 24th May 2023 till 12th June 2023.
Date of NAT Test
 University will organize the net test on 18th June 2023.
Validity of NAT Test
The result of the NAT test will be valid for 02- years.
Test locations
 University will organize that net and get tests in Islamabad, Karachi, and in Quetta.
Last Day to Apply for the MS. Admission
 All interested candidates can apply for the MS. Admission till 5th June 2023.
General Terms and Conditions
The net registration fee is non-refundable.
Candidates must be eligible and meet the requirements of the program.
All those candidates who are not eligible for MS. Programs are not permitted to appear for the NUST aptitude test.
Candidates must check their eligibility criteria before registration on the university website.