Last Updated on October 31, 2021 by ShumailaKamalBHP
Today I am giving you the reference of Finance Division Regulation Wing, Islamabad Notification No. F.4 (5)-R/4/98 dated 23rd May 2001 to clarify the concept of Premature Increment on appointment from lower grade to higher grade.
According to Auditor General Office letter No. 220/Reg-I/Pay/1-94/C-KW-III dated 10-05-2001 on the subject matter, the issue of premature increment on appointment from post to another has been re-examined in the regulation wing and the opinion arrived is given below:-
The admissibility of premature increment is regulated by Finance Division's O.M No. F-1 (2)-NG-IMP/71 dated 16-02-1977 which clarifies the concept of pay fixation and premature increment introduced in the Scheme of National Pay and Allowances vide clause (I) of part-I of Finance Division O.M No. 1 (2)- NG-IMP/71 dated 08-03-1972.
According to the clarification issued vide O.M dated 16-02-1977, the word "Promotion" occurring in the first line of the said clause has been used in the context of pay fixation and not in the context of the recruitment rules. Accordingly, it means an appointment from one post to another involving assumption of duties or responsibilities of greater importance for the purpose of FR-22 and FR-30.
Similarly the word "Promotion/Appointment" used in Finance Division's U.O No. 893-R-3/81 dated 24-10-1981 may also be interpreted in the context of pay fixation and not in the context of recruitment rules. Therefore Finance Division did not err in using the word "Appointment" in combination with the word "Promotion" in the aforesaid U.O letter.
In the light of foregoing position the benefit of premature increment is admissible to all those Govt servants whose promotion/appointment involves assumption of duties and responsibilities of greater importance, than those attached to their previous posts.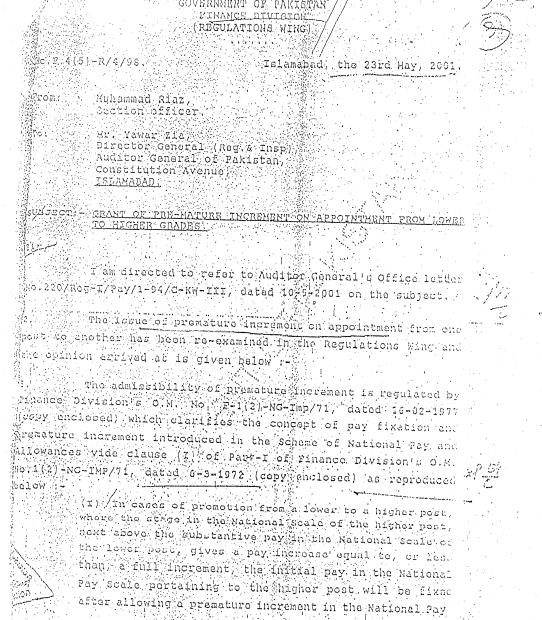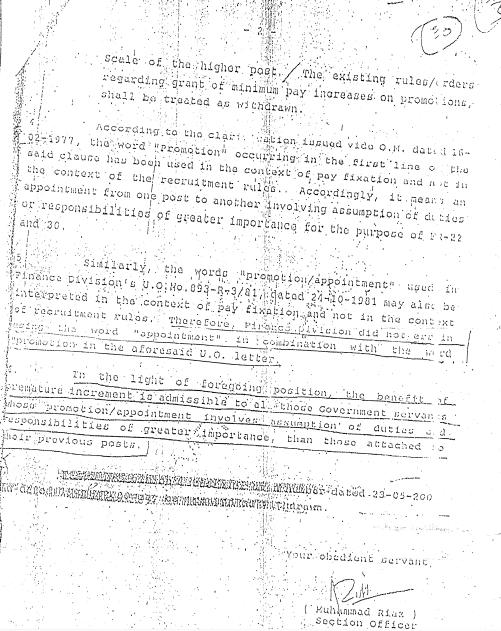 It is clear from the above discussion that 1x premature increment will be granted to the employee who is re-appointed from lower grade to higher grade involving the responsibilities of greater importance as the word re-appointment is the same as promotion in the context of pay fixation.