Government of the Sindh Finance Department has issued Notification No. FD(SR-III) 1066/2014 dated 26-12-2014 in connection with Increase in Sindh Police Salary.
According to this Notification, with the approval of the Competent Authority, Chief Minister Sindh has allowed in increase the following allowances with immediate effect:
Risk Allowance
Ration Allowance
Constabulary Allowance
Fixed Daily Allowances
The orders will not be applicable to non-field officers and officials drawing non-field duty allowance and also personnel of Specialized Units of Sindh Police such as Special Security Unites (SSU), Crime Investigation Department (CID) and Bomb Disposal Squad (BDS) who have already been allowed special packages which shall remain intact.
Administrative Department is advised to provide Audit Copy alongwith schedule of post of Operational Field Force in Sindh in Drawing Disbursement Office wise, total employees 115,945 in member shown in para-I for authentication.
Special thanks to Mr. Altaf Hussain for sending the copy of the Notification of Increase in salary of Sindh Police.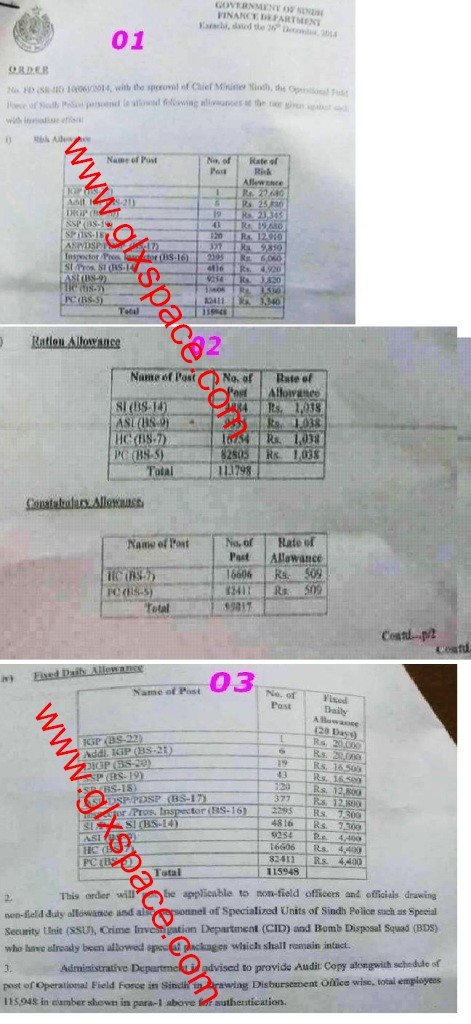 Notification of Increase in Sindh Police Salary in 2014
The Notification of increase in salaries of Sindh Police that issued on 26-12-2014 is as under: