Last Updated on November 15, 2014 by ShumailaKamal
I have prepared a chart showing the total increase in salary after annual increment 2014 for the Govt employees of Pakistan. This chart is for the general employees. There are some departments where employees are getting some special allowances based on the running basic pay, so they can also add the increased amount in these special allowances. For example there is a Audit Allowance for the some Accounts Departments in Federal Govt as well as there is a Special Relief Allowance @ 20% of the running basic pay for the employees of Ministries & Departments. I have not added these allowances here.
Who are Eligible For the Annual Increment 2014
The annual increment will be granted on 1st December 2014 to the employees who are working prior to 2nd June 2014. The employees who are promoted or upgraded on or after 2nd June 2014 are not eligible for the annual increment 2014; however they can get the annual increment 2014 if they opt to fix their pay on 2nd December after getting the annual increment in the previous scale. It is to remember that some times there is no use of adopting the option as the pay is same if the employee adopts the option or not.
Which Allowances will increase with the Annual Increment 2014
The Adhoc Relief Allowance 2012 @ 20% of the running basic pay, Adhoc Relief Allowance 2013 @ 10% and Adhoc Relief Allowance 2014 @10% will increase with the annual increment 2014.
Special Audit Allowance & Special Relief Allowance and some other allowances for particular departments that are on the running basic pay will also increase.
Increase in Salary after Annual Increment 2014 for the Employees who are getting 10% ARA-2013
The chart for these employees is given below:
| | | | | | |
| --- | --- | --- | --- | --- | --- |
| BPS | Increment | 20% (2012) | 10% (2013) | 10% (2014) | Total |
| BPS-01 | 150 | 30 | 15 | 15 | 210 |
| BPS-02 | 170 | 34 | 17 | 17 | 238 |
| BPS-03 | 200 | 40 | 20 | 20 | 280 |
| BPS-04 | 230 | 46 | 23 | 23 | 322 |
| BPS-05 | 260 | 52 | 26 | 26 | 364 |
| BPS-06 | 290 | 58 | 29 | 29 | 406 |
| BPS-07 | 320 | 64 | 32 | 32 | 448 |
| BPS-08 | 350 | 70 | 35 | 35 | 490 |
| BPS-09 | 380 | 76 | 38 | 38 | 532 |
| BPS-10 | 420 | 84 | 42 | 42 | 588 |
| BPS-11 | 460 | 92 | 46 | 46 | 644 |
| BPS-12 | 500 | 100 | 50 | 50 | 700 |
| BPS-13 | 550 | 110 | 55 | 55 | 770 |
| BPS-14 | 610 | 122 | 61 | 61 | 854 |
| BPS-15 | 700 | 140 | 70 | 70 | 980 |
| BPS-16 | 800 | 160 | 80 | 80 | 1120 |
| BPS-17 | 1200 | 240 | 120 | 120 | 1680 |
| BPS-18 | 1500 | 300 | 150 | 150 | 2100 |
| BPS-19 | 1600 | 320 | 160 | 160 | 2240 |
| BPS-20 | 2350 | 470 | 235 | 235 | 3290 |
| BPS-21 | 2600 | 520 | 260 | 260 | 3640 |
| BPS-22 | 3050 | 610 | 305 | 305 | 4270 |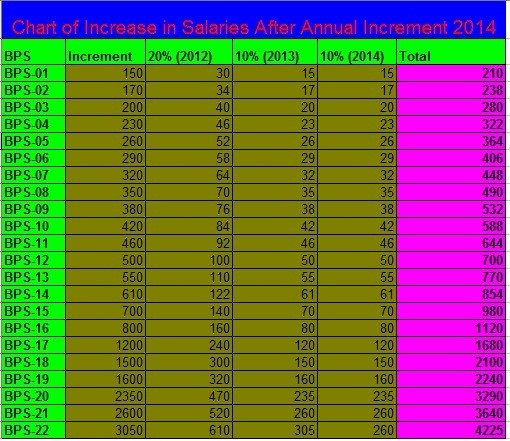 Increase in Salary after Annual Increment 2014 for the Employees who are getting 15% ARA-2013
The chart for these employees is given below:
| | | | | | |
| --- | --- | --- | --- | --- | --- |
| BPS | Increment | 20% (2012) | 15% (2013) | 10% (2014) | Total |
| BPS-01 | 150 | 30 | 23 | 15 | 218 |
| BPS-02 | 170 | 34 | 26 | 17 | 247 |
| BPS-03 | 200 | 40 | 30 | 20 | 290 |
| BPS-04 | 230 | 46 | 35 | 23 | 334 |
| BPS-05 | 260 | 52 | 39 | 26 | 377 |
| BPS-06 | 290 | 58 | 44 | 29 | 421 |
| BPS-07 | 320 | 64 | 48 | 32 | 464 |
| BPS-08 | 350 | 70 | 53 | 35 | 508 |
| BPS-09 | 380 | 76 | 57 | 38 | 551 |
| BPS-10 | 420 | 84 | 63 | 42 | 609 |
| BPS-11 | 460 | 92 | 69 | 46 | 667 |
| BPS-12 | 500 | 100 | 75 | 50 | 725 |
| BPS-13 | 550 | 110 | 83 | 55 | 798 |
| BPS-14 | 610 | 122 | 92 | 61 | 885 |
| BPS-15 | 700 | 140 | 105 | 70 | 1015 |
| BPS-16 | 800 | 160 | 120 | 80 | 1160 |
| BPS-17 | 1200 | 240 | 180 | 120 | 1740 |
| BPS-18 | 1500 | 300 | 225 | 150 | 2175 |
| BPS-19 | 1600 | 320 | 240 | 160 | 2320 |
| BPS-20 | 2350 | 470 | 353 | 235 | 3408 |
| BPS-21 | 2600 | 520 | 390 | 260 | 3770 |
| BPS-22 | 3050 | 610 | 458 | 305 | 4433 |