Last Updated on June 11, 2015 by ShumailaKamal
Today on 5th June 2015, Budget 2015-16 has been announced. Detail of Increase in Salaries According to Budget Speech 2015-15 are as under:
Increase In Medical Allowance
According to budget speech Medical Allowance has been increased 25%.  Medical Allowance has been raised from Rs. 1200/- to Rs. 1500/-
Increase in Pay
There will be 7.5% increase in salaries of the Govt employees.
Ph.D Allowance has been raised to Rs. 10000/- per month.
Pension has also been increased @ 7.5% and also the medical allowance @ 25% to the retired employees.
Tax rate for the salaried employees has been decreased from 5% to 2%.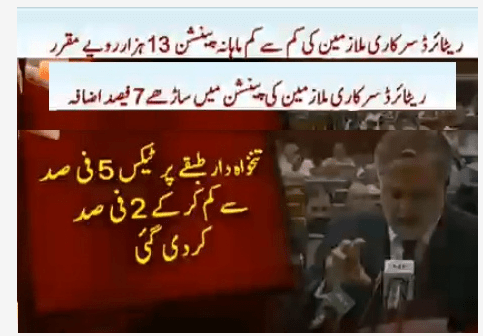 Words of Budget Speech 2015-16 Regarding Govt Employees
Pay and Allowances for Government Employees
1. As you know, we are a resource poor economy where demands are many and resources are limited. The present government is committed to reduce non-productive expenditure to achieve greater availability of fiscal space for development spending. This year inflation has substantially come down and there is a trend of price stability. However, the government is fully cognizant of low compensation level of government employees and pensioners. As per past practice, the Government had constituted a committee which submitted its recommendation keeping in the inflation and fiscal constraints. The government has taken following decisions in this regard:-
1) 7.5% Ad-hoc Relief Allowance on running basic pay will be allowed to all federal government employees with effect from 1st July 2015, as against the recommendation of 5% increase by the Committee.
2) Ad-hoc increases of 2011 and 2012 will be merged in the pay scales as recommended by the Committee.
3) Medical Allowances of all government employees is being enhanced by 25%.
4) One premature increment will be allowed to employees of grade 5 with effect from 1st July 2015. Last year pre-mature increment was allowed to employees of grade 1-4.
5) A uniform Ph.D. Allowance of Rs.10,000 per month will be allowed to Ph.D./D.Sc. degree holders working under federal government with effect from 1st July 2015. This will replace the existing Science and Technology Allowance of Rs.7,500 per month and Ph.D. Allowance of Rs.2,250 per month.
Budget Speech 2015-16
53
6) The rates of special pay to Senior Private Secretaries, Private Secretaries and Assistant Private Secretaries are being increased by 100%.
7) The rate of orderly allowance and special additional pension is also being increased to Rs.12,000 per month.
8) For the welfare of the labor class and in line with increase in pay of government employees, the minimum wage rate is also being increased from Rs.12,000 to Rs.13,000 per month.
Pensioners
2. Following relief measures are being announced for the pensioners;-
(1) 7.5% increase in net pension to all pensioners of federal government with effect from 1st July 2015.
(2) Medical Allowances of pensioners is being enhanced by 25%.
(3) Extension of family pension to widowed/divorced daughter for life or till re-marriage with effect from July 1, 2015.
(4) Revival of policy for restoration of surrendered portion of commuted value of pension after outliving the prescribed period.
(5) Upper limit of investment in Bahbood Saving Scheme of National Savings by the pensioners and senior citizens is being enhanced from Rs.3 million to Rs.4 million.