Last Updated on April 10, 2020 by Galaxy World
According to the School Education Department, Government of the Punjab, 20% Concession in Fee Punjab Private Schools has been approved.  Provincial Education Minister Murad Raas has met the representatives of the Private Schools of the province Punjab. 
Approval of 20% Concession in Fee Punjab Private Schools
Minister of Education Punjab proposed a decrease in 20% in fees for the students. They have approved this concession in school fees.
The representatives of the private schools said that they are standing with the Government in this time of test.  The concession in this regard granted will be useful and will create ease for the parents in this time of difficulties.
This is a very good step in the Private Schools. The team of Galaxy World solutes the private school owners. They really felt the pity condition of many of the parents.  Allah will reward the owners of institutions, favoring the students and parents.  This decrease in 20% of school fees will really help the parents. As you know the schools, colleges and universities in Pakistan are closed till 31st May 2020. The business and works of the public ate too closed due to COVID-19. The parents really deserve this concession in fee.
Notification of 20% Decrease in Fee
There have been being received complaints from parents that private schools are not cooperating with the parents/students regarding less fee. They should not yet deposit the fee, I suggest the parents, to wait for the Notification and then pay the fees. There are chances the private school's authority will issue the Notification of decrease in fee in a couple of days. All the situation will clear with the Notification. I share the Notification of a 20% decrease in School Fee Punjab Private Schools as soon as I receive the same.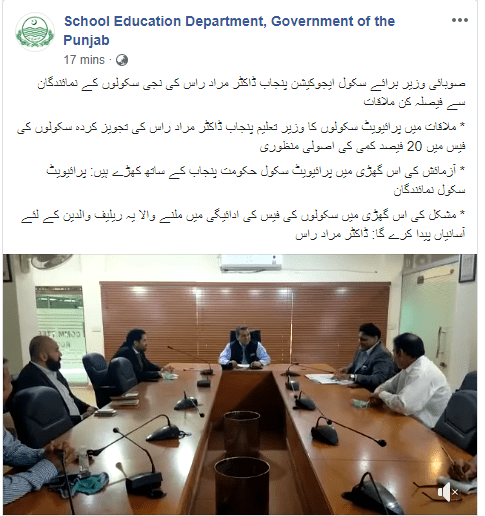 You may also like: Deduction of Salary of Punjab Employees