Last Updated on April 9, 2020 by Galaxy World
Government of the Punjab, Finance Department has issued Notification on 07-04-2020 in connection with Deduction of Salary Punjab Employees 1 to 3 Days.  The detail of the deduction of salary is as under:
Notification of Deduction of Salary Punjab Employees
Government Employees from BPS-01 to BPS-16 = One Day Salary
Govt Employees from BPS-17 to BPS-19 = Two days Salary
Government Employees from BPS-20 and Above = Three Days Salary
The Government of Punjab shall make the deduction due to the PANDEMIC CORONA and the Government has created a Fund Named "Chief Minister Punjab's Fund for Corona Control"
The government will deduct the salary from the pay for the Month of April 2020. They will deduct the salary of the following departments:
Administrative Departments
Attached Departments
District Education Authorities
District Health Authorities
Field Formations
Now the question is that, whether the Accounts Office will deduct 1 to 3 days salary as Basic Pay or Allowances they will too add. As per previous history only the basic pay they deducted. But the Government of Sindh has made a deduction of employees' salaries on pay and allowance basis and they made deduction on gross salary in the month of March 2020. Let's see the payslip or further clarification from Punjab Govt.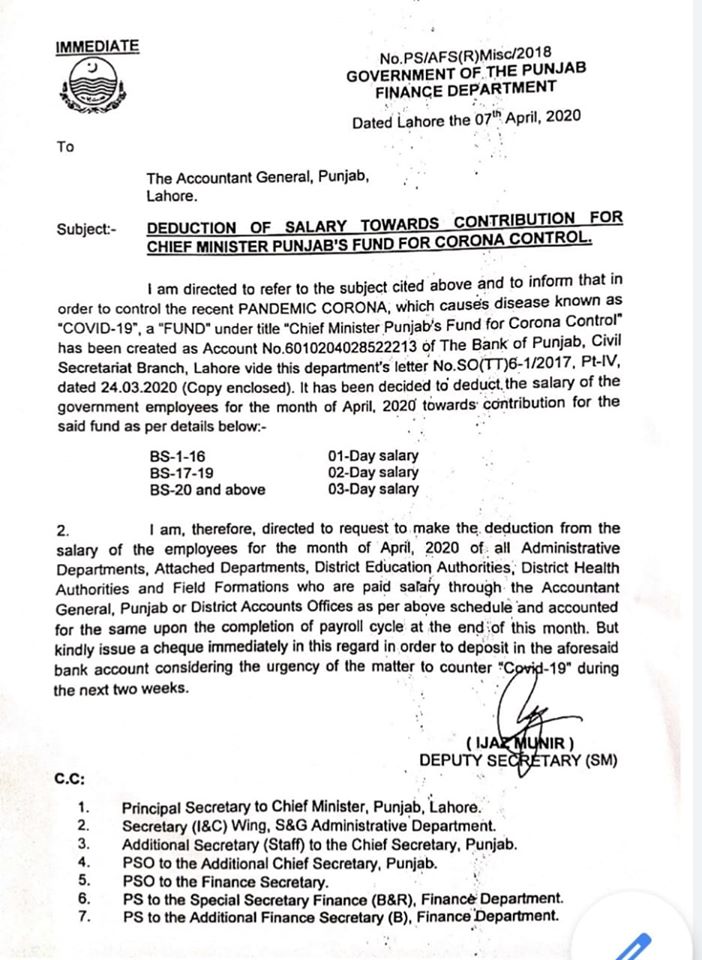 You may also like: Clarification Passing the Students without Exams