Last Updated on April 10, 2020 by Galaxy World
Various Education Boards of Pakistan have issued clarifications regarding Passing the Students without Board Exams 2020.  Some persons of Social Media have spread rumors that the students will be promoted to the next classes without taking exams or Board will pass the students on the basis of papers they have already taken.  There is no reality/truth in such false news and Boards have not taken any decision in this regard.
Clarification Regarding Passing the Students without Board Exams
Board of Intermediate & Secondary Education Sargodha has clarified the entire situation. The candidates, parents and institutions should not consider such rumors and students should prepare for their exams during the closing of institutions.  They can prepare better their studies/examinations during the lockdown in the country due to CORONAVIRUS spread. The Board will share the updates of the re-schedule of the Board exams as the situation is better. The BISE Sargodha will inform the parents, teachers and students through print media, electronic media and through the website. Concerned education Board will issue their Roll Number slips in time.
Clarification by Other BISEs
The government of Pakistan has announced All Pakistan Educational Boards Exams 2020 Postponed till 01-06-2020. The exams, the Government says, will be conducted in June / July 2020. The following Other Boards have also informed the same. They also clarified that there is no such Notification of passing the students without Board Examinations issued by the Board. :
Board of Intermediate and Secondary Education Multan
BISE Peshawar
Board of Intermediate and Secondary Education Dera Ghazi Khan
BISE Sahiwal
Board of Intermediate and Secondary Education, Sahiwal also announced the same situation. The Board authorities said that Punjab Boards Committee of Chairmans / Controlling authority deals with the results of matric and intermediate. There is no such announcement by the Boards Committee for clearing the exam results by students without giving the board papers.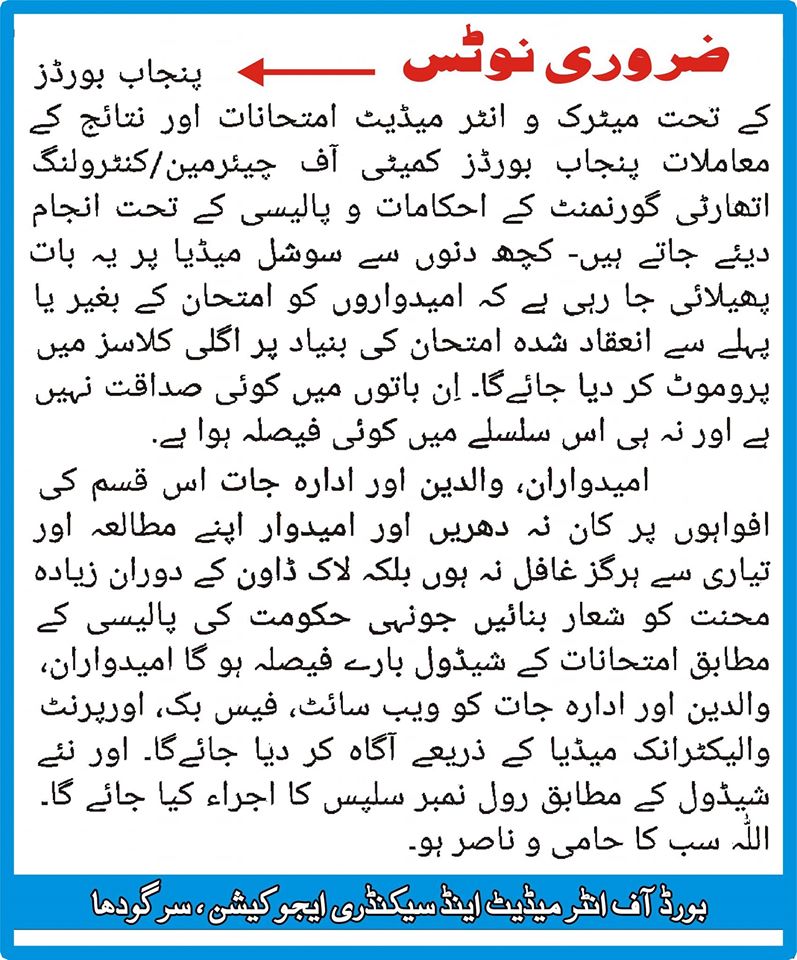 You may also like: Deduction of Salary of Punjab Employees