Last Updated on April 19, 2022 by Galaxy World
Finance Department Azad Government of the State of Jammu & Kashmir Muzaffarabad has issued a Notification on 19-04-2022 in connection with Advance Salary April 2022 without Deduction HBA, Car, and Motorcycle Advance AJ&K.
Advance Salary April 2022 without Deduction House Building Advance, Car, Motorcycle Advance AJK
In view of the occasion of Eid-ul-Fitra, the President Azad Jammu & Kashmir has been pleased to accord the approval for disbursement of salary and pension for the month of April 2022 (without deduction of the installment of HBA, Car / Motorcycle Advance) to the employees and pensioners of the Azad Government of the state of Jammu & Kashmir including Semi-Government Organizations on 25th April 2022.
This is a good step of the Govt of AJK. The Accounts Offices of the AJK Government will not deduct the installments on advances this month. This will facilitate the employees for Eid-ul-Fitr Shopping. In the Notification, the following advances' Installments the accounts offices will not deduct.
List of Advances
House Building Advance (HBA)
Motorcar Advance
Motorcycle Advance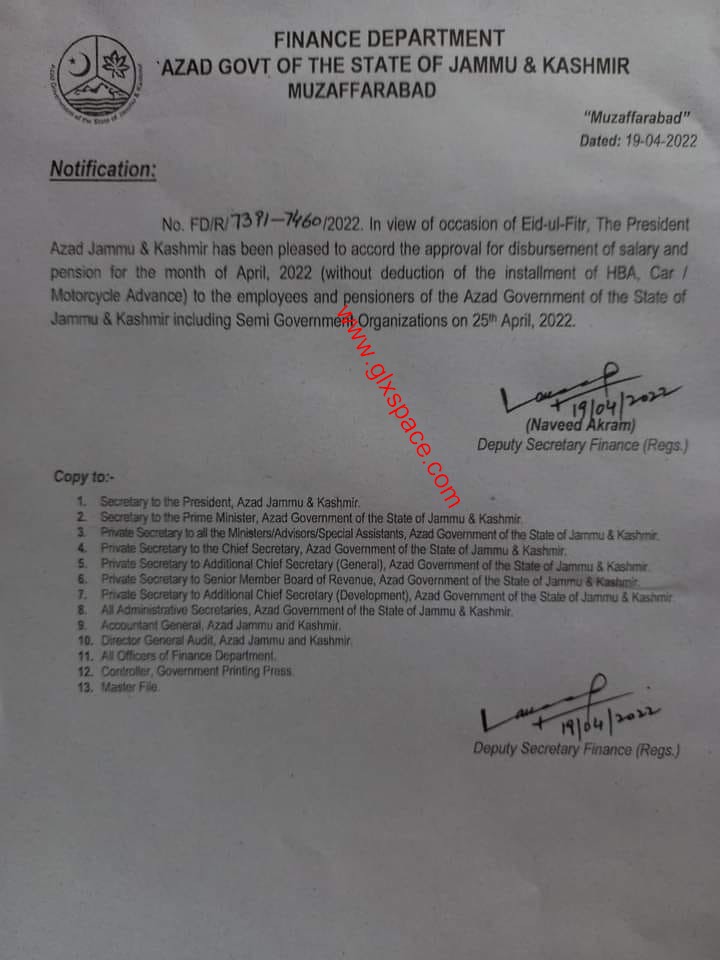 Before this Punjab, Sindh, Khyber Pakhtunkhwa, and Federal Government issued the Notification of pay and pension in advance of April 2022 on the occasion of Eid-ul-Fitr 2022. The employees would get this salary on 1st May 2022. But all the provincial and federal Governments decided to disburse the pay and allowances for the month of April 2022 before Eid. The pensioners will also get the pension in advance.
You may also like: Executive Allowance 2022 Sindh