Last Updated on August 10, 2021 by Galaxy World
University of the Punjab has issued Notification on 22-07-2020 in connection with Waiver University Dues / Charges due to COVID-19 from Students of Punjab University ( PU).
In exercise powers vested under Rule 7 (ii) of fee concession rules, approved by a syndicate in its meeting dated 25.05.2011, the Vice-Chancellor has been pleased to grant a waiver in all dues,/ charges except tuition fee, to be received from the students of University of the Punjab. During the Covid-19 pandemic as the students have not availed other facilities during this period.
The teaching departments are advised to issue fee challans of tuition fees only for the period of the Covid-19 pandemic.
A copy of this letter they have sent to concerned offices. Special thanks to Mr. Zahid Khan for sending a copy of the Notification of Concession / Not Receiving University Dues / Charges from Students of PU (University of the Punjab, Lahore.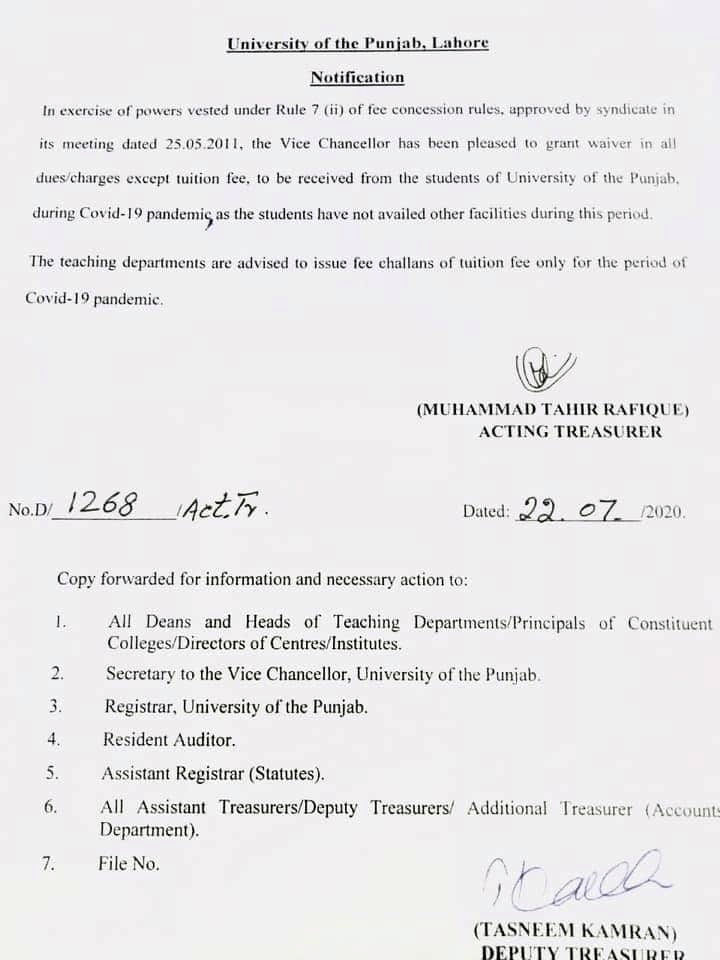 The students have the right not to pay the dues/funds for those facilities that they not availed by sitting home due to COVID-19. The students did not attend their classes and are at home due to the spread of coronavirus. Many facilities that the student could only avail while attending the university, nit availed and the University decided not to charge the dues for such facilities.
The dues may include the following:
Medical
Transport
Library
Sports
Hostel Fees
You may also like: Promotion Criteria 2020 BBISE