I am sharing here the TA/DA Bill Form in MS Excel and PDF Federal and Provincial Employees. The FG and provincial employees can download and then easily fill the forms. There are different formats for Federal Government and Provincial Government TA / DA Forms.  Instructions and certificates are as under for the Provincial Govt TA/DA Form:
TA/DA Bill Form in MS Excel and PDF
INSTRUCTIONS FOR PREPARING TRAVELLING ALLOWANCE BILL

1
Journeys of different kinds, Journeys and halts should not and be entered on the same line Only One kind of allowance should, therefore, be filled in on the same line and amount carried be out separately into the last money column.
2
Permanent traveling, conveyance, and the horse allowance should be drawn along with the pay of the Government servants and not on the Traveling Allowance bill.
3
The fraction of a mile in the total for any one journey should not be charged,
4
When the first item of traveling allowance to a road journey, the number of miles traveled should of that halt be stated in the "Remarks" column.
5
If the daily allowance is claimed in respect of a road journey, the number of miles station, it should be mentioned in column 14 and daily allowance in column 17 to 19.
6
When traveling allowance is claimed in respect of a journey to or from the hill station, it should be mentioned in the remarks column whether or not the halt has exceeded ten days.
7
Ordinary where a return journey is performed by a Government Servant, the audit will presume that it must have been performed on return journey ticket in a case where under the rules of the Railway company such ticket is allowed. In the case of Journeys in which the controlling officer is satisfied that the officer making the journey could not purchase a return ticket either because he could not expect to return within the time allowed on return tickets or because it was not possible for other reasons, it will be at one place of preferably against the recent journeys in the bill that he satisfied that in respect of specific journey it was either not possible not considered necessary in the interests of public service to purchase return tickets.
8
Receipt and endorsement in this bill should be signed only after the countersignature of the controlling officer, in case the bills require countersignature.
You have to know: How to Claim TA/DA on Retirement or Transfer
Certificate
Certified that I have satisfied myself the amounts included in bills previous to
1. Month This date with the exception of those detailed below (of which amount
2. Months
3. Months
has been refunded by deduction from the bill), have been disbursed to the officers therein named and their receipts taken in the Acquittance Rule or the Office copies of the Traveling Allowance bills field in my office with receipt stamps duly canceled for every payment in excess of Rs.20.00.
It is Certified that the Journey for which mileage allowance has been claimed under Punjab TA Rules 2.68 for non-gazetted ministerial or menial Government servants were made by public or hired conveyance and under my orders.
Certified that it was necessary for the Government servants for whom halting allowance at headquarters is drawn to keep up the whole or part of their camp equipage during such halt (Rule 2.77 of the Punjab Government Traveling Allowance Rules).
It is Certified that the Journey beyond jurisdiction was performed under proper authority.
Certified that an entry of journeys for which Traveling Allowance has been claimed in this bill has been made in proper check Register proscribed in TA Rouse Car, Lorry, Taxi or Motor OmniBus or which was a private vehicle for buy motorcycle.
Not being my own property/being my own property/being a Government Vehicle.
Payment Claim Certificate
That bill is prepared only after observing the relevant rules and orders in force.
The amount in this bill has not been drawn previously.
That the TA claims drawn for the prev. month have been disbursed to the proper persons, acquittance obtained & kept in my office.
That the limit of TA ceiling per quarter for the incumbents whose TA is claimed in this bill has not been exceeded.
That no TA is claimed in any case for days of casual leave, or Sundays or authorized holidays not actually spent on duty.
That for the railway journeys included in this bill, the Government servant concerned traveled by the class for which TA is claimed.
TA DA Form for Provincial
TA DA Form for Federal Govt Employees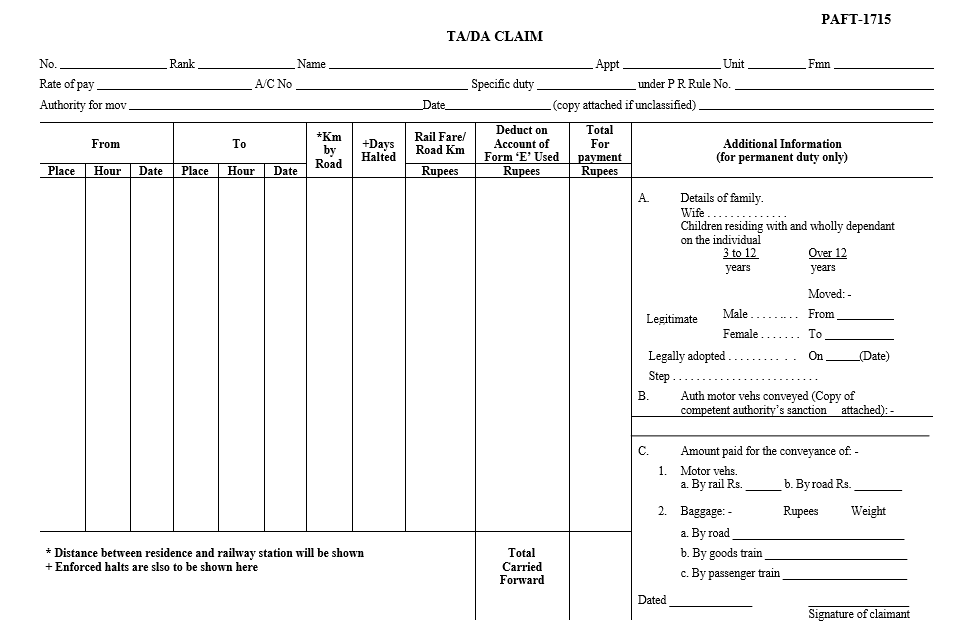 You may also like: Calculation Procedure TA/DA
Certificate for Federal Employees
I Certify that:1. I traveled by rail in ……………………………………………………. class or 2. I did not perform/performed the road journey (s) for which Km has been claimed at the higher rate prescribed in SR 46/PR Rule 416 as amended by a taxi, motor, omnibus, or motor lorry plying for hire/engaging a whole taxi because a seat in a taxi, motor, omnibus or motor lorry plying for hire on the single-seat basis on the route traveled by me was not available.
3. I was actually and not merely constructively camp for the days whether Friday or holiday for which DA has been claimed, (For temporary duty only). 4. I was not provided with free accommodation, messing, and transport facilities at government expense.
I hope you will not any difficulty filling the forms. If you have any difficulty filling and calculate the rates, you can comment below and you will find the solution to your issues.