Last Updated on October 30, 2021 by Galaxy World
Government of Pakistan, Finance Division has issued the Notification Adhoc Relief Allowance 2021 Federal employees on 08-07-2021.
Notification Adhoc Relief Allowance 2021 Federal
This allowance, the Federal Govt employees will get with effect from 1st July 2021
This ARA-2021 will be continued till further orders
The rate of this allowance is @ 10% of the running basic pay as Adhoc Relief Allowance
This allowance is for all Federal Government employees I e Armed Forces personnel, Civil Armed Forces Personnel and Civil Employees of the Federal Government
The civilians paid out of Defence Estimates including contingent paid employees will also get this allowance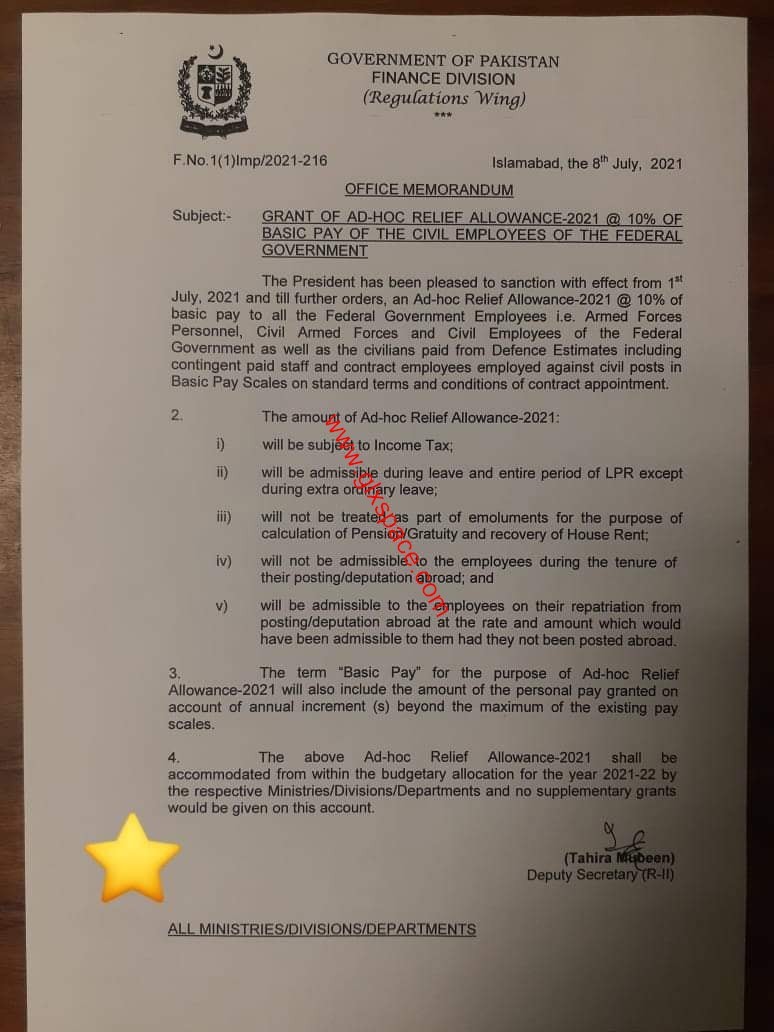 The federal government employees will get this allowance wef 01-07-2021. These employees are already getting Disparity Reduction Allowance 2021. This Allowance the Federal Government granted wef 1st March 2021. Now the federal government employees will get a total of 35%. But not all federal, employees who are already getting 100% or more special allowance will not get this 25%. These types of employees will only get this 10% Adhoc Relief Allowance 2021 wef 1st July 2021.
Federal Employees will get salaries and pension on 16th July 2021. The question is that whether this allowance will be added in pay in July to be paid on 16th July 2021 or not? let's see what happens in this regard.