Last Updated on October 30, 2021 by Galaxy World
Government of Pakistan, Finance Division has issued an Office Memorandum on 08-07-2021 in connection with Notification Increase Pension 2021 Federal. The details of the same are as under:
Notification Increase Pension 2021 Federal
Pensioners of the Federal Government will get an increase in Pension @ 10% wef 1st July 2021
This increase in pension is till further orders. The following pensioners will get this increase:
An increase in pension @ 10% is for all the civil pensioners of the Federal Government
Civilians paid from Defence Estimates
Retired Armed Forces Personnel
Civil Armed Forces Personnel
Previous Pension Enhancements
The Pension increase wef 1st July will also be admissible to the employees who would retire on or after 01-07-2021
The previous increases in pension as under will also be continuing for the pensioners.
2011
2015
2016
2017
2018
2019
The increase is also for the family pensioners. Net pension means the total pension minus medical allowance.
You may also like: Notification Adhoc Relief Allowance 2021 Federal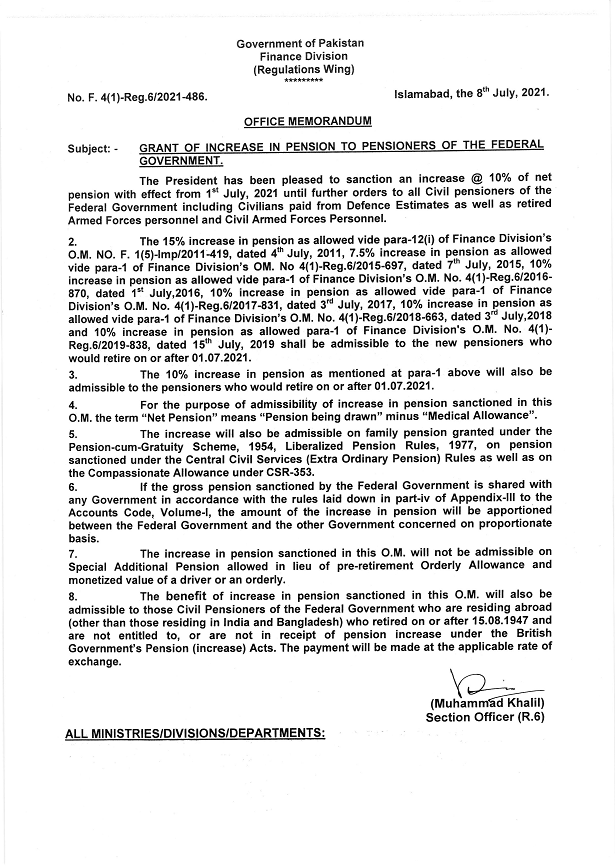 The pay and pension commission is still working on rationalization of the pension. After the implementation of the report of the PPC, there may change at a large scale in pension reforms. The commission is working for a long but the recommendations of the same are still awaited.