Last Updated on October 30, 2021 by Galaxy World
Government of the Punjab, School Education Department has issued a Notification on 29-07-2021 in connection with Punjab Govt School Timings wef 2nd August 2021. The details of the educational institution's timings 2021 in Punjab after summer holidays 2021 are as under:
Punjab Govt School Timings wef 2nd August 2021 (After Summer Vacation)
All Public & Private Educational Institutions/Schools in Punjab shall be re-opened w.e.f. 02-08-2021 after summer vacations.
2. All the concerned authorities/principals/headteachers shall ensure the observance and compliance of Covid-19 SOPs in letter and spirit. However, classes will be held on a staggered approach having 50% attendance each day with the following school timings:-
Period
Days
Timings
w.e.f. 02-08-2021 to 15-10-2021
Monday to Saturday (Boys Schools)
07:30 am to 12:30 pm
Monday to Saturday (Girls School)
07:45 am to 12:45 pm    
Monday to Saturday (Insaf Afternoon Schools)
02:00 pm to 05:00 pm
Note: School Timings for Tehsil Murree and Kotli Sattyan of District Rawalpindi (Hilly Areas) shall be notified by the concerned DEA.
Summary for School Timings
Schools Category: All Private and Government Schools
Effective Date 01-08-2021
Approach: Staggered Manner with 50% attendance of students
Boys School: 07:30 am to 12:30 pm (Monday to Saturday)
Girls' Schools: 07:45 am to 12:45 pm.  (Monday to Saturday)
Insaaf Afternoon Schools: 02:00 pm to 05:00 pm ((Monday to Saturday)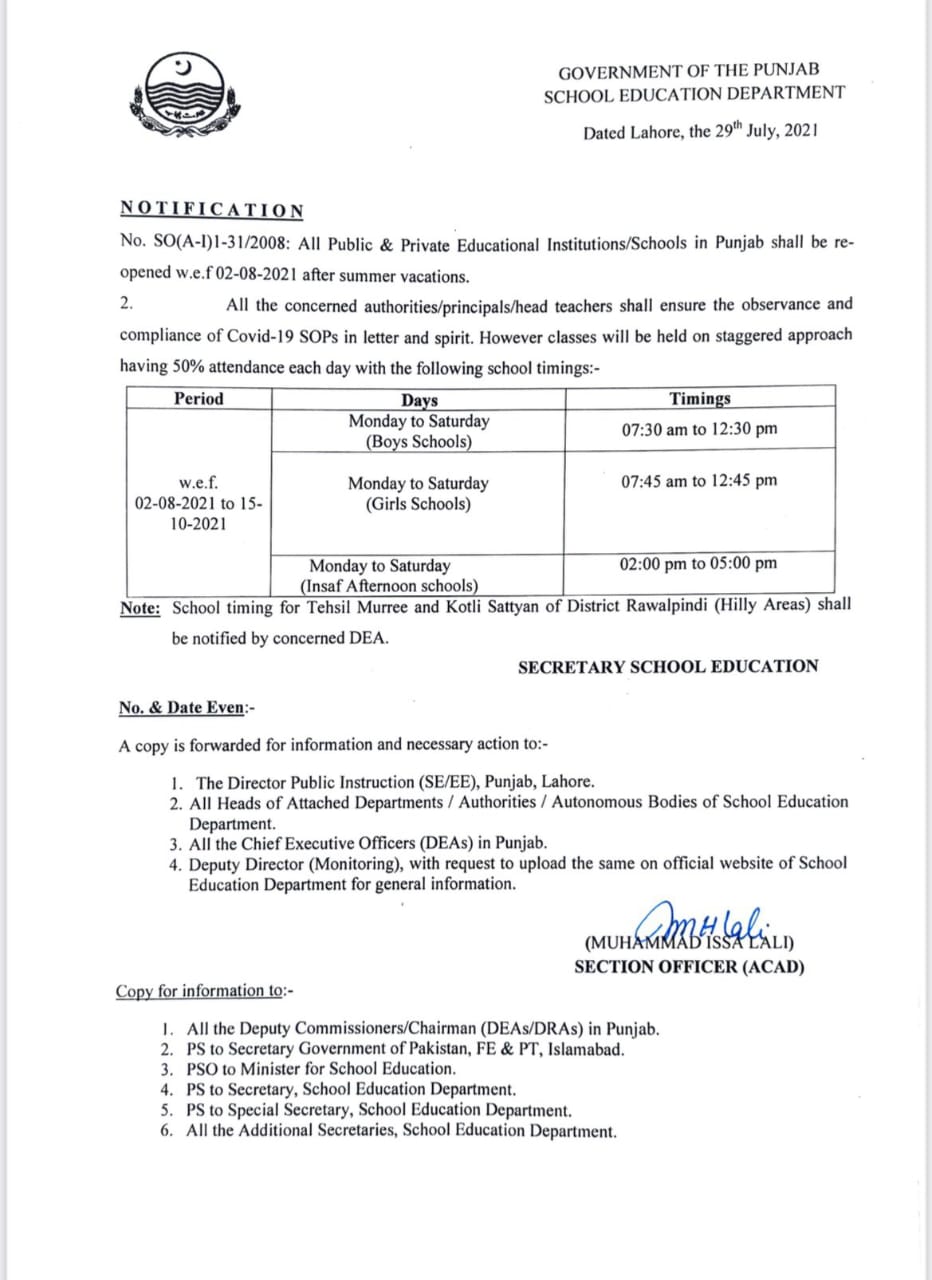 You may also like: Educational Institutions Timings 2021-22 Session Federal