Last Updated on May 29, 2022 by Galaxy World
Government of Pakistan, Federal Directorate of Education issued a Notification on 24-05-2022 in connection with Summer Vacations 2022 Federal Schools and Colleges. The details are as under:
Summer Vacations 2022 Federal Schools and Colleges
Start of Summer Holidays 2022 in Federal Schools/Colleges: 6th June 2022
End of Holidays: 31st July 2022
Reopening of Schools/Colleges: 1st August 2022
Conclusion of Academic Session 2022: 31st March 2022
Holidays for: Only for students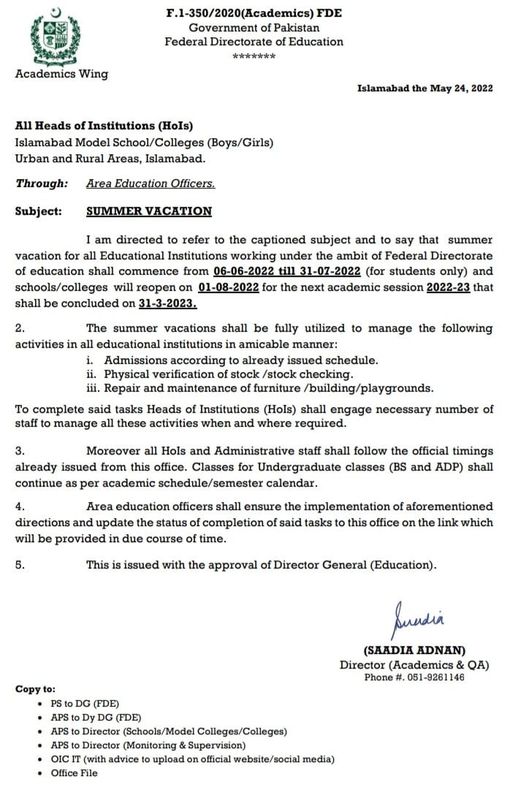 Utilization of Summer Holidays
The summer vacations shall be fully utilized to manage the following activities in all educational institutions in an amicable manner:
Admissions according to already issued schedule.
Physical verification of stock/stock checking.
Repair and maintenance of furniture/building/playgrounds.
To complete said tasks Heads of Institutions (Hols) shall engage the necessary number of staff to manage all these activities when and where required. Moreover, all Hols and Administrative staff shall follow the officials' timings already issued from this office. Classes for Undergraduate classes (BS and ADP) shall continue as per the academic schedule/semester calendar.
Punjab, Balochistan, and Khyber Pakhtunkhwa Education Departments have already notified for summer holidays 2022 for schools and colleges. We expect that Sindh Government will also issue the Notification of summer vacation soon.
You may also like: Petrol Price and Increase in Conveyance Allowance
There is also a setup of Federal Schools and Colleges that is called Federal Government Educational Institutions (Cantt/Garrison) i.e FGEIs (C/G). The authorities of these FG schools/colleges will also announce the summer vacations 2022 wef 6th June 2022.