Last Updated on September 16, 2023 by Galaxy World
I have prepared the Final Revised Basic Pay Scales 2022 Chart for the Government employees.  Finance Division has issued a Notification Revised Basic Pay Scales 2022 and Allowances Federal on 1st July 2022. The main feature of this Notification is that Government has revised the pay scales for Government employees. The last time Federal Government revised Basic Pay Scales in 2017.
The Final Revised Basic Pay Scales 2022 Chart
This chart has been prepared for the employees of BPS-01 to BPS-22 of Pakistan. In this new chart, there is more the Basic Pay of the employees as compared to the previous one. They will have more annual increments and hence more benefits related to basic pay. The following will be affected by the increase of Basic Pay and Pay scales revision 2022:
Increase in Basic Pay
Increase in Annual Increment
Raise in Promotion Increment
Usual Increment Increase
Increase in Pension
Increase in Advances
Enhancement in Gratuity/Commutation
Increase in Farewell Grant
Increase in TA/DA on Retirement/Transfer in the shape of a Transfer Grant equal to One Basic Pay
More Basic Pay but fewer Allowances
With the revision of basic pay scales in 2022, the employees have more basic pay but fewer allowances as the following allowance, the employees will no longer get:
Adhoc Relief Allowance 2016 @ 10% of Running Basic Pay of 2016 pay scales (Frozen)
ARA-2017 on running basic pay of 2017 pay scales @ 10%
ARA-2018 on running basic pay of 2017 pay scales @ 10%
Adhoc Allowance 2019 (5 % for BPS-17 and above & 10% for BPS-01 to BPS-16)
Adhoc Allowance 2021 @ 10% of 2017 Basic Pay Scales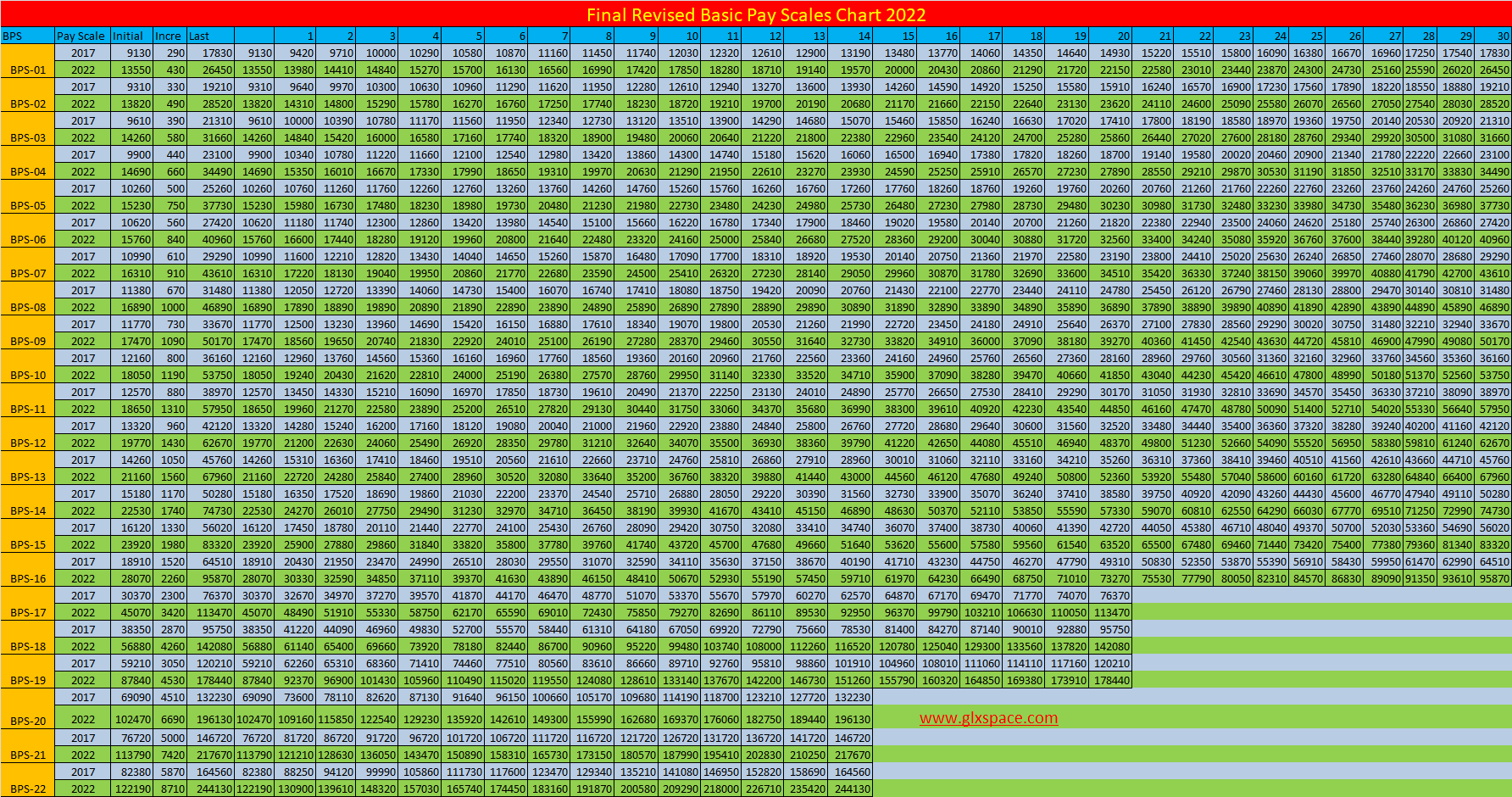 The Revised Pay Scales 2022 Chart Stages Number
The Revised Pay Scales 2022 has the number of stages details as under:
Sr. No
BPS
Number of Stages
1
BPS-01 to BPS-16

 

30 Stages
2
BPS-17 to BPS-19

 

20 Stages
3
BPS-20 to BPS-22
14 Stages
If the employee reaches the last stage, the next year he will get an Annual Increment too but in the shape of Personal Pay (PP). The number of PPs is unlimited.