Last Updated on November 24, 2022 by Galaxy World
The Punjab Boards Committee of Chairmen camped at Board of Intermediate and Secondary Education Lahore issued a Notification on 21-11-2022 in connection with Students May Avail as Many Chances for Improvement as they May Like. The details are as under:
Students May Avail as Many Chances for Improvement as they May Like
The Punjab Boards Committee of chairpersons in its meeting held on 16th November 2022 discussed the writ petition No.52363/2022 submitted by Ms. Nafar Fatima versus Govt. of Punjab, vide agenda item No. 2, regarding Marks Improvement Policy.  As per the decision of the committee, it is hereby notified that:
The impugned notification No.96-SY/PBCC/LHR, dated 31-03-2022, issued by PBCC regarding restriction on the chances for improvement is hereby rescinded.
Students will be allowed for availability of as many chances for improvement of scores as they may like.
This order will take effect from the First Annual Examinations, (SCC & HSSC) 2019 onwards.
Special Thanks to Rana Saleem for sending the copy of the Notification of the availing chances to improve marks.
You may also like: Rechecking and Cancellation of Exams Papers
List of Boards in Punjab
The list of Boards in Punjab is as under:
Multan, BISE Multan
Lahore, BISE Lahore
Sahiwal, BISE Sahiwal
Sargodha, BISE Sargodha
Gujranwala, BISE Gujranwala
Rawalpindi, BISE Rawalpindi
Faisalabad, BISE Faisalabad
Dera Gazi Khan, BISE DG Khan
Bahawalpur, BISE Bahawalpur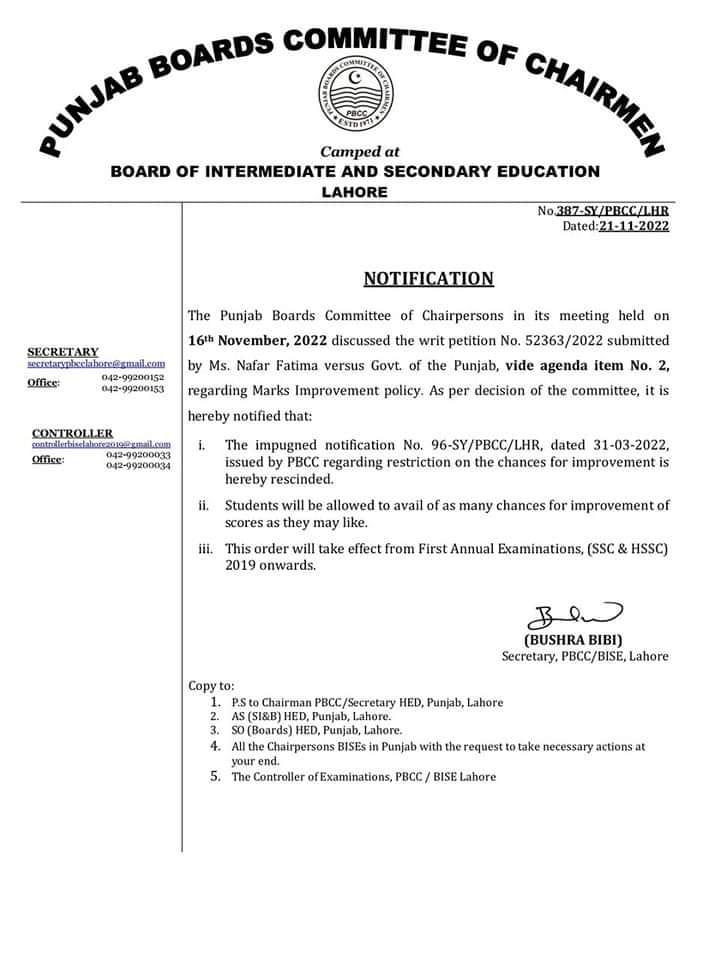 That is a good step that the Education Boards in Punjab adopted. This will help the students to have more chances to improve their exam marks. Thus they have now unlimited chances for mark improvement.