Last Updated on December 1, 2022 by Galaxy World
Government of the Punjab, Services & General Administration Department (regulation /O&M Wing) issued a Notification on 24-11-2022 in connection with the Regularization of Contract Employees After Three Years Clarification. The details are as under:
Regularization of Contract Employees After Three Years
Section Officer writes to the Deputy Accountant General about the regularization of the Contract
Section officer of Services and General Administration Department (Regulations and O&M Wing)  about the Regularization of Contract servants.  The content of the Letter is as under:
I direct to refer to your letter no. Tm-I/H.3-1/CSR/2022/23/3062 dated 24-10-2022 on the subject noted above.
The case has been examined in Regulations Wing, S&GAD in the light of the Punjab Regularization of Service  Act -2018 was amended in 2019 and observed that:-

The Punjab Regularization of Service Act 2018 (Amended in 2019) to facilitate the Regularization of Contract employees and to broaden the scope of the Act to all the contract workers who have continuously been serving as such for a period of three years vide Notification bearing No.PAP/Legis-2(30)/2]19/2164 dated 13-12-2019.
Section 2(3) of the Act ibid provides that it shall apply to all the persons employed on contract in a department, who have completed three years of continuous service before or after the commencement of the Act.

In view thereof, the views contained in para 3 of the above-said reference dated 24-10-2022 is correct, therefore may proceed further into the matter accordingly.
Special Thanks to Mr. Zahid Khan for sending the copy of the Notification of clarification of the regularization of the employees working on a contract basis after a period of three years.
You may also like: Updates of Winter Vacation 2022 in Schools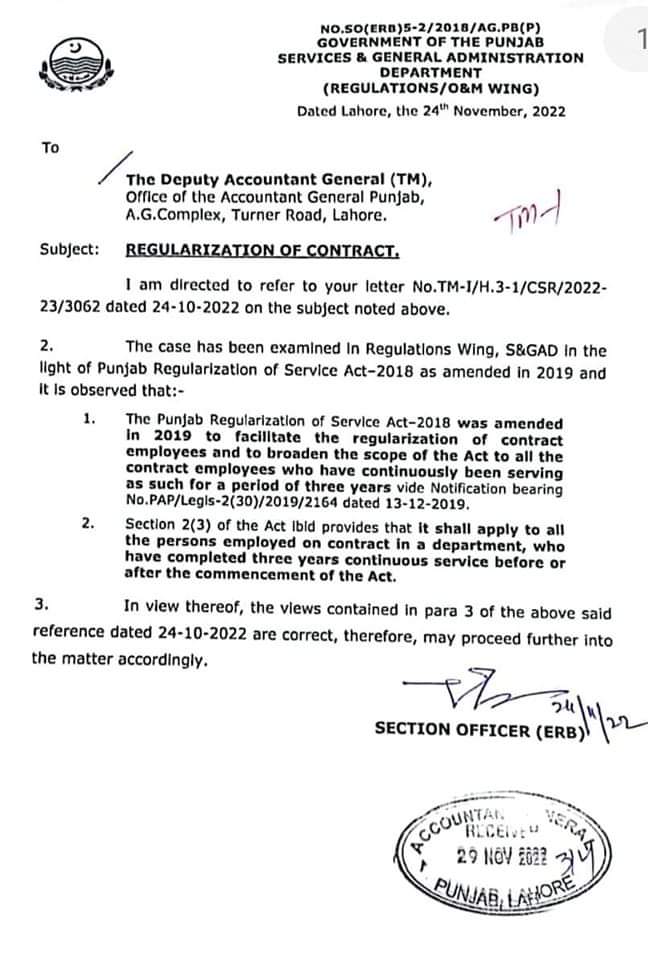 After the issuance of the above clarification, the employees working on a contract basis in Punjab are eligible for regularization after a period of three years as per the rules. The S&GAD Department Punjab has clarified that situation in this Notification.