Last Updated on December 13, 2022 by Galaxy World
The Government of Khyber Pakhtunkhawa, Establishment Department (Establishment Wing) issued a letter on 25-10-2022 in connection with Enhancement Computer Allowance Rs. 1500/- to Rs. 15000/- Per Month KPK for Computer Operators.
Enhancement Computer Allowance Rs. 1500/- to Rs. 15000/- Per Month KPK
It is the age of technology and Technology has become a part of daily life. Computers and laptops are playing a key role in every field of life. In each department, it is a basic need. It is also a basic need for every employee.
Allowance for Computer Operator
Computer operators have a very important role in the foundation of every government department. In this age, when Computer is necessary for every task. The burden somehow falls upon the computer operators. They have to complete many tasks of a different types. Computer Operators have encountered problems concerning Technology. They need to complete the tasks on time. Sometimes they have to work day to night.
 The allowance for Computer Operator in KPK has been Rs 1500/-. It is absolutely not suitable for this modern age. Especially,  in such situations when the country is in inflation situations.  When the prices for household things, gadgets, machinery, and services are very high. This amount of 1500 has no value. This event doesn't meet the requirements of a computer operator.
Increase in Allowance
  Due to present needs and so much importance of computers in this age, the IT Association demands KPK Government an increase in Computer Allowance.  The KPK Government is working as the needs of the Modern age. The government of KPK always seems to focus on the fulfill the needs of employees and fulfilling their requirements.  As the IT Association successfully cleared their point of view, the government of kpk agreed to accept their demands. Establishment Department, KPK Government recommends the proposal to increase the Computer Allowance for computer operators. This enhancement of Computer Allowance is a good initiative by the Government.
The government of KPK should Computer Allowance from Rs.1500 per month to Rs.15000 Per month. The Establishment Department requested to Finance department consider the request of the IT association on a priority basis.
You may also like: Grant of M.Phil /PhD Allowance KPK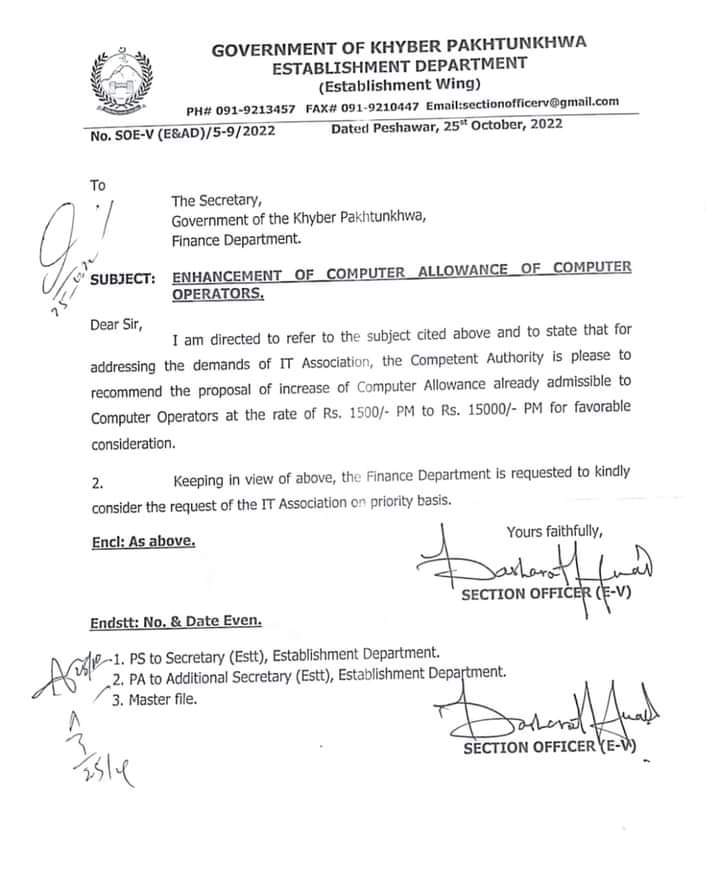 For you more: Pay, Allowances and Pension in Advance December 2022