Last Updated on December 13, 2022 by Galaxy World
Government of the Punjab, Finance Department issued a Notification on 12-12-2022 in connection with Disbursement Advance Pay, Allowances and Pension December 2022 Punjab. As per the Notification all employees and pensioners of the Punjab province will get their December pay and pension in advance on 30-12-2022.
Disbursement Advance Pay, Allowances and Pension December 2022 Punjab
In the wake of 31st December (Saturday) and 1st January 2023 (Sunday) will be gazette holidays & 2nd January 2023 Bank Holiday, Governor of the Punjab is pleased to approve that pay and allowances and pension of Government employees /pensioners of Government of the Punjab may be disbursed on 30th December 2022 (Friday), as provided in Note – 1 below Rule 5.1 (1) (e), Punjab Finance Rules, Vol-I.
                Forgoing in view, you are requested to take further necessary action accordingly for disbursement of pay & allowances and pension on 30th December 2022 (Friday) positively.
Salary of other Governments Employees
                This is a rule that when there is holiday on 1st and 2nd of the month, the Government disburses salary and pension before these days on working days. Sindh Government, Balochistan Government, KPK Government, AJK Government, GB Government and Federal Government will also do the same. This action will facilitate the employees and pensioners. It is reality that as most of the lower grade employees have empty pockets even at the start of month.
You may also like: Conveyance Charges for Late Sitting Admissibility Rules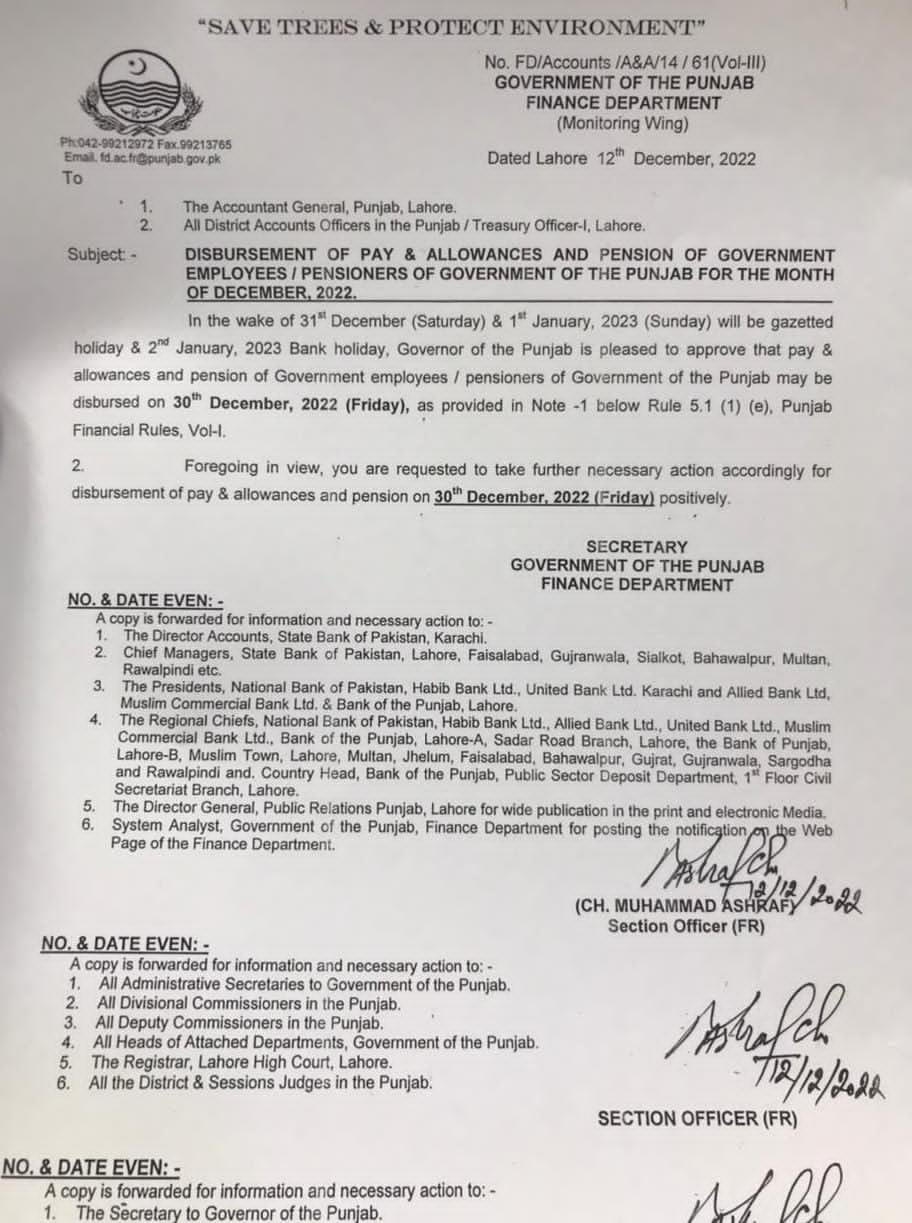 Christian Community
The Christian Community will get pay and pension even before this date. Sindh Government has notified to disburse the pay and pension for Christian Community on 19th Decmber 2022. The Christmas is falling on 25th December 2022. To facilitate the christian community Govermmnet has decided to pay in advance the salary to the community.