Last Updated on October 31, 2021 by ShumailaKamal
Office of the District Accounts Office Rawalpindi has forwarded a letter No. DAO/RWP/GAD-III/HM/683 dated 2nd December 2013 to the concerned college in connection with Advice Regarding Pay Package for Contract Employees of Education Department for 1998 Onward.
It is stated in this letter that as per advice conveyed AGP Lahore, vide No. TM-I/1-1/ upgradation/2282 dated 30-10-2013; the case of Non-Teaching Staff of SNE may please be processed in the light of existing rules and contract appointment policy 2004 at your end.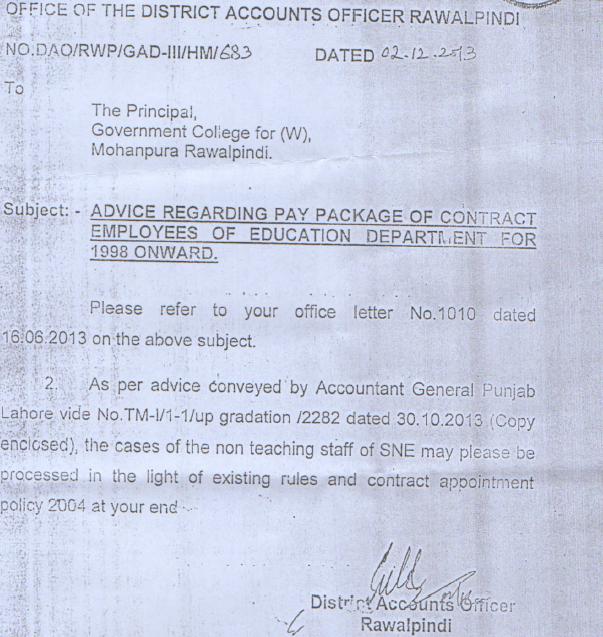 The Office of the Accountant General, Punjab has issued clarification letter No. PR/Coord/Contract/1999/CD 4059-68 dated 16th April 2013 on the subject matter.
The subject case has been examined by this office. As per the Government of Punjab Higher Education Department's Notification No. SO(CE-III)-21-6/98 dated 22-11-2005. all the lecturers/teachers of 8 female colleges who were appointed on contract basis during 1998-99 have been placed under Contract Policy 2004 dated 29-12-2004 in the light of para XIV (IV) of Contract Policy ibid. Meaning thereby that all the above lectures of 8 female colleges would be regulated under Contract Policy 2004 besides, their pay and allowances will also be regulated under the Contract Policy ibid. However no increment will be due to the teachers prior to 22-11-2005.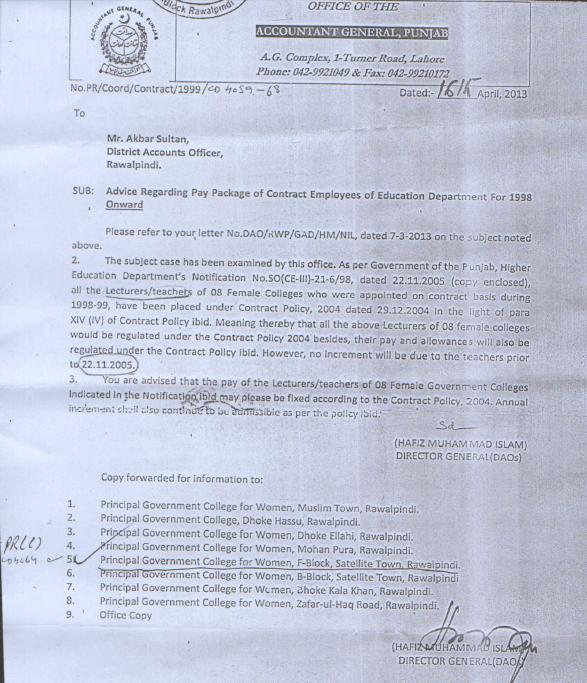 This post has been delivered by Mr. Ali Raza.