Last Updated on October 31, 2021 by ShumailaKamal
I had already published an article about the salary of a newly recruited employee after the pay scales 2011. Now the updated chart of the Salary of a Newly Appointed Employee in 2014 has been published for the information of the employees who are recruited in 2014 on or after 1st July 2014. In this chart, the Adhoc Relief Allowances of the years 2010, 2011, 2012, 2013 and 2014 have been included. In the same way Medical Allowance, House Rent Allowance as well as Conveyance Allowance has also been added. The main feature of this chart is that House Rent Allowance for Specified Cities for Special Rates and other cities have been shown separately.
Special Allowances
Some departments are granting some other special allowances to their employees. These special allowances may be Teaching Allowance, audit & Accounts Allowance, Science Allowance, Ph.D Allowance etc. These may be added into the salary according to the needs.
Deductions:
There may be some deductions as follow:
You can deduct the same according to your pay and pay scale number.
Estimated Salary of an Employee Pay Scale Wise in 2014
The estimated salary of each employee pay scale wise in 2014 for special stations will be as under: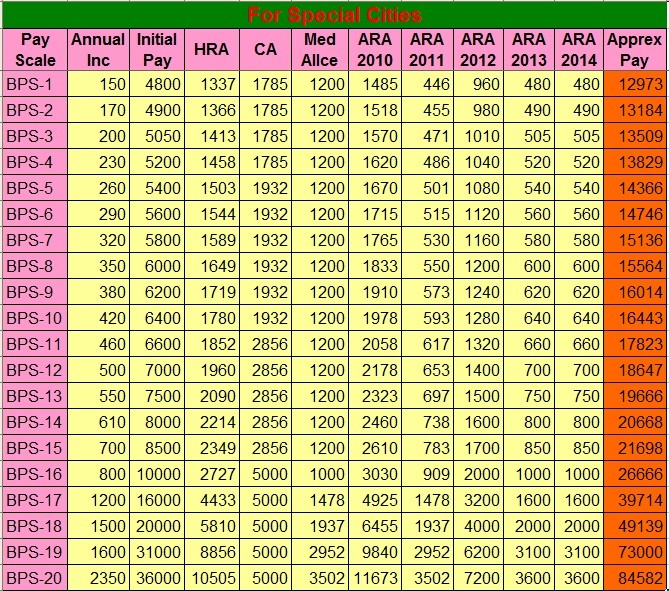 Salary of BPS-01 Employee = 12973/-
Salary of BPS-02 Employee = 13184/-
Salary of BPS-03 Employee = 13509/-
Salary of BPS-04 Employee = 13829/-
Salary of BPS-05 Employee = 14366/-
Salary of BPS-06 Employee = 14746/-
Salary of BPS-07 Employee = 15136/-
Salary of BPS-08 Employee = 15564/-
Salary of BPS-09 Employee = 16014/-
Salary of BPS-10 Employee = 16443/-
Salary of BPS-11 Employee = 17823/-
Salary of BPS-12 Employee = 18647/-
Salary of BPS-13 Employee = 19666/-
Salary of BPS-14 Employee = 20668/-
Salary of BPS-15 Employee = 21698/-
Salary of BPS-16 Employee = 26666/-
Salary of BPS-17 Employee = 39714/-
Salary of BPS-18 Employee = 49139/-
Salary of BPS-19 Employee = 73000/-
Salary of BPS-20 Employee = 84582/-
Estimated Salary Chart for other cities is as under: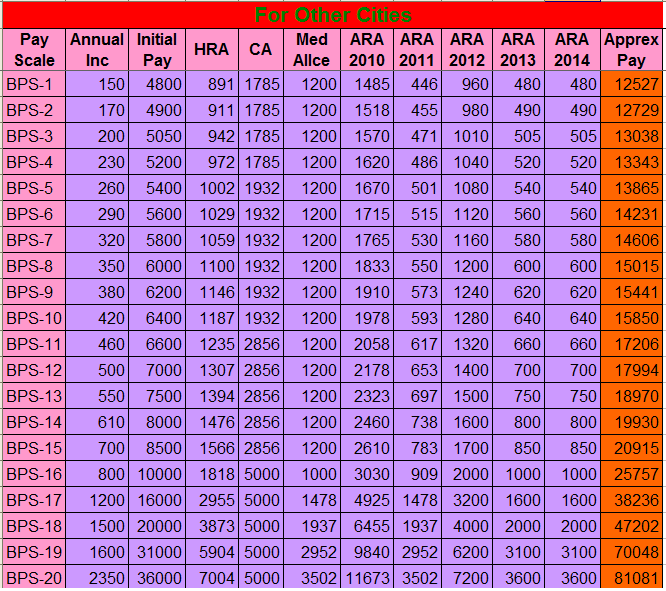 Special Thanks to Mr. Saeed Akhtar for preparing the chart.