Last Updated on October 31, 2021 by ShumailaKamalBHP
Government of the Punjab School Education Department has issued Notification No. SO (SE-IV) 2-13/2014 dated 18-03-2015 in connection with Recruitment Policy 2015 for School Guards in Punjab Schools.
Recruitment Policy 2015 for School Guards
In continuation of the School Education Department's Policy letter of even number dated 17th March 2015, the Chairman Distinct Recruitment Committee/Executive District Officers (Edu) are requested to furnish double copy of advertisement for recruitment of School Guards under Recruitment Policy 2015 for vetting from the Department prior to publishing in daily newspapers.
In this regard the letter of the dated 17-03-2015 has already been issued. In this letter it is stated that "In the after-math of Peshawar incident in Army Public School, the Chief Minister Punjab has been pleased to direct to improve security of Government Schools in Punjab. Therefore it has been decided that trained School Guards shall be deployed in A and Special Category A Schools to avoid any unwanted incident. Full details of these letters are available at the copies of these letter uploaded.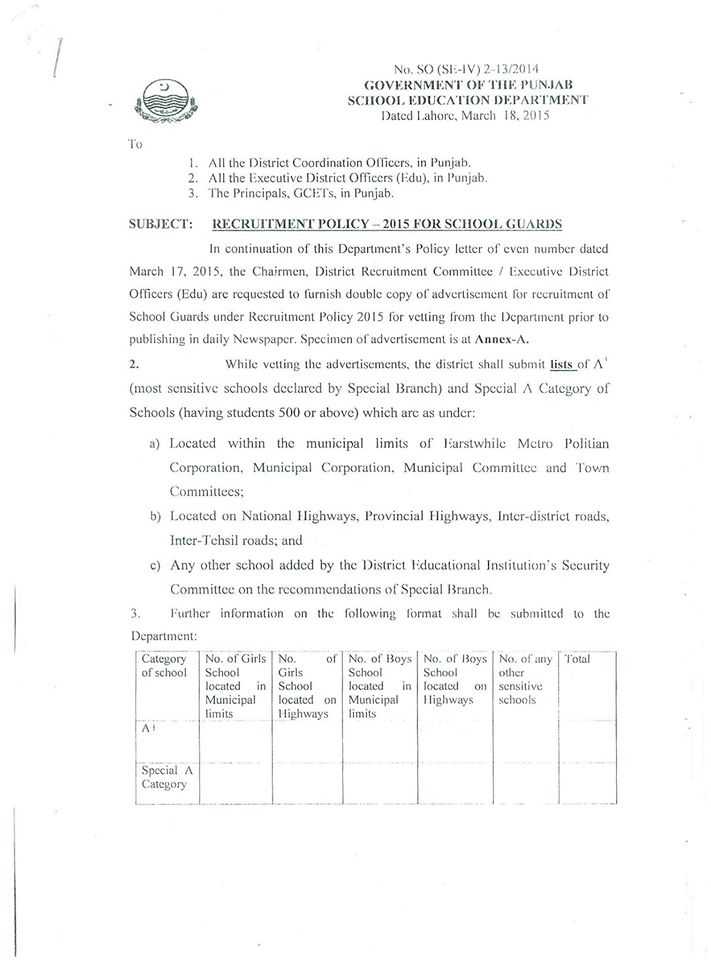 Notification of the Dated 17th March 2015
Notification of the Dated 18th March 2015